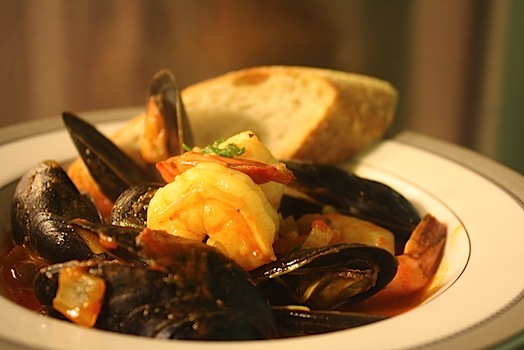 Now that the Foodbuzz Festival is over, I've been given the go-ahead to share my winning cioppino recipe with you all. I'm really excited that I can finally post this dish – as I've mentioned before, I thought it was amazing (and from the feedback that I got at the festival, a lot of other people thought to too!). It's also crazy easy to make. I was honestly worried about how I was going to fill the time in my 35 minute demo, because this essentially just requires dumping everything in the pot and letting it do its thing. Because it's so fast, easy and elegant, it would be the perfect thing to make for weeknight entertaining.
Since I developed this recipe for a contest by Bertolli Sauces, I thought that it made the most sense to get my inspiration from the product line itself. I really wanted the sauce to shine in my entry! I took a look at what they had, and the fire roasted tomato with cabernet sauvignon immediately jumped out at me. I already knew that I didn't want to make a traditional Italian dish, and the fire-roasted tomatoes seemed like they would lend themselves well to different types of cuisine. From there, it didn't take long to decide what I wanted to do: I've been loving saffron lately and thought that it would be fun to make the sauce my own by adding some. Once I had a saffron and tomato base, seafood seemed like a natural choice and – remembering that the conference was being held in San Francisco – a cioppino served with sourdough seemed perfect. I thought it would be nice to serve up my own spin on this traditional San Francisco dish so that everyone could really get a taste of the city. With fingers crossed I sent the recipe along, figuring Bertolli would either love the idea or completely hate it. Luckily, they loved it as much as I did!
At the festival, we served this up as an appetizer, but it could easily be made into an entree as well. Just serve it in some bowls with the bread on the side (as pictured above). You'll want lots of bread to sop up all of that delicious sauce with! For the appetizer portions, we lightly toasted the bread so that it would hold up better. It helped keep the bread from getting soggy as the appetizers were passed, but its up to you whether or not you want to toast the bread. My original recipe called for untoasted baguette. You can also feel free to use whatever shellfish you like for this dish. I happen to love mussels, and they're pretty cheap so they composed the bulk of my dish. You could easily increase the shrimp or add clams, crab, or even chunks of a sturdy white fish.
Seafood Cioppino with Saffron and Fire Roasted Tomato Sauce

1 lb shrimp, peeled and deveined (I used 16-20 count)

2 pounds mussels, scrubbed and de-bearded

1 medium yellow onion, minced

2 stalk celery, minced

1 green pepper, minced

2 cloves garlic, thinly sliced

1/8 cup olive oil

1 tsp oregano

1/2 tsp crushed red pepper

1-1/2 cup fish stock

Generous pinch Spanish saffron (approx 1/4 gram)

1 jar Bertolli fire roasted tomato sauce with cabernet sauvignon

1/2 tsp sea salt

2 Tbs fresh parsley, chopped

1 sourdough baguette, sliced
Add olive oil to a large, deep sided sautee pan set over medium-high heat. When oil is heated and begins to glisten, add onion, celery, pepper, garlic, oregano, and red pepper. Cook until vegetables begin to soften, about 5 minutes.
Add fish stock. Bring to a boil. Reduce heat and simmer 5 minutes, or until vegetables are extremely soft.
Stir in sauce, saffron and sea salt. Let simmer for 10 minutes.
Add shrimp. Cover and cook for about 5 minutes, or until they begin to cook. Add mussels. Replace cover and cook another 5 minutes, or until shrimp are cooked through and mussels are opened.
Stir in parsley. Serve over sourdough.
Serves 4
Approx. 440 calories, 15 grams fat, 7 grams fiber, 42 grams protein
****Some pictures from the festival!
(photo courtesy of Allie)
(photo courtesy of Sophia)
(photo from Kai, who was with Bertolli – we thought it was funny that people only recognized me in my sunglasses!)

By