Life has been insane lately and I haven't had the time or energy to post, but I couldn't wait any longer to post these.
I hadn't had pineapple upside down cake in forever. I actually kind of forgot that it existed! But a few months ago, a little pineapple upside down bundt cake at Panera caught my eye. i bought one and was happily surprised when the cakes were fully of crunchy little poppy seeds. I loved the texture that they gave the cake! I immediately knew that I wanted to recreate them at home.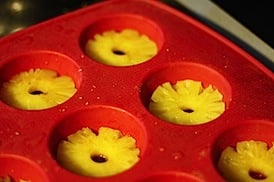 These came out great! The pineapple reminds me of summer and makes even the dreariest winter day seem immediately tropical. The pineapple and brown sugar almost melts into the cake, which is moist and doughy with the great crunch.