Dive into the world of homemade enchilada sauce, a fresh, flavorful condiment that will make store-bought sauce seem super boring. A deeply satisfying meal is never far away if you have a jar of this easy enchilada sauce in the fridge.
---
Full of Flavor: The fire-roasted tomatoes and ancho chiles give this sauce a flavorful kick
Healthy Choice: Made from scratch with nutritious ingredients, it's low sodium and free from preservatives
Saves Money: It's far more economical than bottled sauces and twice as tasty.
Guide to Making The Perfect Enchilada Sauce
A few weeks ago, a friend asked me why I like to make things like enchilada sauce from scratch.
My simple answer? Because I can!
Of course there are added benefits like knowing exactly what's in it, being able to control sodium levels, or the fact that is usually ends up tasting way better. But really, I do it for the simple satisfaction that it gives me to know I can make it myself.
I've been making my own green enchilada sauce for a few years, but I just started experimenting with red versions. I'm kicking myself for waiting so long, because this sauce is ridiculously good!
I'm not sure if I'll be able to go back to canned sauce. This homemade enchilada sauce is earthy, smokey and perfectly balanced. The flavor is big and bold, but not spicy (although you can add a pinch of cayenne pepper if you want more heat). It's also really easy to make – even easier than marinara!
And the satisfaction you'll get from making your own enchilada sauce? Priceless.
I've been on a meatball kick lately, and adore cooking them in this sauce and serving them over soft polenta. It's equally as delicious over spinach, poblano, and cheese enchiladas.
Ingredients You'll Need
Ancho Chile Peppers: The rockstar ingredient! They bring a mild, sweet heat to our enchilada sauce. When buying, always select chiles that are flexible like a raisin as this indicates freshness.
Fire-Roasted Diced Tomatoes: One of my absolute favorite ingredients! They add a smoky depth to our sauce. Substitute with regular canned tomatoes if you like – just remember, you're compromising on the smoky flavor.
Garlic: Because what's a sauce without garlic, amiright? Trust me on this, use fresh garlic here – it really makes a difference.
Cumin: The flavor boss! It's smoky, earthy, and warm and blends perfectly with our chiles. No substitutions for this one!
Low Sodium Chicken Stock: Thins out the sauce while adding flavor. Vegetarian? Use vegetable stock instead.
Apple Cider Vinegar: This brings a tangy edge that balances the earthiness of other ingredients. Sub it with white wine vinegar if you need to.
Salt: To taste – we leave this up to you based on your dietary needs, but remember that salt enhances the flavor of other ingredients and isn't just to make things taste salty.
Recipe Tips
It's always good to have a bit of extra chicken broth or water on hand when reheating this sauce, since it thickens with time.
Freeze leftovers in ice cube trays for individual portion sizes.
If you can't find Ancho chiles, try substituting with other mild dried chiles. Guajillo is a great option!
More Recipes You'll Love: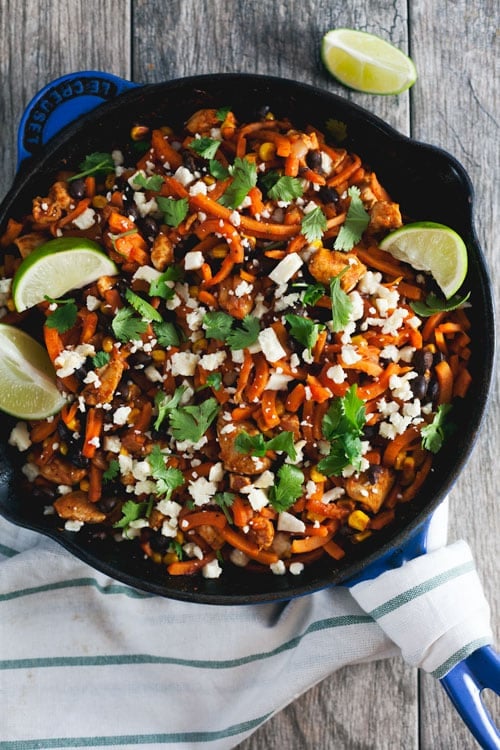 Ingredients
4

dried Ancho chile peppers

stems and seeds removed

2

cups

water

1

can

15 ounces fire roasted diced tomatoes

2

clove

garlic

½

teaspoon

cumin

½

cup

low sodium chicken stock

2

tablespoons

apple cider vinegar

salt
Instructions
In a large pan set over high heat, toast the peppers 1-2 minutes or until warm and fragrant. Add the water and reduce the heat to low. Cook 10 minutes, or until peppers are soft and plump.

Add the peppers, tomatoes, garlic, cumin, and 1 cup of the cooking liquid to a blender container. Cover and blend on high until smooth.

Return to the pan and add the chicken stock. Bring to a simmer; cook 10 minutes. Stir in the apple cider vinegar and season to taste with salt.
Notes
Small packets of dried ancho chili peppers can often be found in the spice or Mexican section of your grocery store. I've also had good luck finding them in bulk bins.
Sauce will keep refrigerated for about a week or can be frozen for several months