For almost the entire time that I was away, I had a horrible craving for Mexican food. So I wasted no time when I got home and made these enchiladas right away! I was kind of tired of beef and pork, and I don't care for chicken enchiladas, so I decided to go with a vegetarian option. Shawn recently ordered spinach and cheese enchiladas at a restaurant, so I used those as my inspiration. They don't taste overly spinach-y, but the vegetables add bulk to the filling so that you can use less cheese and keep the calorie and fat count down (don't worry, there's still plenty of ooey, gooey cheese!).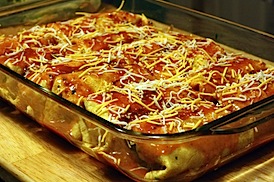 I attempted to find a recipe for spinach and cheese enchiladas online, but none of them looked very good – they all had weird ingredients like ricotta cheese! Nothing that I found was even close to what i was looking for, so I made my recipe up as I went along. I shredded the cheese for my filling and mixed it with the spinach so that you wouldn't end up with big clumps of either. I also added a poblano pepper and a chili pepper to add a little bit of heat. The poblano gave the whole dish a nice, authentic Mexican flavor and I'll definitely use them again the next time I make these.
I used Good Food Mexican red sauce, which I liked a lot, on these enchiladas. It caught my eye at the store because it had fewer ingredients than the enchilada sauces an the ingredients were recognizable. It also had significantly less calories and sodium than the other sauce options. The fact the the sauce was made by Good Housekeeping had me a little worried, but I shouldn't have been. It was great! I liked that it had a little bit of a kick to it, and the smell was incredible. I can't wait to try the other flavors.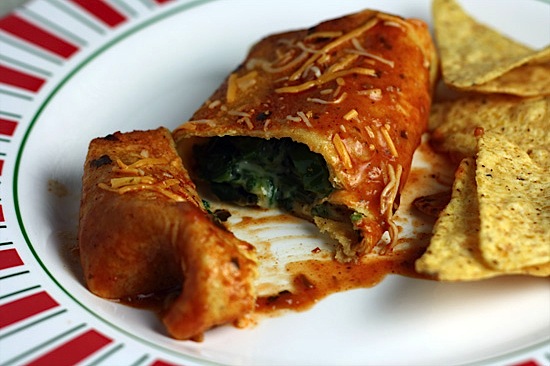 Spinach, Poblano and Cheese Enchiladas

1 poblano pepper, diced
1 chili pepper, minced
1 clove garlic, minced
10 ounces frozen spinach
12 ounces queso quesadilla, or other mild melting cheese, shredded
12 6-inch corn tortillas
1 jar Good Food Mexican red sauce or enchilada sauce

Add the peppers and garlic to a large frying pan over medium-high heat. Cook for 5 minutes, or until the peppers begin to slightly soften. Remove from heat. Combine peppers, spinach, and cheese in a large bowl and toss to combine.

Spoon a little bit of enchilada sauce into the bottom of a baking dish – just enough sauce to create a very thin coating.

To form the enchiladas: Place a small hand full of the spinach and cheese mixture onto each tortilla. Fold up the ends, then fold over one of the sides. Use your fingers to press any filling that needs it back into place, then roll the whole thing over itself so that you have a neat little package. Place in the baking pan and repeat with other tortillas. Cover with the rest of the sauce, and top with a light sprinkle of cheese if you didn't need it all for the filling.

Bake at 350 for 30 minutes.

Serves 6. Approx. 325 calories, 14.5 grams fat, 6.5 gras fiber, 16 grams protein
*****

Can you believe that it's Ash Wednesday already? I can't! If you're looking for dinner ideas for Friday, this recipe would be perfect. You can also find tons of other Lent-friendly recipes HERE.

By