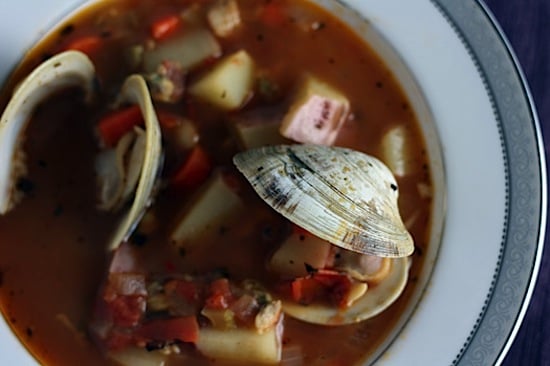 I just got back from my last holiday get-together of the season, and while it's nice to see everyone I have to admit that I'm so happy it's finally over! All of that traveling is exhausting, and I think I've eaten enough cookies over the past two weeks to last me until summer. Everyone kept trying to send me home with goodies, but I honestly just didn't want them. I'm tired of eating garbage, and I can feel the negative effects that eating like like this has had on my body. I'm definitely ready to get some balance back in my diet.
I made this clam chowder last week, and it's exactly the type of dish that I'm looking forward to eating over the next few weeks. We love clam chowder, but typically go for the creamy New England style over the tomato-based Manhattan style. I wasn't in the mood for a creamy soup this time though (even if I lightened it in terms of calories, it seemed too heavy), so I set out to make a new and improved Manhattan Chowder.
And improved I did! First, I used fire-roasted tomatoes since I love the way they taste with seafood. They gave the soup a really nice flavor that was mellower and less tomatoey than typical soups. A few slices of bacon lent a slight smokiness and tabasco passed at the table provided some heat. Nutritious vegetables added bulk to make the soup filling while keeping the calorie count down, and fresh seafood made the dish seem special. Shawn was actually very skeptical when I said I wanted to make this, because he hates tomatoes so tomato based soups really aren't his thing. He loved it though, and told me that I should make it again! Served with a crusty piece of bread to sop up the broth, this is the perfect dinner on a snowy January night.
In addition to fresh littlenecks, I used a can of Crown Prince Natural Boiled Baby Clams in this soup. I was planning to use whatever canned clams I could fin at the grocery store, but I saw these at the co-op and figured it was easier to just grab them there and save myself the trip. I really liked them and will buy them again, as well as check out the other products in the line. The clams were small and tender with no grit – much less chewy than other canned clams I've had. Any canned clams will work in this soup, but if you don't have a favorite I do recommend using these (or another brand of baby clams, although I'm not sure if that's what made them so good) if you can find them.
Once you add them clams, be careful not to let the soup come to a boil or they will toughen – just heat it gently to bring them up to temperature. I found that the soup was hot enough to do this even off the burner. The soup is also great leftover – just remove the clam shells before storing and again be careful not to let the soup come to a boil while reheating it. I found that a minute and a half in the microwave (stirring halfway through) was plenty of time to heat it enough without resulting in tough clams.
Ingredients
Manhattan Clam Chowder

4

slices

bacon

chopped

1

onion

diced

4

cloves

garlic

minced

2

stalks celery

diced

2

carrots

peeled and diced

1

bay leaf

1

tsp

oregano

dry

1

tsp

basil

dry

1

tsp

fresh thyme

generous pinch red pepper flakes

1

can

14 oz fire-roasted tomatoes

2

red potatoes

diced

1

cup

chicken stock

1

can baby clams

salt and pepper

12

littleneck clams

scrubbed

2

Tbs

lemon juice

Tabasco to taste
Instructions
Fry the bacon in a large soup pot over high heat until crispy - about 5 minutes. Reduce heat to low and add the onion and garlic. Cook until translucent - about 5 minutes more. Add the celery, carrot, by leaf, and spices. Cook until vegetable begin to soften.

Add the tomatoes, potatoes, chicken stock, 2 cups water, and the liquid from the canned clams (reserve meat). Bring to a simmer and cook until potatoes and carrots are soft - about 15 minutes.

Meanwhile, add 2 cups water to a second pot. Add the littleneck clams, cover, and steam for 10 minutes or until opened. Discard any clams that don't open, and set the rest aside.

When potatoes have softened, remove pot from heat. Stir in the canned crab meat and the littlenecks. Season with the lemon juice, salt and pepper. Allow each diner to season their bowl to taste with Tabasco.
Nutrition Facts
Manhattan Clam Chowder
Amount Per Serving
Calories 90
Calories from Fat 23
% Daily Value*
Fat 2.5g4%
Protein 7.7g15%
* Percent Daily Values are based on a 2000 calorie diet.
By