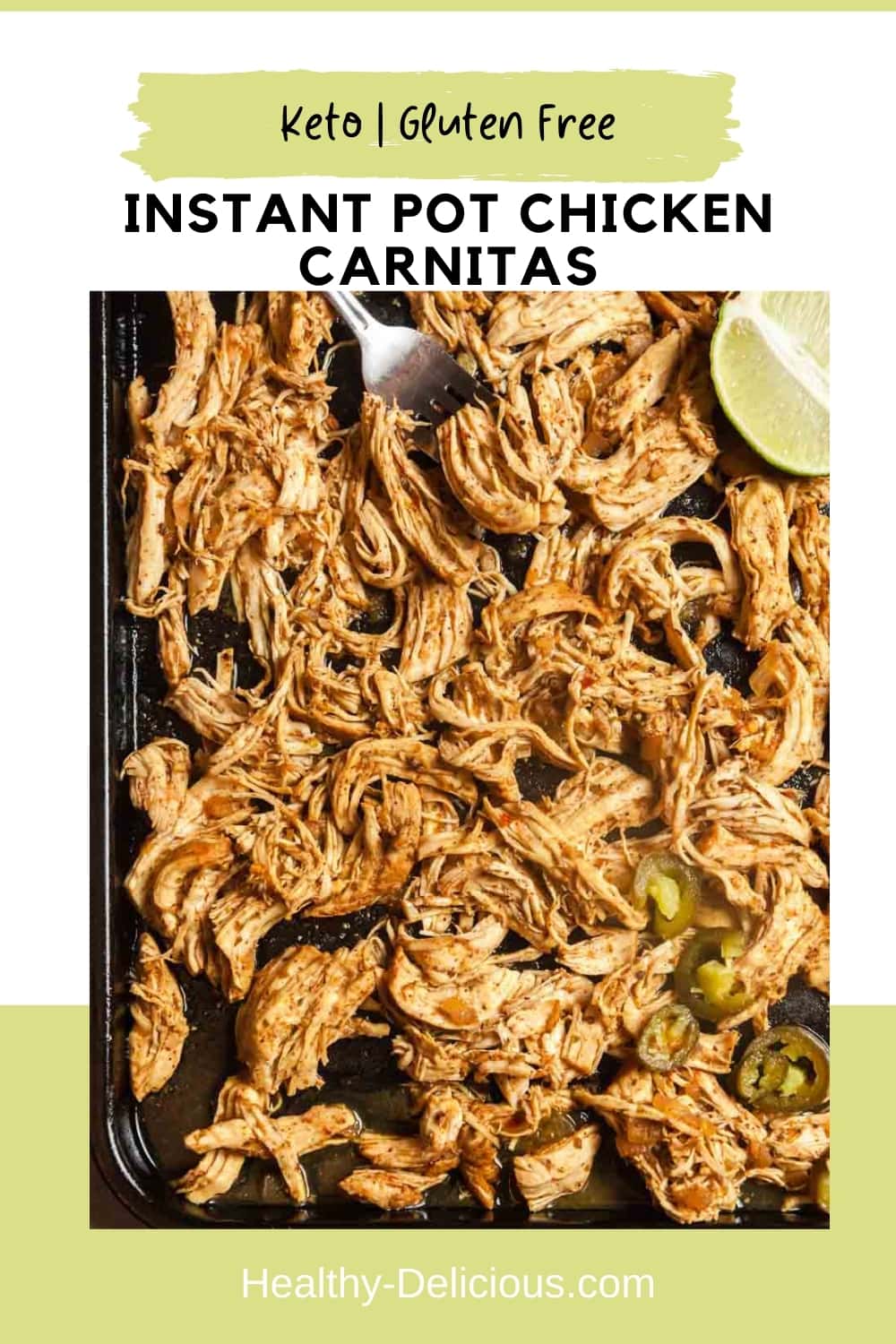 This chicken carnitas recipe from my newest book, Instant Pot Cookbook for Beginners, is a delicious and versatile weeknight dinner that's ready in just about a half-hour. You'd never guess that they're made with just 8 ingredients!
Have you heard the news? I have a new cook coming out (June 2021)!
This time around, it's all about cooking in your Instant Pot. It's perfect for when you're short on time and want to get dinner on the table fast (if you're like me and heading back to the office soon after working from home for the past year, you know how that commute cuts into your dinner prep time!). It's also great for new cooks (it makes the perfect graduation present!).
This cookbook explains how to use all of the Instant Pot's features and includes 100 new recipes designed to take full advantage of them. Just like I did with my first book, I broke out the time it takes for the pressure to build inside the pot and also how long it will take to release. So many times Instant Pot recipes can be misleading since they don't include that information in the total time, and it can make a big difference! With my recipes, you know exactly what you're getting yourself into before you start to cook.
This book strays from my usual style since it doesn't focus solely on whole food recipes and uses some shortcut ingredients like boxed brownie mix, but it's still a great source for homemade dinners that your whole family will love.
Like, for example, these chicken carnitas. It's a great recipe for beginners because it's super easy, but FULL of flavor. Exactly my kind of recipe!
What is carnitas?
Caritas is a Mexican dish that originated in the state of Michoacán. Carnitas are traditionally made by simmering pork in lard and savory spices until it's fall-apart tender, but the name translates to "little meats." Chicken carnitas, or carnitas de pollo, follow the same recipe, but using chicken.
In the case of this recipe, I used boneless, skinless chicken breasts. I also kept things on the lighter side by ditching the lard and braising the meat in broth instead. I also adapted the recipe to be made in a pressure cooker to speed up the process, which otherwise takes the better part of a day. As an added bonus, the closed nature of the Instant Pot means even when using chicken breasts, these chicken carnitas come out super juicy and tender!
What ingredients do you need for instant pot chicken carnitas?
To make these Instant Pot chicken carnitas, you'll only need a few ingredients. I bet you already have almost all of them in your kitchen already!
Dried Spices: These carnitas get tons of flavor from a homemade spice blend featuring cumin, oregano, chili powder.
Orange Juice: I like using fresh orange juice for this recipe. One large orange typically provides more than enough! If you don't have an orange laying around bottled OJ works too.
Lime Juice: As with the orange juice, I strongly prefer using fresh lime juice in this recipe. You'll need about 2 medium limes or 1 large lime. I also like serving the carnitas with lime wedges, so I usually grab a few extra limes to slice up. Bottled lime juice will also work, but does tend to be slightly more acidic (which isn't necessarily a bad thing, just something to be aware of!).
Chicken Broth: Broth or stock, your call
Boneless, Skinless Chicken Breasts: I use fresh chicken breasts to make this recipe, but if you're using frozen chicken that's cool too. Just add 5 minutes to the cook time! You can also use boneless, skinless thighs if you prefer dark meat. What you don't want to use is chicken with skin or bones. Those just get in the way and make the carnitas greasy and difficult to shred.
Garlic and Onion: Always
Natural Pressure or Quick Release?
For this recipe, you'll need to let the pressure release from the Instant Pot naturally for at least 10 minutes. This gives the chicken a chance to rest so the juices can redistribute and not get lost in a puff of steam! They also continue to cook during this time. If you open the pot too soon, it might not be cooked through (if you just can't help yourself and run into this problem,, no worries! Switch the pot to Sauté and simmer for a few minutes until the chicken is done.
What do you eat carnitas with?
Chicken carnitas is traditionally served in tortillas. I love adding lime wedges sliced radish, pickled red onions, and jalapenos. You can also serve it over rice like a burrito bowl and even stuff it into a baked potato or use it on nachos.
If you're looking for a low carb option, it's also great on a salad or over cauliflower rice.
More healthy taco recipes you'll love:
Shrimp Taco Bowls with Pineapple Salsa
Halibut Tacos with Chipotle Lime Yogurt
Grilled Lamb Tacos with Cucumber Salsa and Yogurt
Instant Pot Chicken Carnitas
This lighter take on carnitas uses chicken breasts instead of pork and lard. I love serving this in corn tortillas, over nachos, or over rice.
Print
Pin
Save
Saved!
Ingredients
1 ¼

tablespoons

ground cumin

1

tablespoons

dried oregano

1

teaspoon

salt

1

teaspoon

freshly ground black pepper

1 ¼

teaspoons

chili powder

1

tablespoon

olive oil

1

medium onion

chopped

1

garlic clove

minced

¼

cup

orange juice

¼

cup

lime juice

¼

cup

chicken broth

1

pound

boneless

skinless chicken breasts
Instructions
In a small bowl, mix together the cumin, oregano, salt, pepper, and chili powder. Set aside.

Turn on the Saute function, and when the inner pot is hot, pour in the oil. Stir in the onion and cook until translucent, about 3 minutes. Add the garlic and cook until fragrant, about 1 minute.

Add the orange juice, lime juice, chicken broth, and the spice blend. Stir to combine. Add the chicken and press it down lightly into the liquid.

Lock the lid on the pressure cooker. Set the pressure valve to seal and cook for 5 minutes on high pressure. When the time is up, allow for a 10-minute natural release of pressure, then quick release any remaining pressure.

Remove the lid and shred the chicken with a fork. Allow the shredded chicken to soak up the cooking liquid.
Notes
If you prefer your carnitas crispy, spread the shredded chicken in a single layer on a greased baking sheet and broil on high for 3 to 5 minutes. Toss some of the leftover juice form the pressure cooker over the chicken when it's done.
Nutrition Facts
Instant Pot Chicken Carnitas
Amount Per Serving (1 g)
Calories 169
Calories from Fat 45
% Daily Value*
Fat 5g8%
Cholesterol 64mg21%
Carbohydrates 5g2%
Protein 24g48%
* Percent Daily Values are based on a 2000 calorie diet.