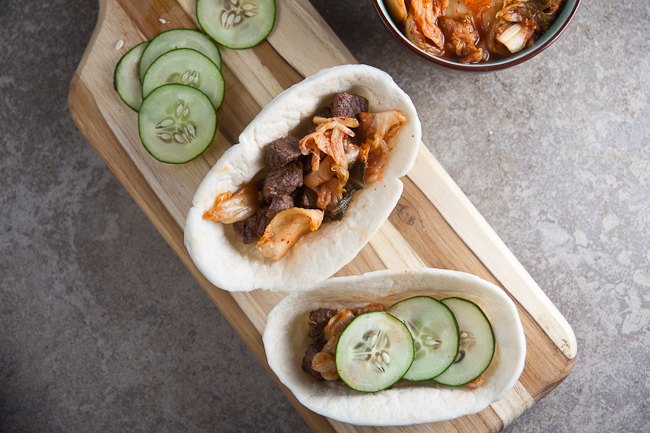 Albany is so far behind the times when it comes to food trends. I think the FroYo trend finally hit its peak here this summer – what, five years late? Food trucks are just starting to gain popularity, but there are still no Korean tacos in sight. At the going rate, I figure we still have two years or so before they start making an appearance. (Korean in general is tricky to find, although there is a decent place to get bi bim bap.)
Luckily I'm pretty good at reverse engineering the flavors that I've had when I've visited other, more on-the-ball places. Sometimes I even get paid to do it. (Yup, this is another one of the recipes I put together for Old El Paso.)
These spicy Korean tacos are incredibly easy to make – perfect for a weeknight. Even a Monday.
Start by giving some beef a bath in a spicy combo of chili-garlic sauce, soy sauce, and rice vinegar. A half an hour is long enough, so you'll still be able to get dinner on the table at a decent hour. Of course, if you're feeling on the ball, you can also start the steak the night before.
The beef is cut up nice and small, so it cooks super quickly. You're really just looking to get a nice sear on it. Then pile it into your shells and top it off with some fiery kimchi and cucumber slices to balance out the heat.
I used the new Stand 'N Stuff Soft Taco Shells for these. I can't even tell you how many times I said that these should exist, so I'm pretty stoked that they finally make them! Gone are the days of struggling with a flat tortilla and accidentally overfilling it. These have tons of room for fillings and their rounded shape means everything doesn't fall out of the end while you eat. Good stuff!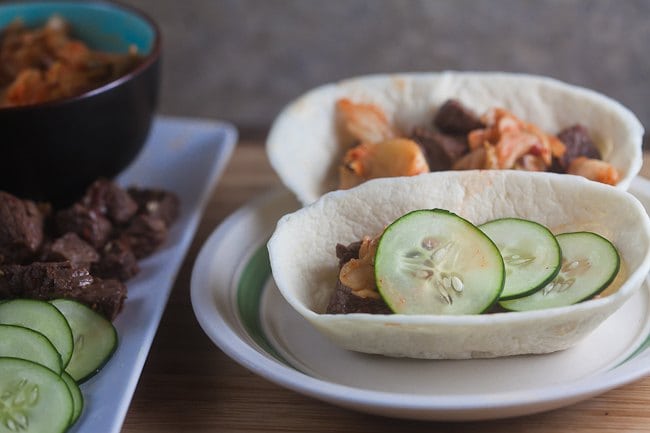 This post was brought to you in partnership with Old El Paso. I received compensation for recipe development purposes. All opinions are my own.