Cuban-Style Beef Lettuce Wraps are stuffed with mojo marinated steak bites, pickled onions, and creamy avocado. They're sure to be a hit at your dinner table!
These Cuban-style beef lettuce wraps are the fifth in a series of recipes I created for Moyer Beef. Moyer is sourced from small family farms in New York and Pennsylvania and can be found in many Tops Friendly Markets across the Northeast.
The one thing that I've missed most since starting my paleo-ish diet at the beginning of the year is tacos. And pizza. But mostly tacos.
I had it in my head that I was going to try to satisfy my taco craving by making Chile Colorado stuffed lettuce cups for my fifth recipe for Moyer, but I was kind of "meh" about the idea. It just didn't seem special enough. Then I was chatting with a friend about places to eat in Miami and started daydreaming about Cuban food. Suddenly it hit me – instead of making Chile Colorado lettuce wraps, I'd stuff them with Cuban-style mojo beef. I can barely remember the last time I was so excited about a new recipe.
Mojo beef lettuce wraps make a great weeknight dinner, but they'd also be a fantastic addition to your Superbowl party or even a game night.
The garlicky citrus marinade is a nice change of pace this time of year and the lettuce cups really highlight the freshness of this dish. The juicy steak bites are delicious enough on their own, but they're even more special when they're combined with creamy avocado and tart pickled onions.
To make this recipe, I pulled two Moyer petite sirloins from my freezer. I love petite sirloins because they're the perfect size – not super huge but also not too small. You can see what they look like in my recipe for Sirloin Steaks with Miso-Butter Mushrooms. It's also a lean cut, with a nice meaty flavor. After they defrosted, I cut the steaks into small pieces – about a quarter inch dice – and marinated them in a combination of orange juice, lime juice, garlic, and olive oil. Traditionally, Cuban mojo uses sour oranges, but orange juice and lime juice is a nice approximation.
Start the onions while the steak marinates. Cut a red onion in half through the root, then slice it as thinly as you can. Add it to a small pan with apple cider vinegar, honey, and salt, and bring it to a boil. It won't look like you have enough liquid, but the onions will release some more as they cook. As soon as the vinegar starts to boil, remove the pot from the burner and let the onions cool. I'm obsessed with these and eat them on everything from chili to hummus. They really make this recipe, adding a great punch of flavor to the lettuce wraps.
When you're ready to cook the steak, set a pan over a high flame and get it nice and hot. Use tongs or a slotted spoon to life the steak from the marinade and add it to the dry, hot pan – enough marinade will cling to the steak so that you don't need to add any extra oil. Cook the steak for 3-5 minutes, stirring it once or twice to help it brown all over.
Serve everything separately and allow everyone to stuff their own lettuce wraps at the table, or you can pre-make them and arrange them in a deep-sides pan for easy grabbing – either way, you can't go wrong.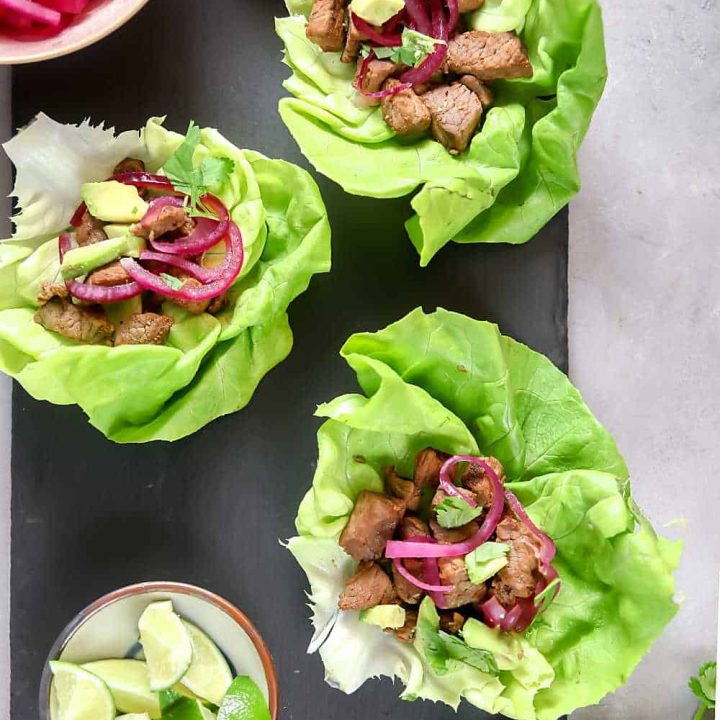 Ingredients
1

orange

juiced

1

lime

juiced

3

garlic cloves

minced

½

teaspoon

cumin

⅓

cup

olive oil

2

petite sirloin steaks

about 3/4 pound total, cut into 1/4-inch pieces

1

red onion

thinly sliced

½

cup

apple cider vinegar

1

teaspoon

honey

2

small heads butter lettuce

or romaine or iceberg

1

avocado

diced

fresh cilantro and lime wedges

for serving
Instructions
In a medium bowl, whisk together the orange juice, lime juice, garlic, cumin, and olive oil. Season to taste with salt and pepper. Add the diced beef to the marinade; turn to coat. Cover and let rest at 1 hour. 

While the steak marinates, prepare the onions. Add the sliced onions, vinegar, honey, and a pinch of salt to a small pot. Bring to a boil over medium heat. When the liquid starts to boil, remove from the heat and let cool. 

Heat a heavy pan, preferably cast iron, over high heat. Use tongs or a slotted spoon to transfer the meat from the bowl to the hot pan, leaving the marinade behind. Cook 4-5 minutes, or until the steak bites are browned on the outside and medium or medium-well inside. 

Divide the steak among 12 lettuce leaves. Top with pickled onions, diced avocado, and cilantro. Serve with lime wedges. 
Notes
The leaves closest to the heart of the lettuce typically make the best cups, since they're sturdy. Save the soft outer leaves for salad.

Nutrition Facts

Cuban-Style Beef Lettuce Wraps

Amount Per Serving

Calories 380

Calories from Fat 270

% Daily Value*

Fat 30g46%

Cholesterol 61mg20%

Protein 18g36%

* Percent Daily Values are based on a 2000 calorie diet.

By