At what point does a smoothie become a milkshake? This chocolate peppermint green smoothie is so rich and chocolatey that it's definitely inching over into shake territory. It's low in sugar but high in fiber and healthy fats, so it's totally appropriate for breakfast. With a little whipped cream on top it can pass for dessert, too!
Ever since I did the 21 Days to Lean and Green program last June (read my review here), I've loved starting my mornings with a green smoothie or fresh green juice.
At least, I did until winter got here.
Something drinking an icy cold smoothie when it's below freezing just seems wrong. Unless, of course, it's this chocolate peppermint green smoothie.
The combination of chocolate and peppermint always reminds me of Christmas and winter, so it seems much more appropriate for the season.
This is a great smoothie for people who are just starting to venture into the territory of green drinks – the cocoa powder makes the smoothie chocolatey brown and covers any trace of spinach that might otherwise be detected. A hefty helping of peppermint extract masks any other vegetal flavor that might be left and leaves them perfectly minty!
(After photographing these, I handed one to Shawn to try and he drank almost half of it before he even thought to ask me what was in it!)
You have a choice with this chocolate peppermint smoothie: You can make it with avocado or with banana.
I've been making them both ways and I can't decide which I like better, although I think I lean slightly toward using avocado.
Avocado makes the smoothie thicker and creamier, but if your avocado is too ripe it can have a little bit of a strong after-taste. Less ripe avocados aren't as strongly flavored as ripe ones, so I prefer to use those.
You might also want to add a little extra syrup since the avocado base isn't as sweet as banana.
If you use banana, the smoothie will be sweeter and there won't be an aftertaste at all, but the banana flavor is stronger – you can definitely taste it.
Both versions are delicious, so it depends on what you're in the mood for.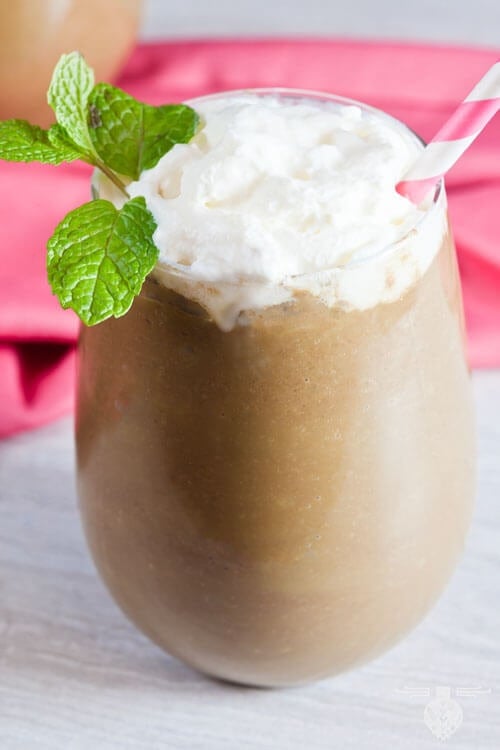 Ingredients
1 ½

cups

unsweetened coconut milk or almond milk

½

avocado

barely ripe or banana

1

cup

baby spinach

2

tablespoons

unsweetened cocoa powder

1

tablespoon

flax seeds

1

tablespoon

maple syrup

½

teaspoon

peppermint extract

I like Simply Organic

2

cups

ice

2

tablespoons

whipped cream and fresh mint

optional
Instructions
Add the first 7 ingredients (everything except the ice) to a blender container in the order listed. Cover and blend on high for 45 seconds, or until smooth.

Add the ice. Cover and blend on high 15-20 seconds, using the tamper to press the ice down into the blades.

Pour into two glasses. Top with whipped cream and garnish with mint, if desired. Serve immediately.
Nutrition Facts
Chocolate Peppermint Green Smoothie
Amount Per Serving (1 g)
Calories 134
Calories from Fat 45
% Daily Value*
Fat 5g8%
Cholesterol 2mg1%
Sodium 28mg1%
Carbohydrates 20g7%
Protein 4g8%
* Percent Daily Values are based on a 2000 calorie diet.