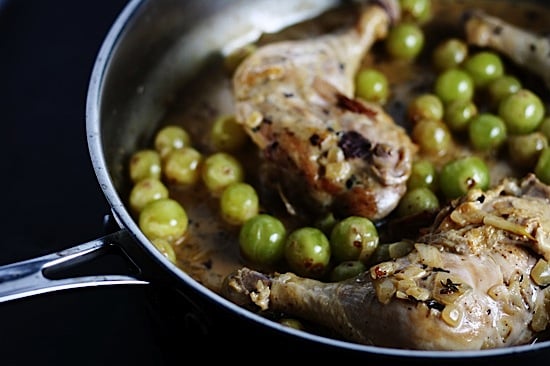 Chicken and grapes – it sounds like something that you would feed your five year old for dinner. But trust me when I say that this meal is greater than the sum of its parts. The chicken is browned and then braised in wine until it's fall-off-the-bone tender. The pan juices are made into a delicious sauce enriched with a touch of cream and plenty of fresh thyme. And then there are the grapes – when heated, they transform into tiny morsels of juicy perfection that are the perfect balance of sweet and bitter.
I first had the idea of cooking with grapes over the summer. I must have seen it somewhere because shortly after I first started thinking about it, food + wine magazine featured a recipe with roasted grapes. That was closely followed by an issue of fine cooking that has a whole section on cooking with grapes! As great as the idea seemed, I was always distracted by the fresh, seasonal produce that was available. Grapes seemed silly! Until now. In the dead of winter in upstate New York, produce – especially fruit – is scarce, but grapes seem to be a constant. So I gave it a try, and my only complaint is that I shouldn't have waited so long!
This dish is based on a recipe from fine cooking that I chose not only for its use of grapes, but also for its use of gewurztraminer – a sweet-ish white wine from Germany, similar to riesling. I have a few bottles of this that I picked up at Trader Joe's forever ago. I typically prefer dry red wines, so while I do enjoy this wine, its not usually the first thing that I reach for. In this dish though, it was perfect. You could easily substitute riesling or even a sauvignon blanc if you prefer – I would stay away from chardonnay though, as the oaky flavor will overpower the delicate sauce.
Oh yeah, the sauce. Um, it's incredible! You'll want to eat every last drop, so I recommend making a side dish that will sop it up nicely. I made Israeli couscous, which went perfectly (I cooked it simply in chicken stock). Rice or mashed potatoes would also work well.
1 Tbs olive oil

3 chicken quarters (or 6 pieces legs and/ or thighs)

1 cup green seedless grapes

1 small onion, chopped

2 cloves garlic, chopped

1 cups guwurztraminer or other semi-sweet white wine

1 cup chicken stock

2 Tbs fresh thyme, chopped

1/4 cup heavy cream

1 tsp arrowroot powder

kosher salt and cracked black pepper

Heat the oil in a large pan over medium heat. Add the chicken to the pan, and sear on each side until golden brown – about 10 minutes. Remove chicken from pan and set aside.

Pour off any fat that has accumulated in the pan. Return to the heat and add the grapes. Cook, stirring occasionally, until softened – about 2 minutes. Remove and set aside.

And the onions to the pan and cook until softened. Add the garlic and cook until soft. Pour in the wine and simmer until reduced by about half.

Return the chicken to the pan. Add the broth and thyme. Cover and let simmer until the chicken is very tender and separates easily from the bone – about 20 minutes. Remove chicken from the pan.

Increase the heat to high and bring the liquid to a boil. Let boil for 5 minutes, or until it begins to reduce. In a small bowl, whisk together the cream and the arrowroot. Whisk into the pan sauce. Add chicken and grapes back to the pan and cook a minute or two until the grapes are heated through and the sauce is slightly thickened. Season to taste with salt and pepper.

(The skin will be soft – I recommend removing it prior to eating)

Serves 6.
Approx. 150 calories, 7.8 grams fat, 0.5 grams fiber, 9.2 grams protein (calculated with chicken skin)
By