I spent last weekend down in New York City, living it up foodie-style. It was awesome. On Saturday,
Christine
and I went to the Food Truck Drive-In, which was a ton of fun and will be featured in another post. This post is about my real reason for making the trip down – the 2010 NASFT Fancy Foods Show. The show is an amazing event that brings members of the specialty food trade together with restaurants and retailers who might be interested in purchasing their products – and its a great opportunity to scope out new and exciting products. With over 2,500 exhibitors showcasing over 180,000 products, it was a little overwhelming: I kept forgetting to take pictures, and there was a point where I realized everything was starting to taste the same and I simply didn't feel like eating any more. But I did find some great (and some not-so-great) new products and got some insight into emerging food trends. I'll mostly let the pictures do the talking on this one…
See that salsa? It's Mrs. Renfo's Ghost Pepper Salsa, which was launched the morning of the show. And it. Is. SPICY! We love their Habanero salsa already because it's one of the few jarred salsas that has a lot of heat to it, but this is even hotter. I loved it, but it was fun watching other people's expressions as they gave it a try. It has a great flavor, but was way too hot for a lot of people. If you love things that are spicy, you might want to seek this one out – but proceed with caution!
On the right is a Naan Pizza from Tandoor Chef – another brand new product that you should be able to find in the grocery store soon. I really enjoyed this pizza – despite being frozen, it tasted light and fresh. The Indian flavors were great! It was also the first of many Indian foods that I came across – I have a feeling that this will be a huge trend in the coming months! At other booths, I tried masala marinara, a "naanwhich," curry ketchup, and several varieties of Indian simmer sauces (I was lucky enough to grab some samples of the sauces, so look for some recipes and a more in-depth review coming soon!)
Other trends I noticed: Spice mixes, Flavored waters and artisan sodas (I particularly loved the Fizzy Lizzy line – especially the grapefruit soda!), and old-timey packaging – lots of mass-produced products sold in mason jars (like those pates at the top) and other "homemade" looking containers and relaunches of products in their original packaging (Saratoga Chips comes to mind).
Rick Bayless was there! I lost my composure for a minute and asked him if I could get a picture. He was a good sport. 😉 He was there promoting his new line of Frontera products, which were amazing. The tortilla chips tasted just like homemade! I was a little confused about the "need" for guacamole mix (It's a refrigerated liquid – just add avocado!) but I have to admit that the resulting guacamole was pretty darn delicious. I make my own guac without a mix all the time, but I'll be tempted to buy this once in a while (at least until I figure out what his secret to making it so delicious is!).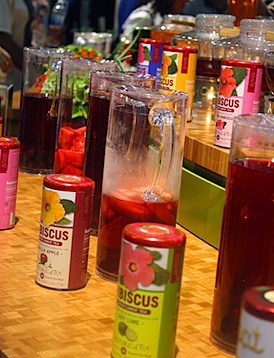 The Republic of Tea was there in full force, with hot and iced samples of their entire line – including some new products that they just launched. My favorites? The Mango Chili Green Bush Tea and the Organic Turmeric Tea. The Mango Chili tea was very refreshing, with the perfect balance of sweetness with just a hint of spice. The Turmeric Tea was unlike anything I've ever tried before. I'll admit that I was a little scared of it at first, since I thought it might have an overpowering curry flavor, but it didn't at all. They had some cinnamon sticks soaking in the pitcher of iced tea, which gave it a nice dusty cinnamony flavor. It was very nice and I'll be looking forward to trying it again!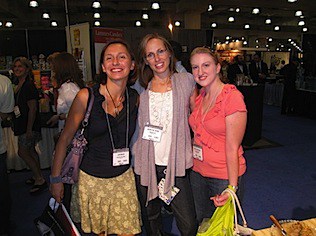 Another great part of the show? The wonderful company. With so many vendors, it did get overwhelming so I was glad to have arrived with Christine and to meet up with Andrea,
Jennifer
, Vanessa, and
Stephen
. (PS- See that Hint water in the background? It's repulsive. I tried the berry and literally spit it out. It tasted like amoxicillan. I don't recommend it at all!)