As much as I love playing around in the kitchen and creating new recipes, there are times when I just can't get inspired. This week has been one of those times. It's been crazy and I feel like I'm being pulled in a million different directions. Coming up with a creative dinner idea seems next to impossible.
During times like these I pull up one of my favorite blogs or reach for a cookbook and soak in other people's creativity. Give me a stack of books or my iPad, a pot of tea, and a cozy blanket and I can read for hours. It doesn't take me long at all to fill my weekly meal plan with delicious and inspiring recipes.
These five cookbooks are the ones that I reach for all the time. The ones with dogeared pages* covered with splatters and stains, that never quite make it back to the shelf.
They aren't all necessarily marketed as being healthy cookbooks, but each one is filled with delicious, whole food recipes that will find themselves right at home in a healthy kitchen.
(*The thought of actually folding down a page stresses me out. In reality, my books are filled with scrap paper bookmarks and naturally fall open to my most-loved recipes.)
I received review copies of The Gourmet Kitchen, Maple, and Grains as Mains; I purchased Jerusalem and SkinnyTaste Fast and Slow myself. This post contains affiliate links.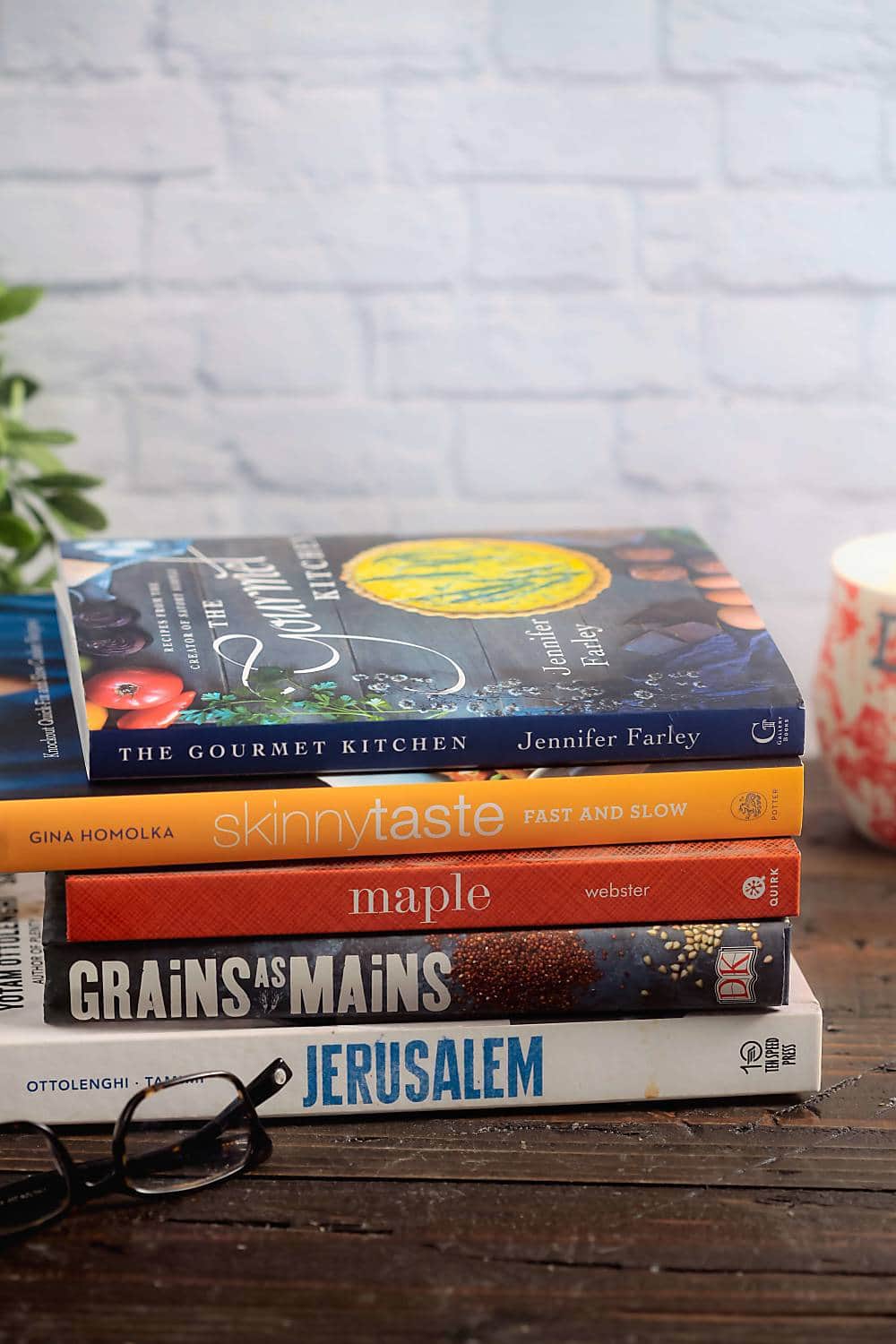 5 Best Healthy Cookbooks to Buy Now
1. The Gourmet Kitchen, by Jennifer Farley. Jennifer is a friend of mine, and I know that this cookbook was a real labor of love. I had the pleasure of helping test some of the recipes before it was published and I could hardly wait for the release date. The book finally came out this past fall, and it definitely delivers. It's filled with the same gorgeous photography that you can find on Savory Simple and the recipes are spot on. My favorite recipe is the Poached salmon soup with udon and mushrooms – it's warm and cozy and worth the price of the book.
2. SkinnyTaste Fast and Slow, by Gina Homolka. You can never go wrong with a SkinnyTaste recipe! I've been following Gina's blog since my Weight Watchers days, before she was the superstar that she is now. She really has a knack for lightening up classic, family-friendly recipes. The concept of this cookbook is brilliant – everything is either ready in 30 minutes, or can be made in a slow cooker. Total game changer. I love the slow cooker Korean-style beef tacos and the Greek chicken sheet pan dinner (which inspired my Sheet Pan Chicken and Gnocchi with Broccoli Rabe.)
3. Maple, by Katie Webster. I wrote about this cookbook when it first came out, and I lost track of how many people I've recommended it to since then. Everything in my original review still stands. The sweet and smokey turkey chili is a staple in our kitchen.
4. Grains as Mains, by Jodi Moreno and Sarah W. Caron. I've had a thing for DK books since I was in middle school – they're always gorgeous and filled with great content – so I was really excited to discover that this book was published by them. If you're looking for fun and interesting ways to incorporate more grains into your diet, this is the book for you. Some of the recipes take a little more time, so they aren't ideal for weeknights (although you can cook the grains ahead of time or use a pressure cooker) but they're full of flavor and totally worth it. Try the garlicky spinach and spelt risotto and the blueberry, amaranth, and vanilla muffins.
5. Jerusalem, by Yotam Ottolenghi and Sami Tamimi. This book has been out for ages and has gotten extensive media attention, so I feel almost silly including it here. At the same time, any list of my favorite cookbooks would be incomplete without it. It's a book I reach for time and time again. I'm pretty sure I could eat the pasta with yogurt, peas, and chile once a week and never get tired of it. The stuffed eggplant with lamb and pine nuts is also excellent. chances are, you already have this book. If not, I highly recommend it. (And if you do, I highly recommend pulling it off the shelf and cooking from it!)