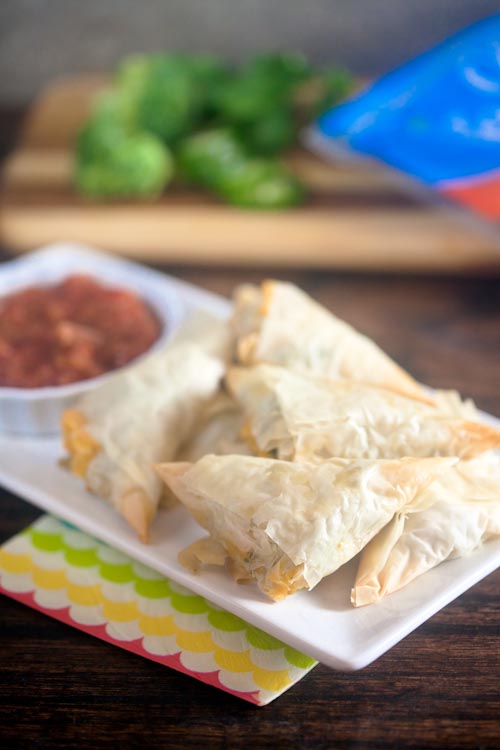 These Spicy Broccoli Triangles are another one of those recipes that I've been making for year but somehow never got around to sharing here. I get so focused on creating new recipes for the blog that I forget about some of my old favorites!
These broccoli triangles came into existence back when I was in grad school. I was on a major spanakopita kick at the time, so I always had frozen phyllo sheets on hand. One day I decided to switch things up and give them a southwestern twist with broccoli and cheddar cheese. Things haven't been the same since. These were a huge hit at my Christmas party that year, and have been a favorite snack ever since.
I use "cheese-free cheese" (as the kids are calling it these days) in these triangles. I always have! Back then, I started using it because it's so much lower in fat and calories than regular cheese. My friends and I were all on diets in those days, so that meant we could eat more without feeling guilty. It's also always appreciated at parties, since it means friends with lactose intolerance can still enjoy them. I used GO Veggie! Lactose & Soy Free shreds for these because I love the way it melts. It gets all gooey and bubbly inside of the triangles, just like regular cheese does, and it doesn't get rubbery when it cools off, meaning these broccoli triangles are just as delicious at room temperature as they are hot from the oven.


Disclosure: This recipe was created for my client, GO Veggie! Thank you for supporting the brands that keep me inspired in the kitchen.