Parmesan Herb Party Pretzels are a super simple snack that tastes surprisingly like pizza! Once you taste them, you'll want to have them all the time.
I created this recipe for my client, GO VEGGIE. Thank you for supporting the brands that keep me inspired in the kitchen.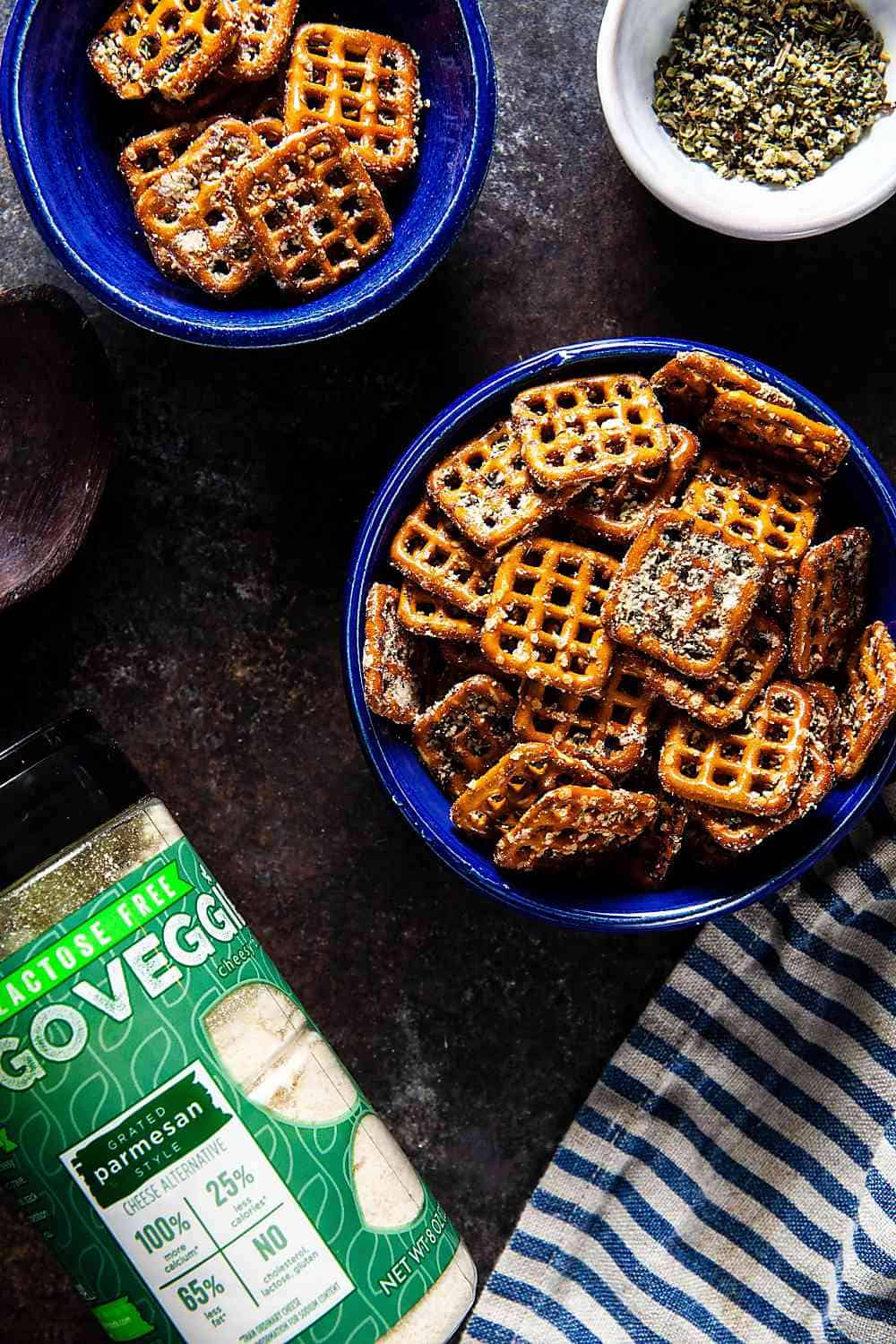 I've seen variations of party pretzels like these floating around for a while now, but I never got around to trying them out until now. You guys? Stop everything you're doing and make these right now.
I'm not joking. They taste almost exactly like pizza combos, which are one of my favorite guilty-pleasure snacks, but they don't have any of the questionable ingredients that you're likely to find in food purchased at the gas station. Shawn says I should call them "Cowabunga pizza party pretzels" because they're that good. Call them what you want, I can't stop eating them – they're definitely my new obsession.
I first made these parmesan-herb party pretzels thinking they'd be great for tailgating, but they'd work for pretty much all of your snacking needs. Sunday afternoon football? Check. Pre-dinner snack? Check. Holiday cookie exchange? Don't tempt me.
To make these party pretzels, start with small pretzels like mini twists or window panes. You want something with lots of little nooks and crannies for the seasoning to get caught in – bigger twists or sticks will work in a pinch, but the flavor won't stick as well.
Next, mix up a blend of Italian seasoning, garlic powder, and lots of GO VEGGIE lactose-free or vegan parmesan and add some neutral oil to form a thick paste. The first time I made these party pretzels, I coated the pretzels with oil and then added the seasonings, but I've found doing it this way helps the seasonings stick better and lets you use less oil. Both varieties of GO VEGGIE parmesan are lactose-free, and they have less fat and more calcium than dairy cheese – win-win!
Finally, bake the pretzels at 200F for about 20 minutes. This will get the pretzels extra toasty as well as toast the spices and help them stick to the pretzels. Let the pretzels cool before serving – don't worry, it only takes a few minutes.
Now forgive me, but I have some more snacking to do.