When I saw that the theme of this month's Recipe Redux was dehydrating, I had to laugh. I actually tried to dehydrate something (cherry and beet fruit leather) for last month's lunchbox challenge. After several attempts that failed miserably, I gave up and went a different route instead (if you haven't made those earl grey granola bars yet, what are you waiting for? They're incredible!)
I considered giving fruit leather another try, but ended up deciding it was just way too much work for something that didn't even end up tasting that great. These pear chips are more my speed! It only takes a minute or two to prep them, and they only take about an hour in the oven.
I sprinkled them with cinnamon, ginger, and a pinch of cayenne pepper. You can leave the cayenne out if you want, but I loved the subtle kick that it gives them.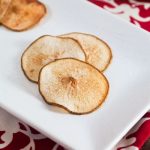 Ingredients
2

Bartlett pears

1

tablespoon

sugar

1

teaspoon

cinnamon

¼

teaspoon

ground ginger

1

pinch

cayenne pepper
Instructions
Heat your oven to 300ºF.

Use a mandoline set to 1/8-inch to thinly slice the pears. Remove the stem and seeds. Arrange the pears on a baking sheet in a single layer.

In a small bowl, combine the sugar and spices. Adjust to taste. Sprinkle over the pears.

Bake for 1 hour, turning once, or until the edges of the pears start to curl. Remove from the oven and let cool. (The pears will be slightly soft while they're warm but will crisp up once they cool off.)