Prosciutto Wrapped Pork Tenderloin with Honey Poached Pears and Gorgonzola will steal the spotlight at your next holiday gathering.
'Tis the season for pork tenderloin! I'm pretty sure I eat more of it in the month of December than I do the rest of the year combined. It's easy and affordable, so it makes sense that it's a standard pick for holiday get-togethers.
Unfortunately, it can also be pretty boring.
I decided to see if I could upgrade this holiday classic and create a recipe that's truly worthy of the spotlight, and I'm pretty sure I succeeded. This recipe is anything but boring. In fact, it's pretty fabulous!
I have a serious weakness for combining savory + sweet flavors, so this pork tenderloin is stuffed with honey-poached pears, creamy gorgonzola cheese, and crunchy walnuts, then wrapped in salty prosciutto and baked to perfection. The flavors were inspired by one of my favorite cheese board pairings – you can never go wrong with fruit, nuts, cheese, and honey!
The honey in this recipe plays a pretty important role – in addition to adding a touch of sweetness that balances out the sharp cheese and salty prosciutto, it also adds an extra layer of flavor and helps keep the pork nice and moist.
For more information about honey's natural benefits check out the National Honey Board's web site, honey.com. You can also connect with them on Facebook, Pinterest, Twitter, Instagram and YouTube.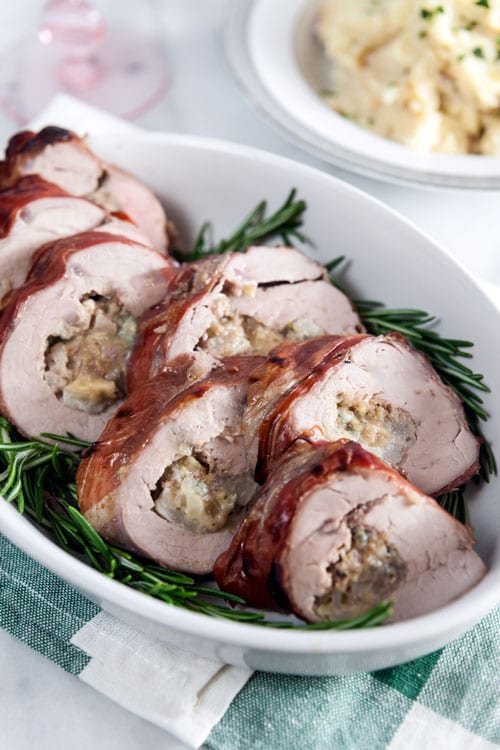 For more recipes featuring honey, try: Salted Peanut + Honey Doughnuts // Honey-Ginger Latte // Honey Bourbon Pulled Chicken

Prosciutto Wrapped Pork Tenderloin with Honey Poached Pears + Gorgonzola
Print
Pin
Save
Saved!
Ingredients
1

firm pear

½

cup

water

¼

cup

dry white wine

4

tablespoons

honey

divided

1.5

pound

pork tenderloin

6

ounces

crumbled gorgonzola

¼

cup

chopped walnuts

¼

cup

Italian seasoned bread crumbs

3

ounces

prosciutto
Instructions
Heat oven to 350.

Peel the pear and slice it into six wedges. Remove the core. In a medium saucepan, bring the water, wine, and 3 tablespoons of honey to a boil. Reduce to a simmer and add the pears. Cover and cook 15 minutes, or until the pears are soft. Use a slotted spoon to transfer the pears to a cutting board. Let cool, then cut into a medium dice.

Butterfly the pork tenderloin by slicing it lengthwise 3/4 of the way through, then opening it like a book. Cover with plastic wrap and use a mallet to flatten the meat to 1/2-inch thickness.

Remove the plastic wrap and cover the pork with an even layer of diced poached pears. Repeat with the gorgonzola, walnuts, and breadcrumbs.

Roll the pork tenderloin into a cylinder, sealing the filling inside. Brush with the remaining tablespoon of honey and season with black pepper. Wrap the tenderloin with the prosciutto, slightly overlapping the slices crosswise. Use kitchen twin to tie the tenderloin together in 4 or 5 places to help it keep it's shape. Transfer to a baking sheet.

Roast pork until a meat thermometer registers 140ºF, about 40 minutes. Remove from oven and transfer to a cutting board; let rest 10-15 minutes.

To serve, cut pork tenderloin into 1/2-inch slices.
I created this recipe for my client, the National Honey Board. Thank you for supporting the products that keep me inspired in the kitchen.