This twist on a classic pie features fresh banana cream piled high in a vanilla wafer crust! Keep reading to get the recipe and enter to win a copy of the new cookbook, Teeny's Tour of Pie.
It's been almost a full week since I shared a recipe here… I can't even remember the last time I went that long! As delicious as that potato salad with crispy ham was, I'm kind of tired of looking at it so I decided it was time to get off the couch and post something new. (This is apparently what happens when you start watching Friday Night Lights on Netflix… you spend way too much time sitting on the couch and not doing anything even remotely productive.)
Hopefully this pie will make of for my absence?
A few weeks ago, I got a copy of Teeny's Tour of Pie in the mail. The author, Teeny Lamothe, spent a year traveling to the best pie shops and bakeries in the country in an effort to master the art of pie. The book is packed full of awesome pie ideas and gorgeous photos. Teeny's personality really comes through in her writing; she basically seems like the most adorable person ever.
I had a really hard time deciding which pie I wanted to make first, but I was really drawn to her cream pie recipes. Chai Cream Pie? Yum. Earl Grey Cream Pie? Oh my. I ended up settling on her classic Banana Cream Pie. It's my Dad's favorite pie, so I brought it with me to Easter dinner.
From the first bite, it's obvious that this pie is something special. The banana cream is made from scratch, and it's lightyears away from pies made with boxed pudding mix. I was a little worried that it wouldn't be banana-y enough, since I opted out of the optional banana extract, but it ended up being perfect. Honestly, I think the extract would have ruined it.
I also really loved the crust, which is made from crushed vanilla wafers. I haven't had a vanilla wafer in ages, and I had completely forgotten how delicious they are. The crust gives the pie a banana pudding vibe and, now that I've tried it this way, I don't think I can go back to banana cream pie made in a standard pastry crust.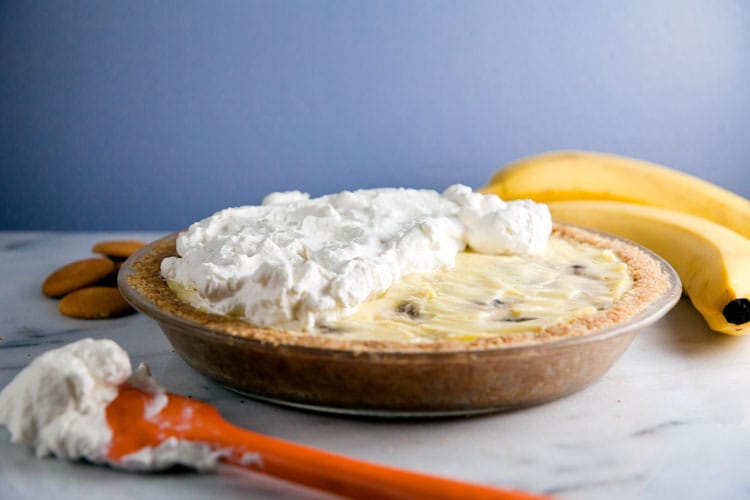 Ingredients
1 ½

cups

vanilla wafer crumbs

about 45 cookies

7

tablespoons

unsalted butter

melted

½

cup

sugar

2

tablespoons

cornstarch

½

teaspoon

salt

2

cups

whole milk

4

medium egg yolks

2

tablespoons

unsalted butter

2

bananas

1

cup

heavy cream

3

tablespoons

powdered sugar

1

teaspoon

vanilla extract
Instructions
Heat your oven to 350ºF.

In a large bowl, combine the cookie crumbs and melted butter; stir to combine. Transfer 3/4 of the crumb mixture to a 9-inch pie pan. Form the sides of the pie crust by pressing the crumbs up the sides of the plate (it should be about 1/4 inch thick). Spoon the rest of the crumb mixture into the bottom of the plate; press it to form the bottom of the crust.

Bake 5-7 minutes, or until lightly browned. Remove from oven and let cool.

In a medium saucepan, whisk together the sugar, cornstarch, and salt. Add the milk and egg yolks; whisk until there are no lumps.

Turn the burner on to medium. Cook the pudding whisking constantly and scraping the bottom of the pot so it doesn't burn, until it begins to thicken and come to a boil – about 10 minutes. Let the pudding boil 1 minute; remove from heat.

Add the butter; whisk until the pudding is smooth. Thinly slice the bananas into the pudding; stir gently to incorporate.

Pour the banana cream into the cooled crust. Immediately cover with plastic wrap. Refrigerate until set (at least 4 hours).

Prepare the whipped cream by combining the cream, powdered sugar, and vanilla in the bowl of a stand mixer. Beat on high speed until thick and doubled in size – about 3 minutes.

Before serving, remove the plastic wrap and top the pie with whipped cream.
***
Want to win a copy of Teeny's Tour of Pie for yourself? Enter using the form below!
Disclosure: I was given two copies of Teeny's Tour of Pies – one for myself and one to give away – as well as a small assortment of baking supplies from Food Lion.