I couldn't let brunch week end without a cocktail recipe, could I? Thanks so much for playing along this week as we shared some amazing brunch recipes. And thanks to our hosts, Terri of Love and Confections and Susan of The Girl In The Little Red Kitchen for doing such a great job organizing everything! If you haven't entered yet, but sure to go on over and read about our giveaway. We have some amazing sponsors and there are fantastic prizes up for grabs!
Have you ever tried a shrub? They sound a little weird if you haven't tasted one yet – from the funny name to the fact that they have vinegar in them – but they're really refreshing. I got into them a few summers ago, and they're one of my favorite ways to cool off on a hot, humid day. Luckily, they're super easy to make!
You start by mixing together fruit and sugar and refrigerating it overnight. The sugar helps pull the juiced out of the fruit and the juices help dissolve the sugar… leaving you with a delicious fruit flavored syrup. For this recipe, I used equal parts strawberries and rhubarb. (That photo above is what it will look like. That's all just fruit and sugar – I didn't add any liquid it at that point!)
Next, you strain out the fruit and stir some vinegar into the syrup. You can keep the syrup in the fridge until you're ready to have a drink, then mix it with club soda and a shot of our favorite liquor. I like how the botanicals of gin pair with the strawberry-rhubarb shrub, but if you're not a gin drinker you can also use white rum for a daquiri-like cocktail or vodka for something a little more neutral. (You can also forego the alcohol all together if you just want a refreshing drink.)
That's all there is to it! You can use any kind of vinegar, but I like the flavor of apple cider vinegar. I also add some white balsamic, which helps smooth out the flavors (regular balsamic tastes good too, but your cocktail won't be as pretty.) I'm not going to pretend drinking vinegar isn't a little weird. But, once you get past the first few sips, it's completely addicting! (If you like kombucha, you'll find the sour vinegar taste to be pretty familiar. It's not that far off!)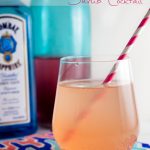 Ingredients
For the Shrub Syrup:
1

pound

strawberries

quartered

6

stalks rhubarb

cut into 1/4" dice

1 ½

cups

sugar

such as Dixie Crystals

1

cup

apple cider vinegar

½

cup

white balsamic vinegar
For the Cocktails:
gin

white rum, or vodka

club soda
Instructions
Combine the strawberries, rhubarb, and sugar in a large container. Cover and refrigerate overnight. Strain the liquid that has accumulated into a pitcher. Stir in the vinegars. Refrigerate until ready to use.

To make a cocktail, mix 1 shot of gin, white rum, or vodka and 1 1/2 shots shrub syrup in a 6 ounce glass. Top with club soda.
Brunch Beverages:
Brunch Eggs:
Brunch Mains:
Brunch Breads:
Brunch Fruit and Sides:
Brunch Desserts:
Disclaimer: As a Brunch Week participant, I received several samples from our sponsors to use in my recipes. For this recipe, I used sugar from Dixie Crystals.