The subtle, smoky heat of chipotles peppers and the bright snap of pickled onions make this rich stew one of our favorites, and Shawn often requests it.
Unlike other chili recipes that use ground meat, this one calls for cubes of stew beef that, combined with the cornmeal used to thicken it, give the chili a rustic feel that reminds me of cowboys eating around a campfire. This chili is hearty enough to serve on it's own – no need for rice – but I like to have a few corn tortillas on the side to help sop up the last bits of sauce.
Don't be tempted to skip the onions – they're what makes this dish, and it just isn't the same at all without them.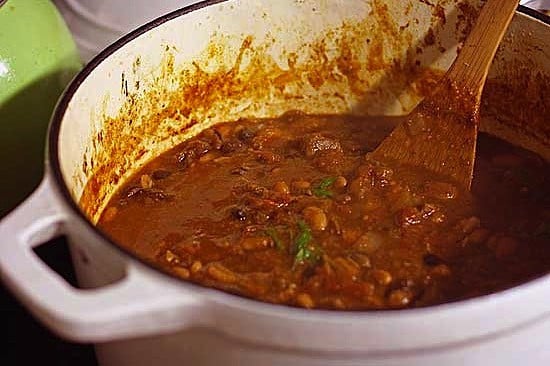 Tip: I almost always buy packages of pre-cubed stew beef for this recipe, but I find that it's best to cut each cube into two or three pieces before cooking. Otherwise, they're too big and I need to use a knife in order to eat my chili. Cutting the cubes into smaller pieces also increases the surface area of the beef, making more room for the other flavors. If you can't find pre-cubed meat, you can use a chuck roast or any other cut of meat suitable for stewing/braising.