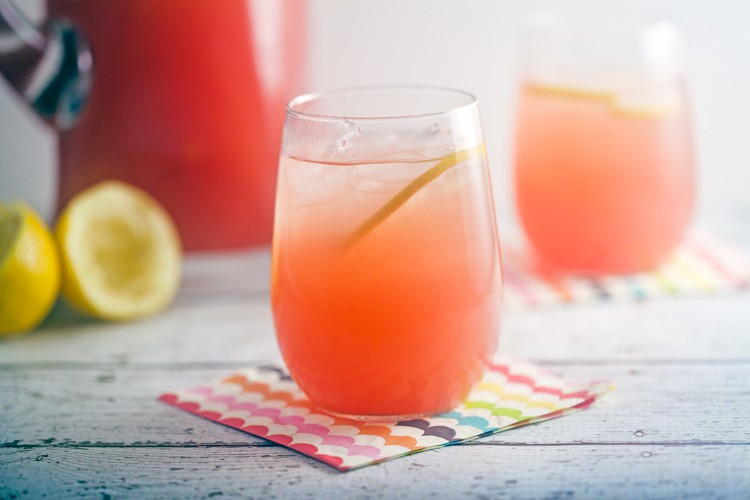 I'm gonna let you in on a secret: I hate eating watermelon. I know, I'm a freak. There's just something about the texture that I can't stand. As much as I want to love that watermelon, feta, and mint salad that everyone makes this time of year, I can't do it. Blegh.
I do, however, love drinking watermelon. Once it gets pureed, the texture is no longer an issue and it's totally delicious and refreshing. Here, I combine it with fresh lemon juice, simple syrup, and seltzer to make a gorgeous sparkling pink lemonade. It's heavy on watermelon flavor, but still plenty tart. And, since the watermelon is so naturally sweet, you can cut way down on the added sugar.
Today, some of my friends and I are unveiling a new monthly blogging event called Progressive Eats. Have you ever been to a progressive dinner party? If not, it's where you eat one course at one house, then move on to another one for the next, then another one, etc. They've fallen out of fashion, but I have seen them done as fundraisers and I've always loved the concept. Barb from Creative Culinary had the brilliant idea of taking these progressive parties online, with a core group of bloggers each posting one "course" of a themed menu. By them time you've stopped by and visited each blog, you'll have a complete menu for a theme night of your own!
This month, Lana from Never Enough Time agree to host and she chose the theme "Summer in the South." I'm from New York and, with the exception of Miami, the farthest south I've ever been is Northern Virginia. This theme was definitely not my forte!
I took the easy route and signed up to bring drinks. This sparkling watermelon lemonade is perfect though – at least in my mind. It's super refreshing and will keep you cool in the stifling heat.
Be sure to check out the rest of our Summer in the South menu, and come back the last Tuesday of every month for a new theme!
Main Course
Never Enough Thyme – Creole Style Smothered Chicken
Appetizers
The Heritage Cook – Old Bay Shrimp Boil Skewers
Stetted – Fried Green Tomatoes with Smoked Tomato Basil Aioli
Bread
Savvy Eats – Jalapeno Cornbread + How to Store Cornbread
Salads
Miss in the Kitchen – Creamy Coleslaw
Life's a Feast – Shrimp, Grilled Peach and Quinoa Salad
Soup
Spiceroots – Maque Choux Soup
Sides
Creative Culinary – Bacon and Caramelized Onion Creamed Corn
Pastry Chef Online – Spicy Succotash
Beverage
Healthy. Delicious. – Watermelon Lemonade
Desserts
Barbara Bakes – Key Lime Pound Cake
That Skinny Chick Can Bake – Banana Cream Cheesecake Pie