Homemade horchata is a cool, creamy drink made from rice, almonds, and cinnamon. This recipe is dairy-free so everyone can enjoy it. Cheers!

I love Mexican food. I'm pretty sure I could eat it every day and not get tired of it. There are a few different Mexican restaurants here in town that I frequent depending on my mood. One has great grilled meats and I adore their tortilla soup. Another one is awesome for traditional recipes like cochinita pibil and has a terrific patio for when the weather is nice. The third is a little hole-in-the-wall place with killer tacos. I order their tacos al pastor pretty much every time I go there.

The taco place doesn't have a liquor license, which means no margaritas. It's ok though because they have amazing horchata. If you look around, you'll see that almost everyone there has a pitcher of it. Not a pitcher for the table, but a pitcher for each person. They serve it to you with the straw right in it – no need to dirty a glass.

The theme for this months Progressive Eats menu is Cinco de Mayo and it took me about two seconds to decide that I wanted my contribution to be a homemade horchata recipe. Make sure you scroll to the very bottom of this post for the complete menu of what everyone else made!
What is horchata?
Broken down to its basic elements, authentic horchata is essentially sweetened rice and almond milk that's flavored with a little cinnamon. It's cold, creamy, and shockingly refreshing for something that looks so much like a glass of milk.
Horchata is traditionally dairy-free, but it's also not uncommon for restaurants to make it with sweetened condensed milk. If you have a dairy allergy, be sure to ask before you order it out – never just assume it will be dairy free!
My horchata recipe gives a nod to both types. I start by soaking rice and almonds overnight to make homemade nut milk, but I stir in canned coconut milk at the end to give it some of the creaminess that sweetened condensed milk adds. I also sweeten my horchata with honey. You could use white sugar, which is more traditional, but I love the subtle floral flavor that honey adds to the drink.
This horchata will keep in the refrigerator for a few days, but it might separate over time as the solids settle to the bottom of the pitcher. Just give it a good stir and it will be as good as new.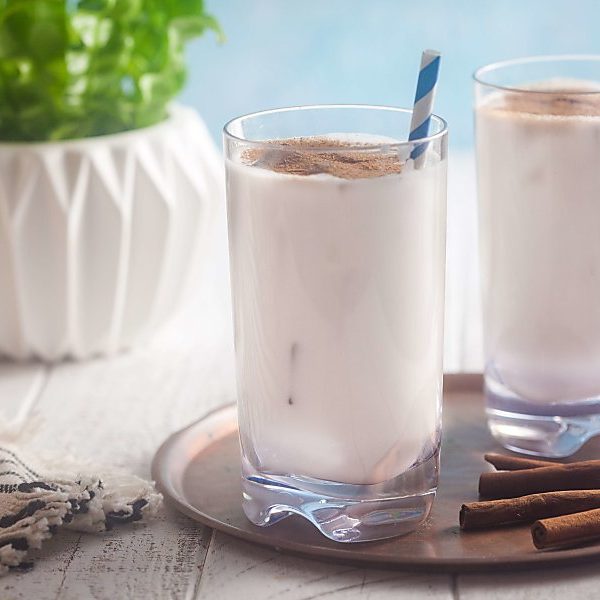 Dairy-Free Horchata
Homemade horchata is a cool, creamy drink made from rice, almonds, and cinnamon. This recipe is dairy-free so everyone can enjoy it. Cheers!
Print
Pin
Save
Saved!
Ingredients
2

cups

boiling water

1 ½

cups

long-grain white rice

½

cup

whole blanched almonds

3

cinnamon sticks

2

cups

cold water

1

cup

light coconut milk

⅓

cup

honey

½

teaspoon

vanilla extract

1

pinch

kosher salt

Ground cinnamon

for topping
Instructions
Combine the boiling water, rice, almonds, and cinnamon sticks in a heat-proof container. Let cool, then cover and refrigerate overnight.

Discard the cinnamon sticks and transfer the rice and almond mixture to a blender. Add 2 cups cold water. Cover and blend on high got 3-4 minutes, or until very smooth. Pour the mixture through a fine mesh strainer into a pitcher.

Heat the coconut milk and honey in a saucepan set over medium heat until the honey dissolves. Let cool, then pour into the pitcher with the rice mixture. Stir in the vanilla and salt.

Refrigerate until ready to serve. Serve over ice and top with ground cinnamon.
Nutrition Facts
Dairy-Free Horchata
Amount Per Serving (1 g)
Calories 205
Calories from Fat 81
% Daily Value*
Fat 9g14%
Sodium 90mg4%
Carbohydrates 30g10%
Protein 4g8%
* Percent Daily Values are based on a 2000 calorie diet.
Welcome to Progressive Eats, our virtual version of a Progressive Dinner Party. This month's theme is a Cinco de Mayo Fiesta, and our host is Jane who blogs at The Heritage Cook
If you're unfamiliar with the concept, a progressive dinner involves going from house to house, enjoying a different course at each location. With Progressive Eats it's a virtual party. A theme is chosen each month, members share recipes suitable for a delicious meal or party, and you can hop from blog to blog to check them out. Come along and see all of the delicious fiesta inspired dishes!
Cinco de Mayo Fiesta
Beverages
Appetizers
Bread
Main Courses
Side Dish
Desserts