Icy cold honey-sweetened frozen lemonade will be your go-to drink for hot days this summer. Before you ask, yes, there's a boozy option.
A few weeks ago, it finally started to feel like summer here in New York. Yay! I've lost a good amount of weight since last year, which meant none of my shorts fit and a trip to the outlets was in store. (Double Yay!)
Shawn convinced me that we should swing by Burger King for a frozen lemonade to enjoy on the drive, and after one sip I knew I was in trouble. It was sooooo good and I knew I'd want to drink it all summer.
But it was also loaded with sugar and other stuff that I don't personally want to eat on a regular basis. I immediately started brainstorming ideas for how to make a healthy version of frozen lemonade at home.
This frozen lemonade recipe is the result of my experimenting and I couldn't be happier.
It's perfectly tart, icy cold and reminds me a little of a slushy and a little of lemon Italian ice. And it's seriously refreshing on a hot day.
(PS, the LOFT outlet was chock full of cute shorts that are perfect for 30-somethings. Not too teeny-bopper looking, and long enough to cover your butt, but still stylish. I bought more pairs than I'll have time to wear.)
How to make the BEST frozen lemonade
This honey-sweetened frozen lemonade recipe came out exactly like I wanted it to, but it took a few tries and getting it perfect was a little stressful.
Making ice cubes out of lemonade was out of the question since I wanted something that could be made spur-of-the-moment. But adding enough ice to lemonade to get the thick, fluffy texture I was after diluted the flavor too much.
I finally figured out the best way to get a perfectly lemony homemade frozen lemonade with the right texture is to treat the ice itself as most of the water.
You only need to add enough water (or, yes, vodka) to get the blender blade spinning. The ice will melt a little, diluting the lemonade the perfect amount.
Instead of white sugar or simple syrup, I sweetened this frozen lemonade with honey.
Honey is an amazing natural sweetener, and it goes amazingly well with lemon. I love the extra hint of sunny sweetness that it gives this honey lemonade recipe.
Pulse the honey, water, and lemon juice mixture a few times before adding the ice to help the honey incorporate into the mixture so every sip is perfectly sweetened.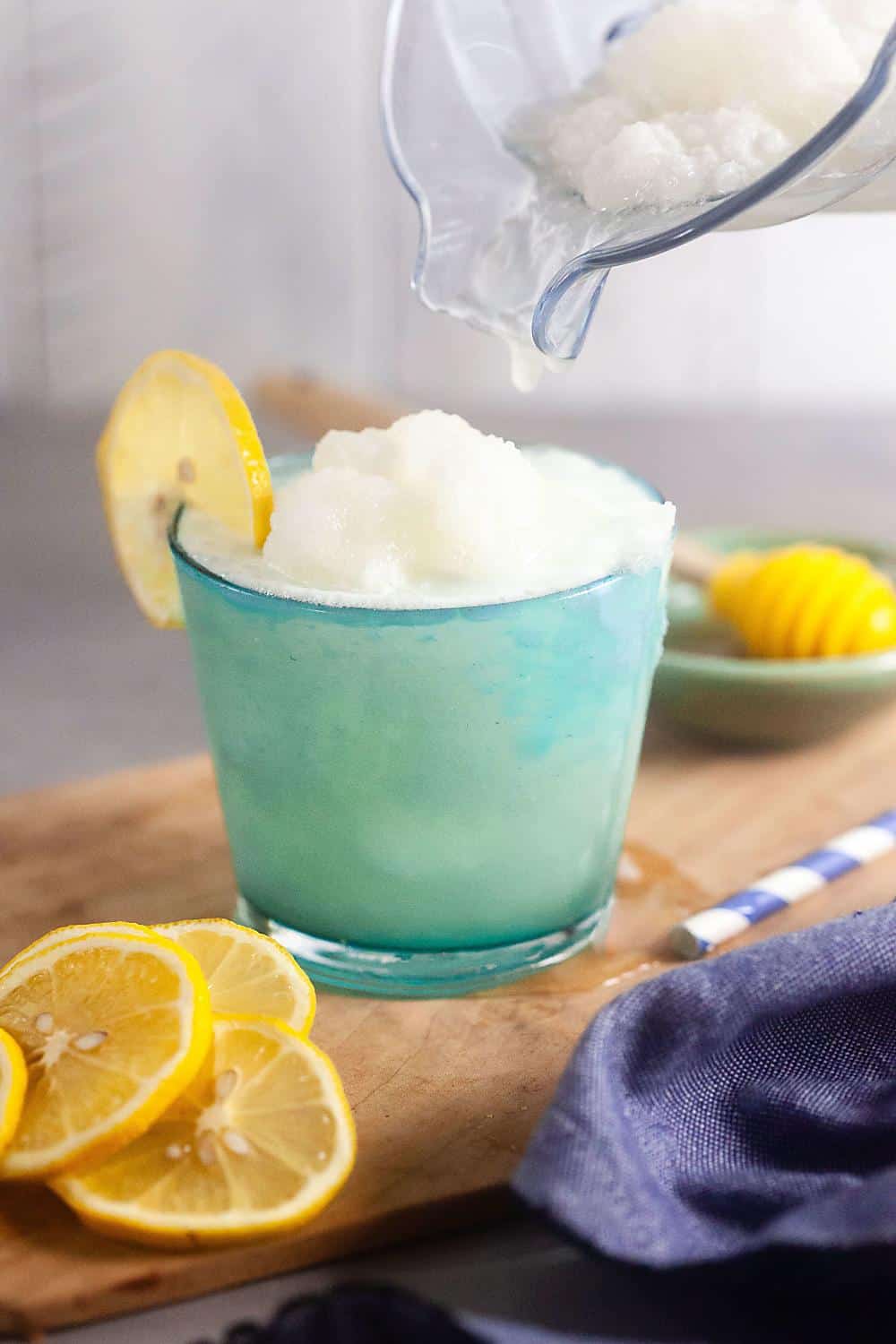 If you have extra lemons, use them to make Lemon-Parmesan Gnocchi with Mushrooms or add the zest to a batch of gluten-free strawberry financiers.
Ingredients
1

cup

fresh lemon juice

about 1- to 1-1/2 pounds lemons

½

cup

honey

½

cups

water

4

cups

ice
Instructions
Add the lemon juice, honey and water to a high power blender. Pulse until combined.

Add the ice and blend until slushy. Add more water, if a looser consistency is desired.