This hearty roasted tomato soup with goat cheese has all the flavor of the classic soup and grilled cheese combo, in the convenience of a single bowl.

We spent last weekend curled up in front of the fireplace, wrapped up in just about every blanket we own. We have two solid months of winter to go, but I'm already over it. When it's this cold out, I have a hard time getting excited for anything other than soup. This one, full of roasted tomatoes and garlic, is particularly well-suited for this weather.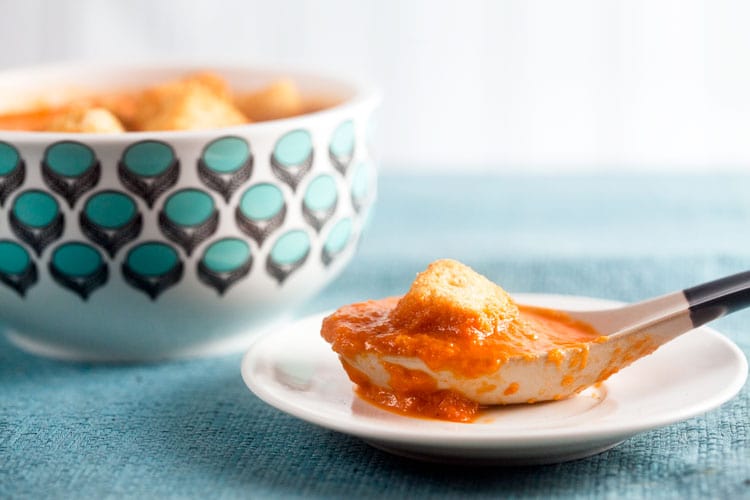 Remember that time I made spicy roasted tomatoes and Shawn – who loathes tomatoes – asked for seconds? I figured I'd press my luck and see if he might also like roasted tomato soup. I started with the best can of tomatoes I could find, then roasted them with olive oil and a pinch of brown sugar to concentrate their flavor and bring out their natural sweetness. Once the tomatoes were roasted, I combined them with onion, roasted garlic, fresh basil, and just enough chicken stock to make it pass for soup instead of sauce.
But the best part? Just before serving, I melted in an ounce of soft goat cheese to help smooth out the soup's flavor. The cheese makes the soup deliciously creamy and balances out any acidity that the tomatoes have. It also makes it taste like you dunked a grilled cheese sandwich into your bowl – especially when you also top it with New York® Brand Texas Toast Garlic & Butter Croutons.*
So, the verdict from Shawn? He tried it, and even admitted that it was really good, but I couldn't convince him to eat a whole bowl full. Oh well, I didn't feel like sharing anyway!
(I've gone through three bags of these croutons in the past two weeks – I think it's safe to say I'm obsessed! The butter and garlic flavor is bold but neutral, so they go with just about everything, and they're extra big and crunchy. Besides making a great topper for creamy soups like this one, they're perfect as a stand in for baguette on French onion soup.)


Disclosure: I have been invited to participate in a Marzetti® ambassador program. This post is sponsored by Marzetti and product has been provided by them. The opinions and ideas expressed here are my own. Thank you for helping support the brands that keep me inspired in the kitchen.