If there's one thing I've been more obsessed with than Brussels sprouts lately, it's maple. It all started with a drive to Vermont to take in the foliage. Along the way, we stopped at one of our favorite chocolate shops and I picked up a small package of maple shortbread cookies and the most adorable little jug of syrup I've ever seen. Since then, it's pretty much been all maple all the time.
When it came time to pick a recipe to make for this month's secret recipe club, I crossed my fingers and hoped to find something maple-y. Success! These maple pecan scones from Baking & Creating with Avril fit the bill perfectly, and they're delicious to boot!
Some scones can be dry and crumbly, but these are just about perfect. They fall apart into large, moist crumbs when you bite into them and chopped pecans and pulverized oats give them a great texture and nutty flavor. A simple maple glaze on top gives them a little bit of crunch and an extra burst of maple goodness. The flavor reminds me of my favorite butter pecan ice cream, but with a sophisticated maple twist. They're perfect for breakfast or as an afternoon treat with a cup of tea.
The original recipe called for maple extract, but I don't know where to get that and I didn't feel like hunting it down. I used extra maple syrup instead and it worked just fine – I'll happily make them that way again. Actually, the only thing I wold change is that next time I'd make the scones a little smaller (for a total of 12 or 16) as these were pretty big (think bakery-sized).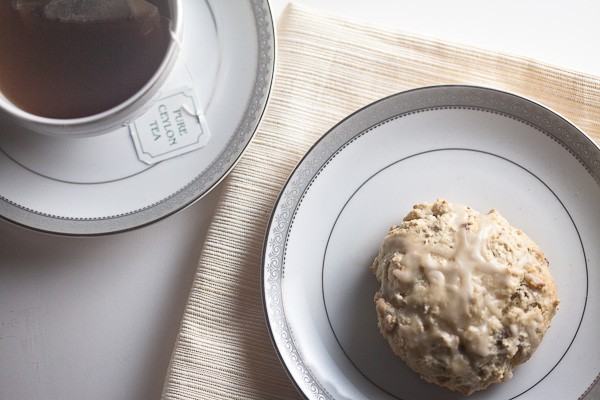 Maple Oat Pecan Scones
Serves 8
Prep Time: 10 minutes; Total Time: 45 minutes
Ingredients
1 cup Old Fashioned Oats
1 1/2 cups Flour
2 Tablespoons Sugar
1/2 teaspoon Salt
1 Tablespoon Baking Powder
4 Tablespoons Maple Syrup
2 1/2 tablespoon Cold Butter, cut into small pieces
1 Egg
1/2 cup Fat Free Half and Half
1/2 cup Chopped Pecans
1/2 cup Powdered Sugar
1 Tablespoon Maple Syrup
2 teaspoons Warm Water

Preparation
Preheat oven to 425ºF. Line a baking sheet with parchment paper and set aside.
Using a food processor or blender, finely grind the oats. Mix together flour, oats, sugar, salt and baking powder in a large bowl. Add in maple syrup and butter pieces. Use a fork to cut the butter into the dry ingredients – it should have a coarse, sandy texture. In a second bowl, beat together egg, cream and maple extract. Pour mixture into flour mixture and mix until combined. Add in chopped pecans and mix just until incorporated.
Separate dough into 8 pieces. Form each piece into a flattened disk, about 2 inches high and 4 inches across. Place onto prepared baking sheet. Bake for 12-14 minutes or until lightly brown. Let cool completely – at least 10 minutes.
Combine powdered sugar, maple syrup and water all together until smooth in a medium bowl. Adjust water to get to the desired consistency. Drizzle scones with glaze. Let sit 15 minutes before serving.