Next time you make soup, be sure to throw a loaf of this Jalapeño Cheddar Beer Bread into the oven. It's ready in under an hour and so easy to make!
We caved early this year – it's not even the middle of October, but we already turned on the heat. When I came downstairs on Saturday morning and saw that it was only 55 degrees in the house, there was simply no other option. I have a feeling we might be in store for another brutally long winter. Which means it will be another winter filled with lots and lots of soup. I'd better get my stock pot ready!
I always like to have a little something extra with my soup – crackers or biscuits or bread. I usually just buy a loaf from the bakery on my way home from work since I don't usually have the time or patience to bake it from scratch, but I just rediscovered beer bread and I have a feeling I'll be making it all winter long.
Beer bread is super easy to make. Since it doesn't have yeast, there's no need to wait around while it rises. In fact, start to finish it takes less than an hour!
This Jalapeño Cheddar Beer Bread is soft and fluffy inside, with a perfectly crispy, golden brown crust. It has loads of flavor, since it's studded with pickled jalapeños and pockets of melted cheddar cheese. I also used some whole wheat flour, which gives the bread a slightly nutty flavor that compliments that sweet, yeasty notes that the beer contributes.
To keep things on the healthier side, I also used GO Veggie! lactose free cheddar shreds. If you're a frequent reader, you already know how much I love these shreds: they melt and stretch just like regular cheese but have only half the fat and 55% more calcium. They add the perfect touch of cheesy flavor to this bread – the cheese on the inside is soft and melty, while the shreds on the surface crisp up and make the crust extra delicious.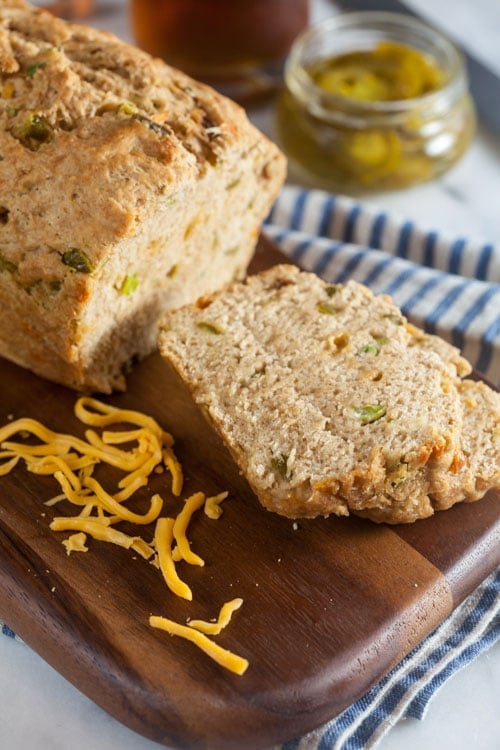 Dunk this beer bread in your favorite soup or slather it with jalapeno jelly.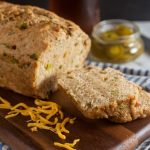 Ingredients
2

cups

all purpose flour

1

cup

whole wheat flour

¼

cup

dark brown sugar

3

teaspoons

baking powder

1

teaspoon

kosher salt

12

ounces

lager style beer

1

cup

GO Veggie! lactose free cheddar shreds

¼

cup

pickled jalapeno slices

chopped

2

scallions

chopped

1

tablespoon

butter or margarine

melted
Instructions
Heat oven to 375ºF. Line a loaf pan with foil and spray with cooking spray.

In a large mixing bowl, combine the flours, sugar, baking powder, and salt. Pour in the beer and mix to form a thick batter. Fold in the cheddar shreds, jalapenos, and scallions.

Pour the batter into the prepared loaf pan; brush the top with butter or margarine.

Bake for 40 minutes, or until cooked through. Remove from oven and let cool 5-10 minutes before slicing.
I created this recipe for my client, GO Veggie! As always, thank you for supporting the brands that keep me inspired in the kitchen.