A few weeks ago I went out for dinner with every intention of ordering my favorite burger in the city… but for some reason, the grilled cheese kept calling me. It pained me to order it (I'm kind of ridiculously picky about ground beef, so I don't get to order burgers very often) but I'm so glad that I did. It was seriously the best grilled cheese I've had in my entire life! And I've eaten a lot of grilled cheese.
Obviously I had to recreate it at home the first chance I got.
The key to this sandwich is a thick smear of spicy jalapeno jelly and two kinds of cheese: cheddar for flavor and a good melting cheese like fontina or mozzarella for creamy deliciousness. Snuggle it all between two sliced of sourdough with a few thin slices of apple and you have yourself a pretty awesome sandwich.
This jelly was amazing and I have all sorts of ideas for how to use it. You should definitely make some, because I have a feeling I'll be using it as an ingredient in a lot of recipes this fall. It's the kind of thing that's good to have around.
Let's learn from my mistake though. Please, please, please buy a set of canning tongs. They're coated in rubber and are designed specifically to grip onto wet jars, which are very slippery. I didn't use canning tongs and I had a really hard time getting the jars out of the canning pot. I ended up dropping one and splashing boiling water all over the place, including on my face. I'll be ok – it's just a little pink – but it hurt like hell. Don't be like me! (If you're short like I am, you should also grab a stool so that your face isn't inches above the rim of the pot. I didn't use mine, and I wish that I had!)
(If you were already skittish about canning and that freaked you out, I'm sorry. It really is easy and this was just me being dumb and lazy. If you don't want to can this jelly though, you can skip the canning step and keep the jelly in the fridge or freeze it for long term storage.)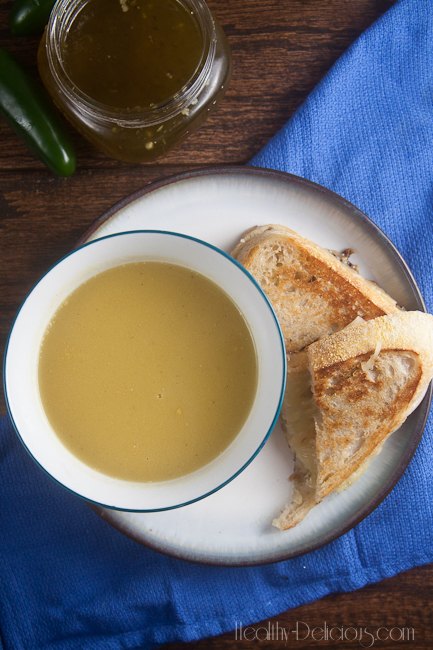 Jalapeño Jelly
This recipe makes a pretty spicy jelly that's perfect when mellowed out by ingredients like fruit or cheese. For a milder jelly, remove the seeds from all of the jalapenos. Look for liquid pectin near the canning supplies (usually in the baking aisle) at your grocery store.
Print
Pin
Save
Saved!
Ingredients
12

ounces

fresh jalapeno peppers

10-12 medium

2

cups

apple cider vinegar

6

cups

sugar

2

packets

3 ounces each liquid pectin

6

half-pint jars with lids and rings
Instructions
Prepare your jars and lids for canning by simmering them in a large pot of water until ready to use.

Remove the seeds from half of the jalapenos. Add the jalapenos and 1 cup of vinegar to a food processor or blender; puree until smooth. Add the puree, along with the sugar and remaining vinegar, to a large pot. Bring to a boil; boil for 10 minutes. Add the liquid pectin and return to a boil. Boil 1 minute. Remove from heat.

Use canning tongs (like

these

) to remove the jars from the hot water. Fill the jars with jelly, leaving 1/4" of space in the top of each jar. Wipe the rims of the jar clean and top with a lid. Screw the rings onto the jar to fingertip tightness. Repeat with remaining jars.

Return the jars to the pot of water. Bring to a rolling boil; boil for 10 minutes.

Carefully remove the jars from the boiling water and let cool. Check the lids for tightness after 24 hours – they should not flex up or down when pressed.

Refrigerate any unsealed jars. Store sealed jars in a cool, dry place.