Soft, pillowy whole wheat crumpets slathered with strawberry balsamic jam… an absolutely perfect way to start your day!
Have you ever had a crumpet? If not, you're really missing out!
Crumpets are kind of like English muffins – bready, craggy, and best when lightly toasted – but they're softer, spongier (in a good way!), and have a more delicate flavor. Smothered with a pat of butter and some homemade jam, they're just about perfect.
I always throw a package in my cart when I see them at the grocery store, but this weekend I decided to make my own. All I can say is wow. Eating a homemade crumpet after only ever tasting the packaged ones… well, it's kind of like comparing a homemade cookie to a store-bought one. They're both tasty, but they're worlds apart. These crumpets are kind of insanely good. Luckily, they're also pretty easy to make! (Seriously, if you can make pancakes you can make these.)
Let's back up though, because I know you're all wondering why the heck I would ever even think to make something like crumpets. Like most crazy ideas, it all started on facebook: my friend Carrie (Bakeaholic Mama) thought that we should do something to celebrate the return of Downton Abbey. So, in honor of tonight's premiere, we decided to post some English recipes and we'll be tweeting tonight using the hashtag #DowntonBlogParty. Come join the fun! (We also have a little giveaway; you can find out more at the end of this post.)
So…crumpets? It's January 5. Honestly, it was the only English recipe I felt like making/eating that isn't a total diet-buster. (Not that I'm on a diet, but I didn't think it would be appropriate for my second post of the year to include lard.)
Since homemade crumpets seemed to require something a little fussier than the half used jar of jelly that's been in the back of my fridge for months, I decided to make a quick strawberry balsamic jam to go along with them. Strawberries might not be in season right now, but cooking them down really brings out their flavor. A splash of balsamic vinegar adds depth and makes the jam absolutely irresistible.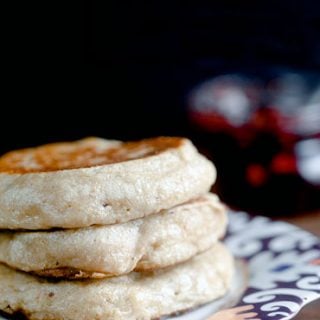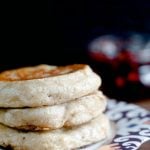 Crumpets with Strawberry Balsamic Jam
For the neatest looking crumpets, you'll want to spoon the batter into prepared molds. They sell special rings for this, but I doubt I know a single person with something like that. Instead, you can use large round cookie cutters (about 3-inches across) or form a few rings out of tinfoil folded over on itself a few times for structure. Either way, you'll want to grease the inside of your rings well to prevent the crumpets from sticking. If you don't care about how they look, you can also forego the rings and carefully spoon the batter into rounds; they'll still taste delicious, but they'll have more of a domed shape instead of the traditional high sides. These are best served immediately, but they'll keep for several days at room temperature. Reheat in a pan, toaster (on low), or even in the microwave before serving.
Print
Pin
Save
Saved!
Ingredients
For the Crumpets:
1

cup

skim milk

2

tablespoons

water

1

packet

0.25 ounces dry active yeast

1

teaspoon

sugar

8

ounces

Gold Medal® white whole wheat flour

about 2 cups sifted

1

teaspoon

kosher salt
For the Strawberry Balsamic Jam:
1

cup

chopped strawberries

½

cup

sugar

1

tablespoon

balsamic vinegar
Instructions
To make the Crumpets:
In a medium saucepan, heat the milk and water over low heat until warm to the touch. Remove from heat and stir in the yeast and sugar. Let sit 10-15 minutes (you should see some small bubbles start to form and the mixture might look frothy.)

Sift together the flour and salt. Slowly stir into the wet ingredients; mix until a smooth, pasty batter forms (it should be about the consistency of brownie batter.) Cover and let sit in a warm place for 1 hour.

Spray the inside of your rings (see note) with oil or cooking spray. Grease a nonstick griddle or similar wide-bottomed pan and set over medium/low heat. Place your rings in the skillet; spoon 1 tablespoon of batter into each ring. Cook for 5 minutes – the top of the crumpets should look dry and be flecked with bubbles. Remove rings; flip crumpets and cook 1 minute on the other side.

Serve warm, preferably with butter and jam.
To make the Strawberry Balsamic Jam:
Combine the strawberries, sugar, and balsamic vinegar in a shallow, wide-bottomed pan set over medium heat. Cook, stirring constantly until the jam is thick, syrupy, and very fragrant – about 10 minutes. Let cool.

Yields about 3/4 cup jam.
Nutrition Facts
Crumpets with Strawberry Balsamic Jam
Amount Per Serving
Calories 128
Calories from Fat 4
% Daily Value*
Fat 0.4g1%
Protein 4g8%
* Percent Daily Values are based on a 2000 calorie diet.
****
Be sure to check out what everyone else brought to the party!
Love Downton as much as we do? Use the widget below to enter to a win a copy of The Unofficial Downton Abbey Cookbook and a "Keep Calm and Downton On" mug.