I've eaten a lot of pizza in my lifetime, but this chorizo pizza is hands-down my new favorite – and I don't say that casually. The combination of smokey chorizo, sweet corn, and zucchini is out-of-this-world good.
This chorizo pizza was inspired by one I had at EVO when I was in Charleston earlier this year (the same trip that inspired my warm fingerling potato salad!) It was the first time I had ever seen corn as a pizza topping, and it totally worked. The sweet, juicy kernels add tons of flavor and texture each bite. Combined with spicy, smokey chorizo it's a match made in heaven. I also added red onion, because we've decided every pizza should have at least a little onion on top, and zucchini because we've been obsessed with it lately.
I was a little sad as I finished the last few bites, and I can't wait to make it again. It's officially replaced my Crispy Crust Wild Mushroom Pizza as my favorite.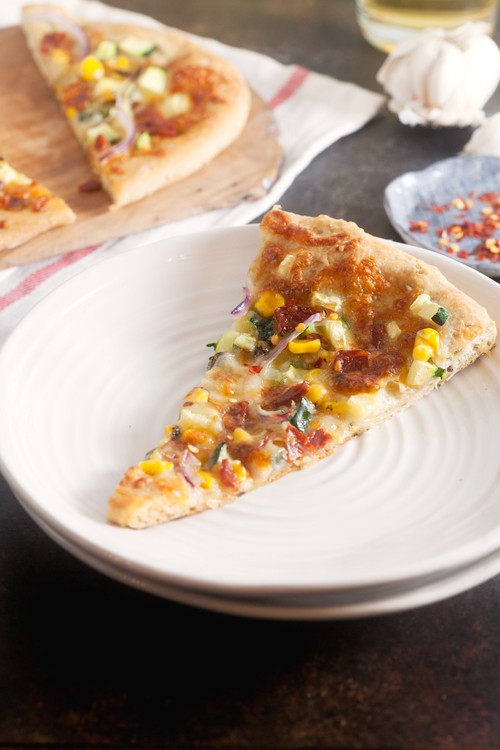 The secret to making this pizza extra delicious is to press out the crust super thin and cut the toppings really small – the zucchini and chorizo should be about the same size as the corn and the onion slices should be as thin as you can get them.
Letting your dough come to room temperature makes it much easier to shape, sine it will lose some of it's elasticity. Pulling it out of the refrigerator at the same time that you turn the oven on to preheat should be plenty of time to take the chill off. I also find that the dough is easiest to shape when I divide it into two smaller pizzas – the smaller size also helps prevent the weight of the vegetables from making the center of the pizza sag.
As for the dough itself, you can use a homemade version – or my quick and easy pizza dough recipe using baking soda instead of yeast – but lately I've been loving the store brand multigrain dough from Whole Foods. The combination of grains gives the dough a really great flavor (that doesn't taste heavy like whole wheat) and it gets nice and crispy on the edges but stays light and fluffy in the middle.
You can also use regular corn, but the fire-roasted corn from Trader Joe's has bee na staple in my freezer lately. I love the extra layer of flavor that it has.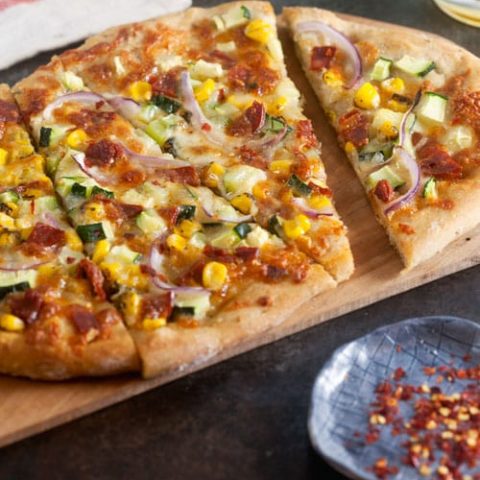 Ingredients
1

pound

pizza dough

preferably whole grain, at room temperature

1

tablespoons

olive oil

2

garlic cloves

minced

1

cup

shredded low-moisture mozzarella

1

zucchini

minced

½

cup

frozen fire roasted corn

2

ounces

dry chorizo

diced small

¼

small red onion

thinly sliced

crushed red peppers

for topping (optional)
Instructions
Heat your oven to 450ºF. Coat a baking sheet with a very light dusting of flour.

Divide the pizza dough into two pieces. Place the dough onto the baking sheet and press into a round or oblong shape about 1/4-inch thick.

Drizzle the olive oil over the dough and sprinkle evenly with minced garlic (you can use the back of a spoon to help spread it out evenly). Divide the cheese between the two pizzas, leaving a1/3-inch border around the edge, then top with zucchini, corn, chorizo, and onion.

Bake 13-16 minutes, or until the crust is crisp and the cheese begins to bubble and brown around the edges.

Remove form the oven; let cook 5 minutes before slicing. Serve topped with crushed red pepper flakes, if desired.
Nutrition Facts
Chorizo Pizza with Corn and Zucchini
Amount Per Serving
Calories 189
Calories from Fat 135
% Daily Value*
Fat 15g23%
Carbohydrates 5g2%
Protein 8g16%
* Percent Daily Values are based on a 2000 calorie diet.