Cozy up to a nourishing bowl of soup this fall! Coconut milk and miso make this chicken sweet potato soup recipe extra rich and creamy while warm spices like cinnamon and turmeric give it tons of flavor!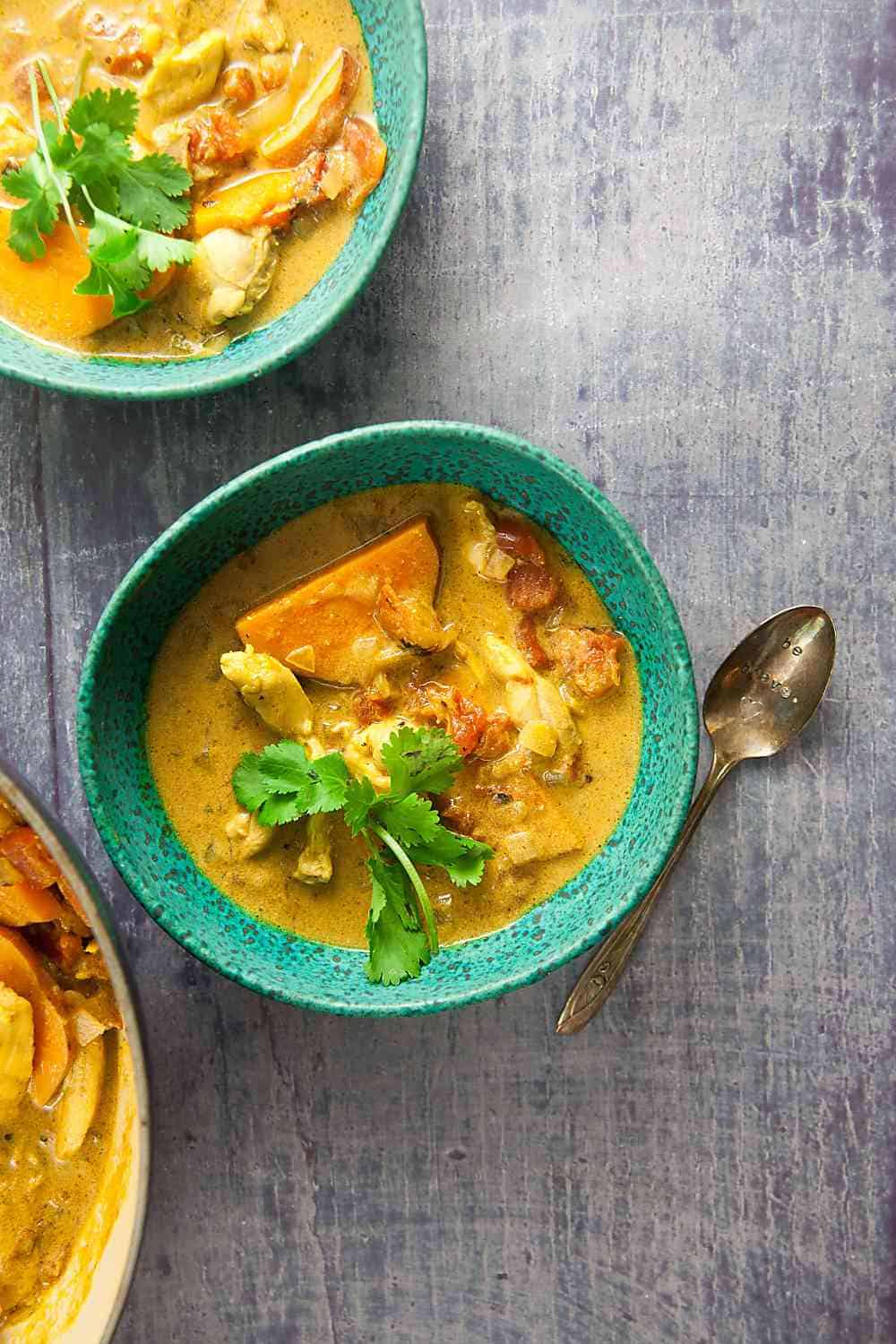 Chicken Sweet Potato Soup is the cozy winter recipe you didn't know you needed.
It's part soup, part stew. Curry-ish, except totally not curry so don't let that scare you away! Warm, cozy, nourishing and basically like a giant hug in a bowl.
In short, it's perfect for chilly fall and winter nights when the sun sets way too early and you want a warm, cozy dinner that will cheer you up without weighing you down.
It was also the first thing I made when I got back from a trip from Italy, where pretty much the only vegetables I saw were on top of a pizza and I was craving good food with actual nutritional value.
What goes in chicken sweet potato soup?
So, what goes into chicken sweet potato soup? Well, chicken and sweet potatoes to start. Duh. But also so many other good, wholesome foods. Like fire-roasted tomatoes, coconut milk, lemongrass, and tons of warm, anti-inflammatory spices like ginger, cinnamon, turmeric, and allspice.
And then there's the secret ingredient that makes it extra delicious: miso. I'm OBSESSED with miso, which is funny because I actually don't like traditional miso soup at all. It gives the broth in this soup a really full savory flavor and an incredible richness. If you've ever tried to put your finger on what exactly "umami" tastes like, this is it. It's so, so, good. I always have a tub of miso in my fridge – I use it for this chicken sweet potato soup, and also for miso potato soup and miso-glazed salmon. If you have my cookbook, I also use it in an amazing recipe for red curry ramen that's hands-down one of my favorite recipes ever.
But back to the basics. I use boneless, skinless chicken thighs for this recipe because they're my favorite. I love how they stay juicy and don't dry out like white meat chicken can. If you want to use chicken breasts for this though, that's totally fine.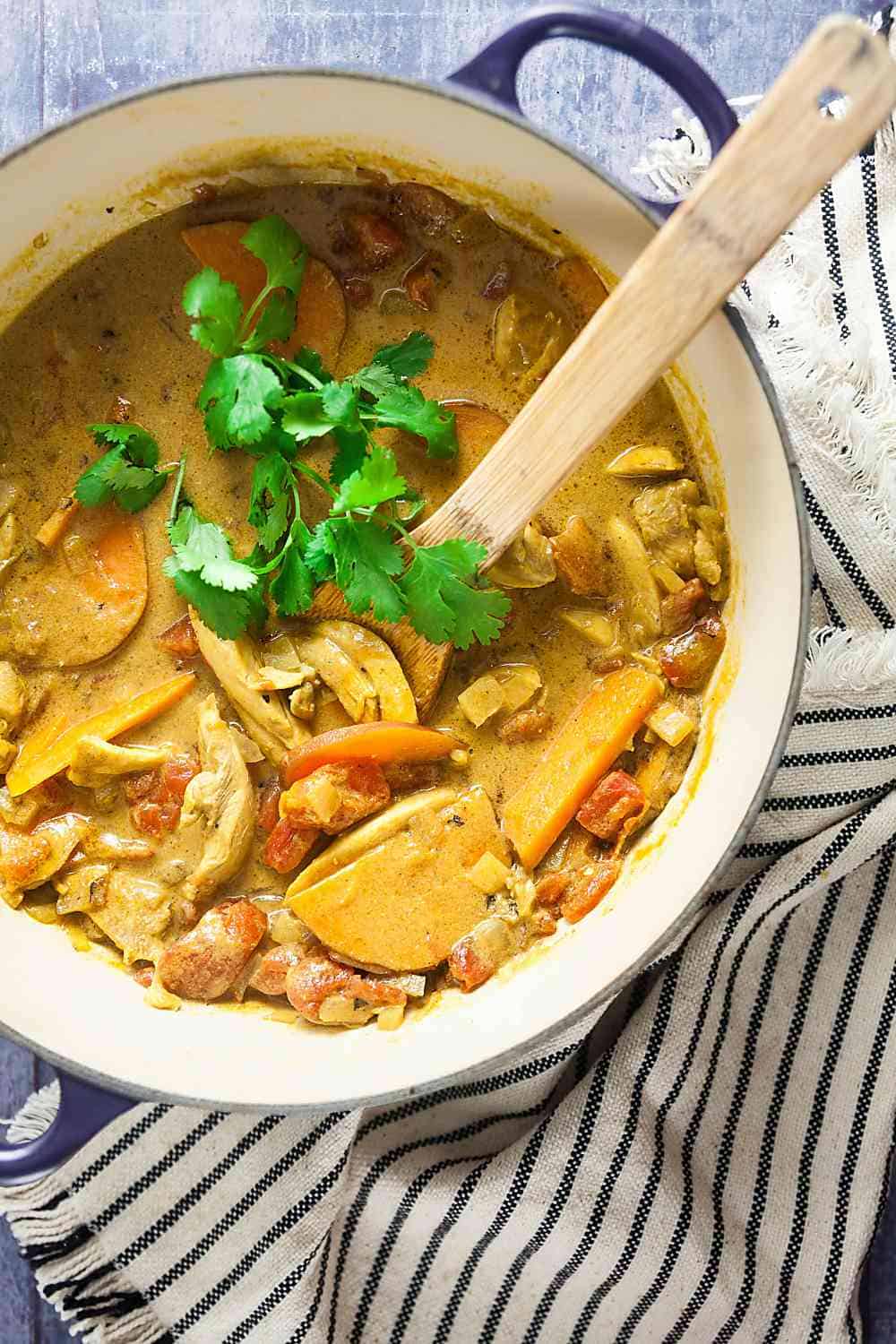 About lemongrass
Recipes that call for lemongrass can stress me out because I never know if I'll be able to find it when I need it. It can be pretty hit or miss at the grocery store! I lucked out this time and found a huge bundle of fresh lemongrass at the local farmers market for $3. Score! I used what I needed for this chicken sweet potato soup and then froze the rest. I should have more than enough to last me through the winter.
If you aren't so lucky, you can sometimes find small blister packs of lemongrass in the produce section, near other spices like rosemary or fresh sage. I've also had really good luck using lemongrass paste, which is a little easier to find. Gourmet Garden has a nice one that's sold in tubes in the produce section – you can freeze it for longterm storage. You can also find shelf-stable lemongrass paste (affiliate link) on Amazon, but it can be a little pricier.