Warm toasted barley salad with blood orange vinaigrette and roast shrimp is an easy and elegant option for lunch or dinner.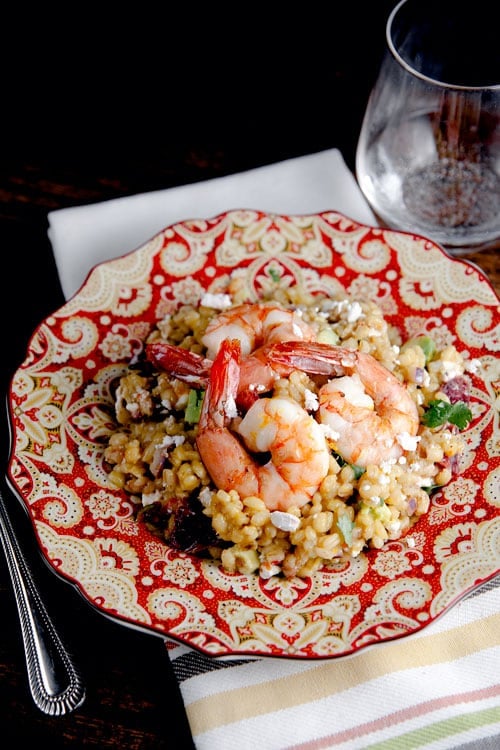 I've been on a whole grain kick ever since making those sweet potato and quinoa fritters that I shared the other day. This weekend, I went a little nuts in the bulk bins of the local co-op. Our kitchen is now overflowing with barley, freekeh, amaranth, millet, bulgar, and whatever else happened to catch my eye.
Since I don't exactly have enough room in my cabinets to store everything I bought, I needed to use some right away. I toasted some of the barley and used it to make a warm salad with blood orange, avocado, feta, and roast shrimp – perfect for today's shrimp showdown!
OXO and the NFI Shrimp Council invited several bloggers to participate in a Shrimp Showdown. They sent us each a selection of OXO products and challenged us to use at least 3 of them to prepare a show-stopping shrimp recipe. They also sent a bag of some of the most gorgeous shrimp I've ever seen outside of a restaurant – they were huge! (Keep reading to learn how you can win the same OXO tools I received, along with a $100 Visa giftcard so you can create your own recipe.)
I love OXO products in general, but I honestly don't know how I survived to long without their Shrimp Cleaner. I stopped buying pre-cleaned shrimp a while back, when I realized how much cheaper it is to buy them with the shells still on. Until now, I used a paring knife to remove the shell and vein from my shrimp, which took forever and got pretty messy. This tool makes it so easy – once I got the hang of it, I prepped about a dozen shrimp in under 5 minutes. The package has some pretty good instructions, but you basically just shove the tool under the shell in one movement and let the teeth do the work. I'm grateful to never have to dig at a shrimp with my knife again.
I also used the Wooden Lemon Reamer to juice the a lemon and a blood orange to make the dressing and the Flexible Kitchen & Herb Snips to prepare the cilantro and parsley. (I also used the pair of 12″ Tongs with Silicone Heads to take my shrimp off the pan. I have a few pairs of these in various sizes and use them just about every time I cook.)