This is a sponsored post written by me on behalf of Vigo Foods. All opinions are 100% mine.
Dairy free peppermint mocha rice pudding will be your favorite cozy dessert recipe to tuck into this winter!
I've been on a major peppermint mocha kick this fall. I had my first one right after Halloween and I just. can't. get. enough. I have a feeling that, for me, this is going to be a winter filled with cozy chocolate recipes. Are you down? Because we could have a lot of fun with that.
(Of course, peppermint and chocolate is a classic winter combo, so this isn't the first time I've used it. Be sure to check out my Homemade Peppermint Bark Granola Bars and my Chocolate Peppermint Green Smoothie, too!)
I made this peppermint mocha rice pudding a few weeks ago and I'm completely obsessed. It's a great treat to have in the refrigerater, but it would also make a fabulous (and unexpected!) contribution to a holiday party or cookie swap.
I used Vigo Arborio Rice – I love the chewy texture of the short grains, and the extra starch helps make the pudding nice and thick. I kept this peppermint mocha rice pudding dairy free by using lite coconut milk and strong coffee for the pudding base. Then sweetened it with a little bit of brown sugar and bittersweet chocolate. It's nice and rich, so it only takes a little bit to leave you satisfied.
Vigo Arborio Rice Boil-In-Bag is so convenient – I love it! I'm a huge fan of boil in bag rice because you don't have to worry about it sticking to the the bottom of your pot and making a huge mess, which seems to happen every time I make traditional rice. In addition to solving that problem, it's perfectly portioned (2 servings per bag) and it cooks in just about 15 minutes. Besides being great for rice puddings like this one, it's also the perfect base for a one-dish meal like my Greek Chicken Rice Bowls. I also have a feeling it would make a killer poke bowl, and I look forward to trying that out soon.
You might remember Vigo from my Italian Meatball and Farro Soup – they're a family-owned Italian import company based out of Tampa, Florida. Although I'm familiar with using arborio rice for risotto, I don't typically think of rice as being Italian. I was surprised to learn that Italy is Europe's largest producer of rice! Apparently the Lombardy region has a cool temperature and wetlands that are the ideal rice-growing conditions, which I found to be super interesting.
Vigo products are available at your local supermarket or you can also Shop Vigo's online store!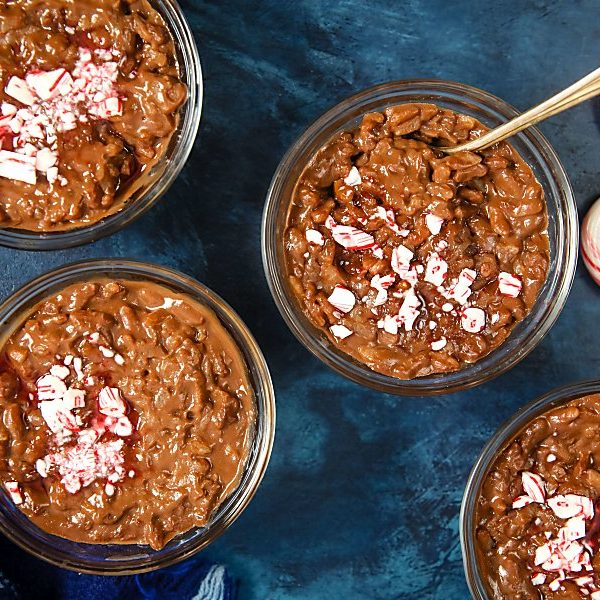 Ingredients
10

cups

water

2

packets Vigo Arborio Boil in Bag

1

can light coconut milk

½

cup

strong coffee

½

cup

brown sugar

¼

teaspoon

salt

2

large egg yolks

1

teaspoon

vanilla extract

1

teaspoon

peppermint extract

3

ounces

extra-bittersweet chocolate

70%, finely chopped

1

candy cane

crushed (optional)
Instructions
In a large saucepan, bring 10 cups of water to a boil. Submerge the bags of rice in the water and boil, uncovered, for 14 minutes. Drain.

While the rice cooks, combine the coconut milk, coffee, brown sugar, and salt in a second saucepan. Bring to a rapid simmer over medium heat.

Place the egg yolks in a bowl. Slowly add about 1 cup of the hot coconut milk mixture to the egg yolks, whisking constantly. Pour the warmed egg yolks into the pot and bring to a boil. Boil 3 minutes – the pudding should start to look thick.

Stir in the vanilla, peppermint, and chocolate. Stir until the chocolate is melted. Stir in the cooked rice.

Divide the pudding among six small bowls or jars. Cover with plastic wrap, pressing the wrap tightly against the top of the pudding. Chill well before serving. The pudding will thicken as it cools.

If desired, serve topped with crushed candy cane.
Notes
Egg yolks help thicken this rice pudding and make it extra luscious, but don't be tempted to add them straight to the pot – you'll risk having them cook too fast, and no one wants scrambled eggs in their pudding! Whisking a little bit of the warm coconut milk into them off the heat helps bring them to temperature slowly, so they'll incorporate seamlessly into the pudding.