This weekend, I hung out with some of my great friends and fellow foodbloggers: Mo, Carol, Heather, and Sarah. And our friend Emily, who may soon have her own music blog. Here we are!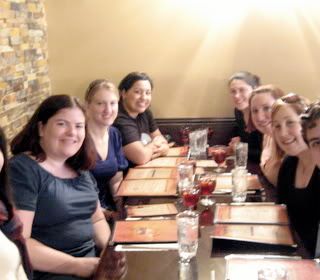 I arrived at Grand Central around 2:00 on Saturday. I hadn't eaten lunch and we were planning on an early dinner, so I stopped at Junior's bakery and made quick work of a black and white cookie. It was fantastic! We hung out for a while, then headed out to the Bronx to eat at the much-acclaimed (by Mo) Tu Casa. Unfortunately, they were closed until 6 for a private party so we had some time to kill. There was a bakery across the street, so we popped in. I had a pear linzer. It was delicious! It had half a poached pear and some strawberry preserves.
Finally, we were able to get a table for dinner! We ordered a pitcher of sangria to start, along with some empanadas. Mine was beef and it was the yum: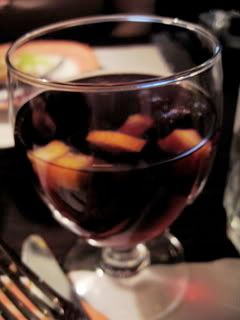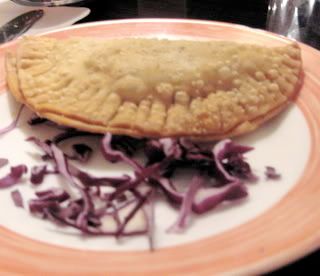 We also had some tostones. With some awesome green sauce, Carol decided she was taking all for herself. (I had to recreate them with my own recipe for tostones with green sauce!)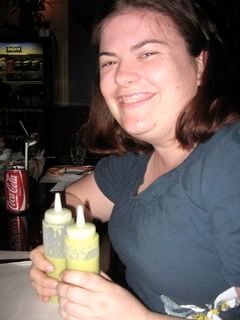 Then our food came. Check out this soup! Yes, that's a corn cob in there! I ordered the roast pork, at Mo's recommendation. The pork was amazing- super juicy- but unfortunately, the rice was burned. they brought us new yellow rice no problem though and that was much better!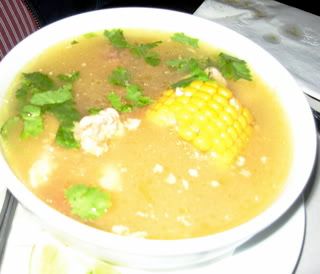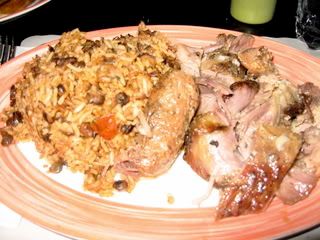 After dinner, we went to Crumbs for cupcakes. I was way too full for my own, so I had a bite of Mo's red velvet and some of a caramel chew that I shared with Heather and Sarah. These cupcakes are no joke! The red velvet was my fave- it wasn't too sweet at all. By this point, my stomach was killing me from all the sugar.
The next morning (after some Starbucks oatmeal for breakfast) we went out for Korean. I've never had it before, so I was a little intimidated. Some of it was great, but some I didn't like very much.
First, they brought out a bunch of condiments. Apparently, they were making fun of us for eating these by themselves. Whatevs. The dandelion greens were my fave.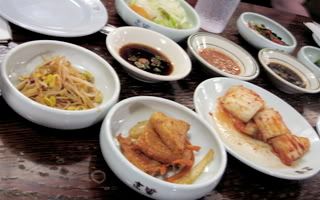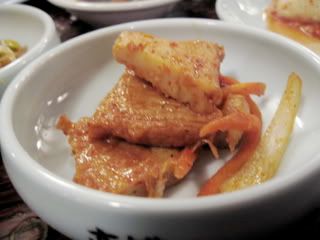 Then some appetizers to share: pork belly rolled in cabbage leaves (I felt very "Anthony Bourdain" by this point), some noodles with chicken, and some starchy pancakes (I think someone said they were mung bean?) that were AWESOME with a little bit of the dark sauce.
For entrees, I totally got the wrong thing. the menu said that it was strips of beef, but I ended up with a huge plate of sweet, greasy, ground beef. It wasn't very good to be honest. I tried some of Heather's dish and hers was much better. I didn't order it because the raw egg freaked me out, but the bowl was piping hot and the egg cooked.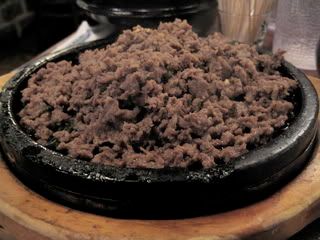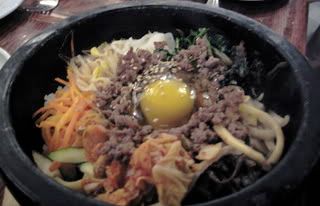 Then it was off to PB and Co, where Mo hooked us up with a great deal for free peanut butter! I got the spicy pb, and I have tons of plans for it. I also grabbed a sandwich for the train ride home- maple pb with bacon. OMG, this was so good. I was craving it again today, and I am totally going to have to get some maple pb.
One last stop for some cupcakes to bring home, and I was back on the train by 3 on Sunday! What a fun weekend! I love your girls!!
Us again (from left to right: me, Sarah, Heather, Mo, & Carol)