Ginger lemon tea is a great way to warm up on a cold winter night. The spicy ginger and soothing honey is also excellent if you're battling a cold or the flu. In this post, I'll show you how to make the best ginger tea at home with just 3 ingredients!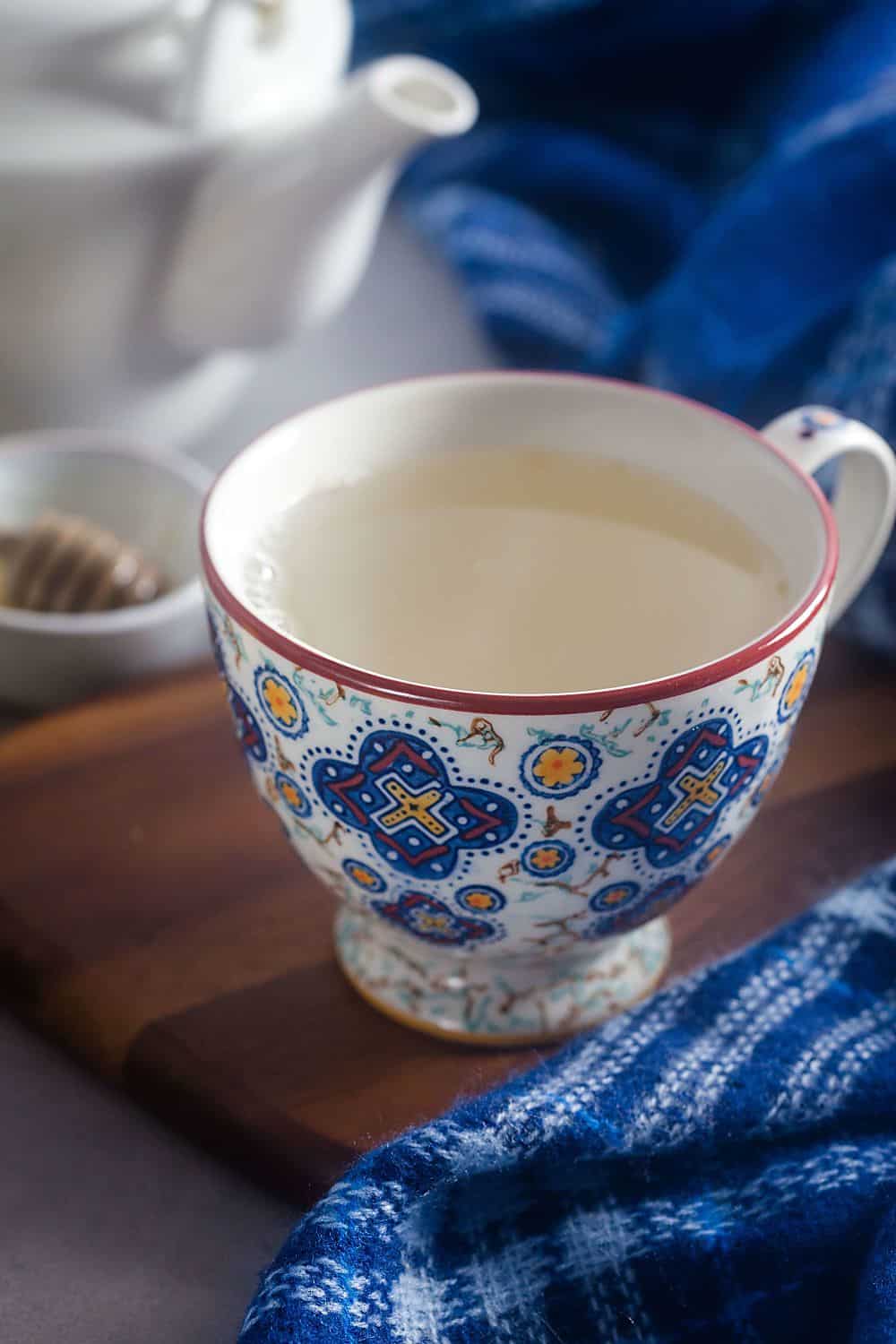 One of my favorite local soup spots also makes an insanely good ginger lemon tea. When I'm sick, I know that a bowl of their spicy diced pork noodle soup and a ginger tea will clear my sinuses right up. I had a terrible cold before Christmas and it was all I wanted. They deliver the soup but, for some reason, they won't deliver the tea. I was on my own for that.
I've tried making ginger lemon tea at home before, but until now I haven't had much luck getting the sharp, spicy ginger flavor that I love. I even tried ginger tea bags, but those were awful. After a little crowdsourcing on facebook and a lot of experimenting, I finally nailed it! Just like the restaurant's version, this tea is loaded with spicy ginger flavor and has just enough honey to soothe a sore throat without being overly sweet. I've been drinking it nonstop over the last month> I stock up on ginger and lemons every time I go to the grocery store!
How to make the BEST ginger lemon tea
Ginger lemon tea is really easy and all you need to make it is fresh ginger root, lemons, and honey. Some people also add turmeric or cayenne pepper, but I like to keep things simple.
This tea is all about the technique. Start with loads of fresh ginger. You'll want a piece about the length of your thumb for each large cup of tea. Peel the ginger, then thinly slice it. Next, put the sliced ginger in a cup and add 2 tablespoons of lemon juice. (In a pinch, you can also use one of those plastic squeeze lemons. They aren't perfect, but they work.) Use a muddler or a spoon to muddle the ginger and lemon juice together. You really want to pulverize the ginger in this step. I tried using grated ginger as a shortcut, but you lose too much of the juice. The flavor just isn't the same. Muddling is definitely key.
Add a teaspoon of honey to the cup, then pour boiling water over it all and give it a good stir. Now comes the hard part—let the ginger lemon tea steep for 5 minutes to bring the flavors out (and let the water cool down!)
In addition to being a great way to clear your head, ginger has a ton of health benefits from treating nausea to helping with indigestion. Plus it's just flat-out delicious, even if you're feeling great to begin with! Give it a try and let me know what you think! If you have extra ginger, you can also use it in these pineapple ginger immunity smoothies, another great recipe for this time of year.
Ginger Lemon Tea
Ginger lemon tea is a great way to warm up on a cold winter night. The spicy ginger and soothing honey is also excellent if you're battling a cold or the flu.
Print
Pin
Save
Saved!
Ingredients
4-

inch

piece fresh ginger

1

lemon

2

teaspoons

honey
Instructions
Bring three cups of water to a boil.

While the water boils, peel and thinly slice the ginger. Divide the ginger between two large tea cups or mugs. Add the juice from half a lemon to each of the cups. Muddle the ginger and lemon to release the juices and break the ginger down. Drizzle 1 teaspoon of honey into each cup.

Fill each cup with boiling water. Stir well, then let steep for 5 minutes. Do not strain.
Nutrition Facts
Ginger Lemon Tea
Amount Per Serving (1 g)
Calories 38
% Daily Value*
Sodium 2mg0%
Carbohydrates 11g4%
Protein 1g2%
* Percent Daily Values are based on a 2000 calorie diet.