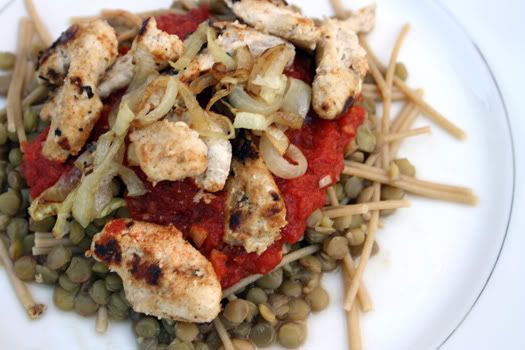 Since I enjoyed the flourless cupcakes that I made last week so much, I wanted to try another recipe from Clean Eating. I gave the magazine to my husband to let him choose, and this is what he picked (his choice really surprised me!). I've been wanting to eat more lentils, so I was happy with this.
The magazine calls the lentil sew "kushari" which according to wikipedia includes rice, lentils, chickpeas, and macaroni. The recipe didn't call for rice or chickpeas though, so I'm not sure how comfortable I really am about calling it that. I think pilaf might be more appropriate. The recipe did include quinoa, but I left that out- mostly because I just didn't feel like buying it.
I was a little worried about the season appropriateness of this recipe, since I thought it might be heavy and I put off making it for a while. Then I decided that maybe it wouldn't be so bad if I ate it outside and had a cold glass of wine with it. I'm glad I did- it wasn't as heavy as I thought it might be at all! It was actually pretty perfect.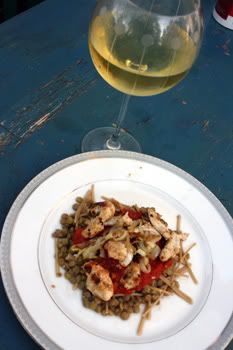 Everything tasted great on its own, but the flavors really complimented each other when it was all mixed together too. There were so many levels of flavor and so many different spices. My whole house smelled awesome while it was cooking (and for a few hours afterward too).
You'll want to start the chicken the night before you make this- it needs to marinate for a while. Otherwise it only takes about 40 minutes to pull it all together. If you want a egetarian meal, you could leave the chicken out and substitute vegetable broth for the chicken broth. The marinate for the chicken might also work on tofu.
Lentils with Spicy Sauce
3 cups fat free chicken stock
1 cup lentils, rinsed
1 oz whole wheat spaghetti, broken into pieces
1/2 tsp olive oil
1 onion, thinly sliced
1 tsp olive oil
3 cloves garlic, chopped
1 tsp kosher salt
2 c ground tomatoes
2 Tbs red wine vinegar
1 tsp crushed red pepper
1/2 tsp cumin
cracked black pepper
Heat stock and 3 cups water in a medium saucepan. Bring to a boil and add lentils. reduce heat to medum and simmer until lentil soften, about 20 minutes. Add spaghetti and cok another 6-8 minutes. Drain and set aside.
Heat 1/2 tsp oil in a small frying pan. Add onion, and cook over low heat until onion is soft and begin to brown- about 20 minutes.
Meanwhile make sauce: Heat 1 tsp oil in a saucepan over medium heat. Mash garlic and salt together to form a paste. Add to pan and cook until fragrant and slightly brown- about 1 minute. Stire in tomatoes and red pepper and alow sauce to reduce for about 10 minutes. Stir in vinegar, cumin, and black pepper and allow sauce to reduce and thicken for another 10-15 minutes.
Yogurt-Marinated Chicken
3/4 cup plain, fat free Greek yogurt
1 Tbs lemon juice
2 cloves garlic, crushed
2 tsp apple cider vinegar
pinch ground black pepper
pinch cayanne
pinch cardamom
1/2 tsp allspice
12 oz boneless, skinless chicken breast cut into very thin slices
Mix together all ingredients except chicken. Add chicken and toss to coat. Cover and refrigerate overnight. Remove chicken for marinade, shaking of excess. Cook in a sillet over medium-high heat until browned and cooked through- about 3 minutes on each side.

To assemble, place lentil on a plate and spoon sauce on top. Top that with chicken and sprinkle with the carmelized onions.

Serves 6. Approx 300 calories per serving.

By