Cauliflower, ham and rainbow chard baked in a cream sauce loaded with gruyere and topped with crispy bread crumbs. This is comfort food at it's best!
Well, well, what do we have here? That's right – a meal centered around vegetables! I feel like its been a while, but its just so hard for me to get inspired by veggies this time of year. This dish makes the best of what's in season with cauliflower and chard. Yes, cauliflower. I know what you're thinking, but trust me – that cauliflower is getting mixed with cheese and cream sauce. Because cheese and cream sauce can make just about anything taste good.
I'll admit, I was a little nervous about how this was going to come out: I figured it would either be totally gross or totally awesome. It was way better than I ever imagined it could be! We both loved it, and I happily gobbled it down while already looking forward to the leftovers. The cauliflower was tender without being mushy, and the chard was slightly bitter in a way that cut through the creamy sauce very nicely (it reminds me of the Brussels sprouts in this dish). If you must, think of this as a grown-up version of macaroni and cheese with cauliflower standing in for the pasta. You wont be disappointed. This is definitely a dish that I'll be making again and again all winter.
At first I was planning for this to be a vegetarian dish, but I felt like it needed something to round the flavors out. I added just a tiny bit of cubed ham, and it was PERFECT. It added a touch of smokiness and saltiness and brightened the flavors just enough. Of course if you'd like this to be a vegetarian dish you can leave them ham out. In that case, I would add a few dashes of hot sauce to brighten the flavors.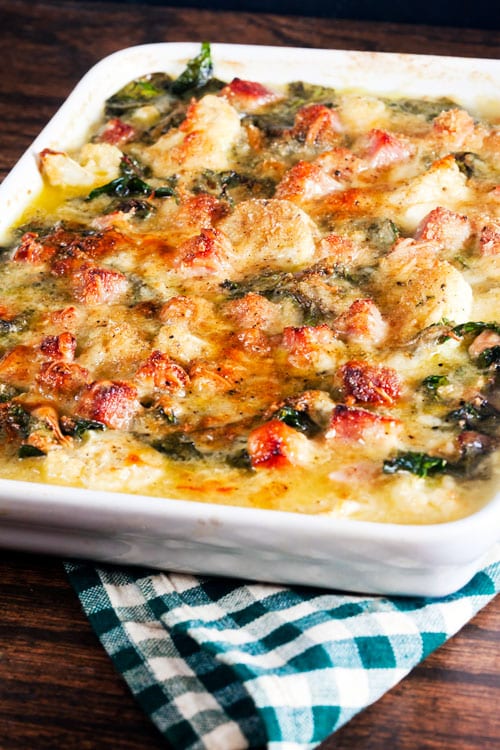 Ingredients
1

small head cauliflower

about 1.5 lbs

2

Tablespoons

butter

1

tsp

Dijon mustard

1

cup

nonfat milk

1

cup

chicken stock

2

Tbs

flour

¼

tsp

nutmeg

1

bunch rainbow chard

chopped

2

cups

cooked ham

diced

6

ounces

shredded gruyere

1

ounce

shredded Parmesan cheese

2

Tablespoons

breadcrumbs
Instructions
Preheat oven to 350ºF. Bring a large pot of water to a boil.

Separate the cauliflower into bite-sized florets. Add to the boiling water; cook for 5 minutes or until just tender. Drain.

While the cauliflower cooks, melt butter in a small saucepan over medium-high heat. Add the flour. Cook, stirring constantly, for 3 minutes or until light golden brown. Whisk in the milk, stock and mustard. Bring to a simmer and cook until the sauce thickens, about 5 minutes. Stir in the nutmeg. Slowly stir in half the gruyere.

Add the cauliflower, chard, and ham to a 9-inch casserole dish. Pour the sauce over the vegetables and top with remaining cheeses. Sprinkle breadcrumbs in a thin layer over the top.

Bake for 20 minutes, or until bubbly and golden brown. Broil for 5 minutes to help the breadcrumbs crisp. Let sit at least 5 minutes before serving.

Serves 6.
Nutrition Facts
Cauliflower and Chard Gratin
Amount Per Serving
Calories 310
Calories from Fat 162
% Daily Value*
Fat 18g28%
Protein 21.9g44%
* Percent Daily Values are based on a 2000 calorie diet.
Photos updated 12/14. Original photos (12/09) below: