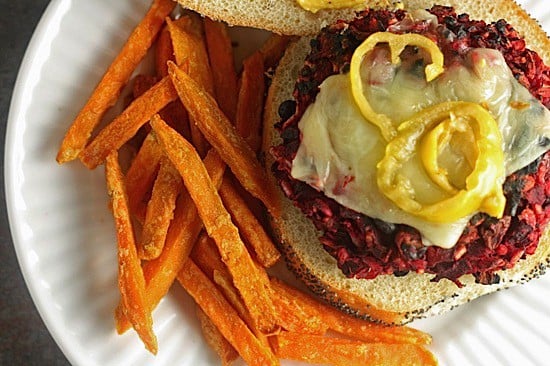 While I love a good beefy burger as much as the next person, every once in a while I find myself in the mood for something a little different. A little healthier. I love veggie burgers, but the frozen ones remind me too much of fast-food burgers: overly processed, eerily uniform in size, oddly lacking in color, and much, much too small. I like a burger that I can sink my teeth into. I've been toying with the idea of homemade veggie burgers for a while now, but never got around to playing around with recipes. A recent photo featured on The Kitchn has me headed straight for my kitchen though — shredded beets gave the veggie burger a brilliant red, meaty hue that I couldn't resist.
Don't be scared off by the beets though. While they provide a ton of color to the burger, I didn't find that they tasted overly of beets. There's enough other good stuff — brown rice, black beans, spices — to balance out the flavor. While you wouldn't mistake these burgers for ones made from beef, they didn't taste like vegetables either. They just tasted good. Really good. The flavor was amazing, the texture was better than any veggie burger than I've ever had, and they looked beautiful. Given the choice, I think 9 times out of 10 I would actually pick this burger over a more traditional meat one. And that's not even considering the fact that they clock in at 150 calories and boast 7 grams of fiber. Not too shabby!!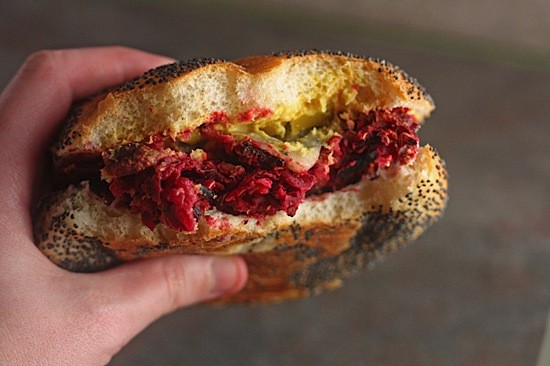 A few notes about making these burgers: First off, the mixture will be fairly wet and it takes a little effort to get it to form patties. Don't be afraid to really smoosh it — you don't run the risk of overworking it like you do with beef. Once the patties have been formed, they will be very delicate and won't hold their own on a grill (they'll just fall through the grates). I grilled mine in the mesh wok that I usually use for vegetables. Alternately, you could cook them on the stove in a very hot cast iron pan.
The burgers also don't reheat very well. They dry out. I crumbled a leftover, reheated burger over a salad and it was great, but I don't think it would have been very god as a burger. So if you don't plan to eat these all in one night, I'd recommend refrigerating the extra, uncooked patties and cooking them up to order.
When it came to toppings, I felt like these burgers were calling for a nice, spicy mustard. I also added some banana peppers, which I thought were the perfect touch – I liked the little bit of tang that they gave to it. Shawn had his with barbecue sauce and said it was ok, but I think my combination was way better. I'm not normally a mustard-on-burgers kind of girl, but I couldn't imagine anything being better ion these. So don't be afraid to step out of your comfort zone when it comes to dressing these!
Click to continue reading Ultimate Veggie Burger –>