Sweet-tart blueberry rhubarb frozen yogurt breakfast pops, naturally sweetened with maple syrup, are my answer to hot summer mornings.
My first apartment after college was a half mile away from the nearest metro stop. I didn't think twice about the distance when I signed my lease, but I also had no idea how hot and sticky DC summers could be. During the summer months, that walk was brutal. In an effort to beat the heat, I started making frozen yogurt breakfast pops that I could enjoy on my way. I've made them in a ton of different flavors and with cereal or granola mixed in, but I think these blueberry rhubarb pops with a thin layer of graham cracker crust are one of my favorites.
I've wanted to share them here for a while, and Dairy Month seemed like the perfect opportunity. Today I'm joining with The American Dairy Association and Diary Council and some other New York State bloggers to celebrate dairy farming families who provide us with healthy, wholesome dairy foods. You can also join us for a Twitter party on June 24 from 9-10pm EST. We'll be chatting about our favorite recipes using yogurt, cheese, and milk. RSVP here and follow the hashtag #DairyMOOnth and join in on the fun – you might even win a prize.
To help you get excited for the party (and for breakfast) here are a few fun facts about dairy in NY:
New York's is ranked 4th national in dairy farming, with more than 5,000 dairy farms across the state. If you've ever driven through upstate, this shouldn't be a surprise – there are cows everywhere.
New York is the top yogurt-producing state in the country. Yogurt is even New York's official state snack!
Yogurt may also help people eat more items from dairy and other recommended food groups, since it pairs so well with fruits, vegetables, and whole grains.
Greek yogurt is a nutritional powerhouse! It has twice the amount of protein as most regular yogurt, due to the straining process. Six ounces of Greek yogurt typically has 14-17 grams of protein, compared to 7-8 grams in regular yogurt. Since most of the whey is drained away, Greek yogurt is also considered a low lactose food. I personally love its creamy texture and tangy flavor – it makes a great base for these frozen yogurt pops.
Be sure to visit these other NYS bloggers for more delicious recipes featuring dairy: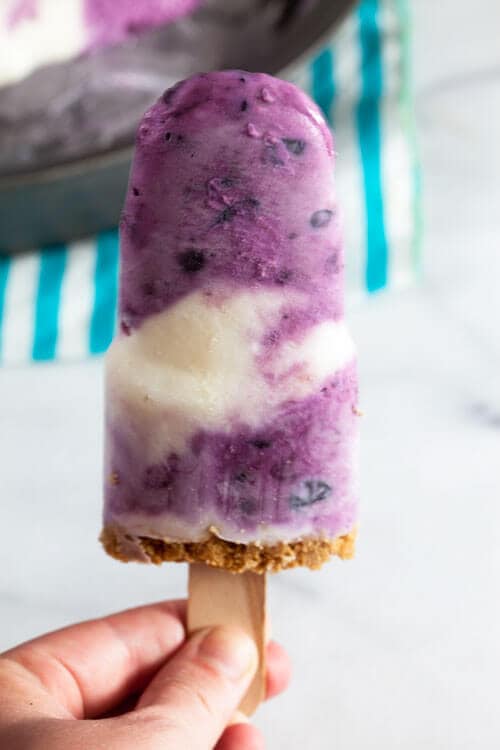 Foodie With Family: Rhubarb Cheesecake Pie

Emily Bites: Strawberry Banana Frozen Yogurt Bites

Wishes and Dishes: Creamy Greek Yogurt Alfredo Sauce

Ciao Chow Bambina: Garlic & Herb Marinated Mozzarella with Kalamata Olives

Mother Thyme: Banana Cream Parfaits

Nutmeg Nanny: No-Churn Amaretto Ice Cream

You can also follow the ADADC on facebook, twitter, and instagram.

This post was sponsored by The American Dairy Association and Diary Council. As always, all opinions are my own.

By