This dreamy blueberry plum sorbet hits all the right notes: sweet, sour, floral, and bitter. It's made with fresh summer fruit and sweetened with half sugar and half honey for the best flavor and texture.
When I saw that this month the Progressive Eats group was skipping dinner and heading straight for dessert with an ice cream social, it took me about 3 seconds to decide what to make: I've been dreaming about blueberry plum sorbet for ages. (Keep reading for our full menu!)
I always add a splash of alcohol to my ice creams and sorbets, since it keeps them from getting to icy in the freezer. I was originally planning to use white wine in this, but at the last minute I headed to the beer distributor for a sour beer to use instead.
I discovered sour beers a few months ago at a bar around the corner form my house – it's the kind of place where they change out the beers all the time and there's a 99% chance you've never heard of any of them. I took a gamble and chose something based on the description and ended up with a sour beer. It wasn't at all what I was expecting (I tweeted that it tasted like reisling and sauerkraut!) but it quickly grew on me.
The sour beer is wonderful in this recipe, since it offsets the sweetness of the plums really beautifully. Honey adds another layer of delicate flavor and also helps give the sorbet a smooth texture without big ice crystals. The result is a perfectly scoopable sorbet that's fruity and jammy without being cloyingly sweet. It's a great way to cap off a summer dinner!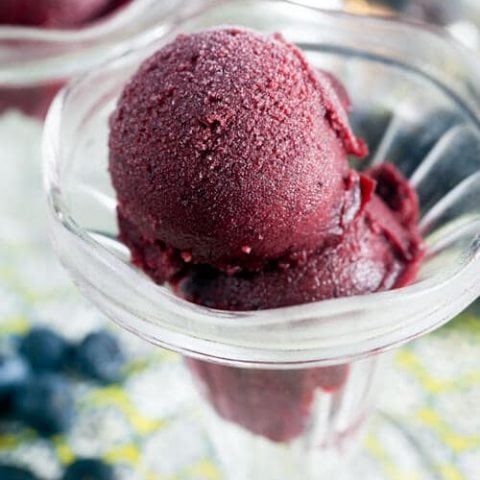 Boozy Blueberry Plum Sorbet
Total Time:
3 hours
10 minutes
Sour beer contrasts nicely against the sweet, jammy fruit in this sorbet. I especially like varieties that are brewed with a little salt. I used Anderson Valley Brewing Company's The Kimmie, The Yink, and The Holy Gose; Evil Twin Brewing's Sour Bikini would also work well. If you need guidance, ask your local beer distributor for a non-fruity sour beer with 3-4% alcohol.
If you don't like beer, reisling also works well in this recipe.
Ingredients
1 pound fresh plums (about 3), pits removed
1 cup blueberries
3/4 cup sugar
1/3 cup honey
3/4 cup sour beer, chilled
Instructions
In a blender, process the plums and the blueberries until they form a smooth puree. Strain to remove any pieces of skin, if desired (you can skip this step if you use a high-speed blender).
Pour the fruit puree into a saucepan; add the sugar and honey. Cook over medium heat 3-4 minutes, or until the sugar dissolves. Refrigerate until thoroughly chilled. Stir in the beer.
Freeze in an ice cream maker until the sorbet is thick and icy – about 20 minutes. Transfer to a freezer-safe container and place in the coldest part of your freezer. Freeze several hours or until firm.
If you don't have a ice cream machine, move the sorbet to the freezer immediately after adding the beer. Stir every 30 minutes, or until frozen.
Welcome to Progressive Eats, our virtual version of a Progressive Dinner Party. This month's theme is an Ice Cream Social and is hosted by Barbara Schieving who blogs at Barbara Bakes. With summer in full swing, now is the time to get outside and enjoy some ice cream with friends and family!

Ice Cream Social
Waffle Bowls from Barbara Bakes
Black Forest Ice Cream Sundaes from Creative Culinary
Bourbon Caramel Sauce for Ice Cream Sundaes from The Heritage Cook
Vegan Banana Split Popsicles from Stetted
Raspberry Ice Cream from Jeanette's Healthy Living
Copycat Baseball Nut Ice Cream from girlichef
Blackberries and Cream Ice Cream from Miss in the Kitchen
Cassata Ice Cream Cake from Spice Roots
Roasted Apricot Ice Cream Bar from Willow Bird Baking
Plum, Blackberry and Sage Frozen Yogurt from The Wimpy Vegetarian
Blueberry Plum Sorbet from Healthy Delicious
Mocha Ice Cream from That Skinny Chick Can Bake
If you're unfamiliar with the concept, a progressive dinner involves going from house to house, enjoying a different course at each location. With Progressive Eats, a theme is chosen each month, members share recipes suitable for a delicious meal or party, and you can hop from blog to blog to check them out.
We have a core group of 12 bloggers, but we will always need substitutes and if there is enough interest would consider additional groups. To see our upcoming themes and how you can participate, please check out the schedule at Creative Culinary or contact Barb for more information.