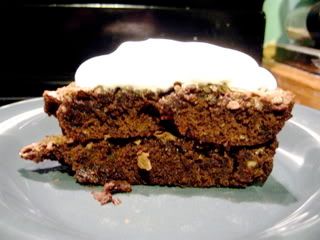 One of my favorite evening indulgences this winter was hot cocoa with a shot of whiskey and some whipped cream. Something those flavor of whiskey and chocolate just goes so perfectly. Now that its getting a little warm for cocoa, I decided to turn this treat into brownies. And then I decided to throw in some pecans and some chocolate chips and top them with whiskey-whipped cream. Oh, man this was a good idea. I kept the whiskey to a minimum. I didn't want it to be overpowering- just enough so that you can taste it. Add more or less to suit your taste- just amke sure that the liquid totals to 1/4 cup.
1 c. sugar
1/4 c. brown sugar
3 eggs
1 c. flour
1/4 c. cocoa powder (Dutch process)
dash salt
4 T. butter
1/8 c. heavy cream
1/8 c. whiskey
6 oz chocolate chips, divided
3 oz pecans, roughly chopped
1. Preheat oven to 350. In a mixing bowl, combine sugar an eggs. In a seperate bowl, combine flor, cocoa powder, and salt.
2. In a medium, oven safe skillet*, bring butter, cream, and whiskey to a simmer. Add 3 oz. chocolate chips and stir until melted. Remove from heat and let cool for a minute or two.
3. Stir chocolate mixture into sugar and eggs. Fold in flour mixture. Stir in chocolate chips and pecans.
4. Pour batter (it will be thin) back into skillet, and bake for about 40 minutes, or until done. Serves 10.
*If you don't have an oven safe skillet, you can bake this in a regular brownie pan. It ends up the same, but you have one more dish to wash.
Bonus! Whiskey-Whipped Cream:
These are great topped with a little whiskey whipped cream. So simple to make! For enough to top 4 brownies, combine 1/4 cup cream, 1 tsp whiskey, and 1 tsp powdered sugar in a chilled metal bowl. Whip on high speed until stiff peaks form.