A simple sausage and sweet potato hash makes a uniquely delicious filling for these quesadillas. Serve them with plenty of salsa, sour cream, and guacamole and get the party started!
So, how long does this March Madness thing last? This was the first time that I've paid even remote attention – both my undergraduate and grad school actually made it in – but I'm kind of over it now. Neither of them made it past the first round*, and it's not like I was the biggest fan anyway. I went to at least a few games each season at UAlbany but during grad school I was too busy sitting in on tapings of Crossfire to care about things like basketball.
Anyway this year both teams made it in, so I at least tried to pay attention. But let's face it: I was really only in it for the food. Watching sports means appetizers, finger foods and other "snacky" things are perfectly appropriate for dinner. And those are my favorite kind of dinners. It's kind of amazing I don't fein interest more often.
(Shawn says I should say that Albany won it's "first four" game. I don't even know what that means. It wasn't on my bracket, so if you ask me, it doesn't count.)
I saw sweet potato quesadilla in the prepared foods section of the grocery store last weekend and instantly fell in love with the idea. At first, I was just going to mix mashed sweet potato with cheese to use as the filling but I was worried that the texture might be too soft and boring. Instead, I ended up making a quick hash with diced potato, crumbled sausage, and red onion. It worked perfectly, and the quesadillas were definitely more exciting than the game that was on.
I used Jones Dairy Farm's all natural pork sausage roll – it's one of my favorite sausages to use in recipes. It crumbles easily, since it's uncooked and doesn't have a casing and the mild flavor goes well with other ingredients. The only downside is that it comes frozen, so you do have to plan ahead a little bit in order to give it time to thaw.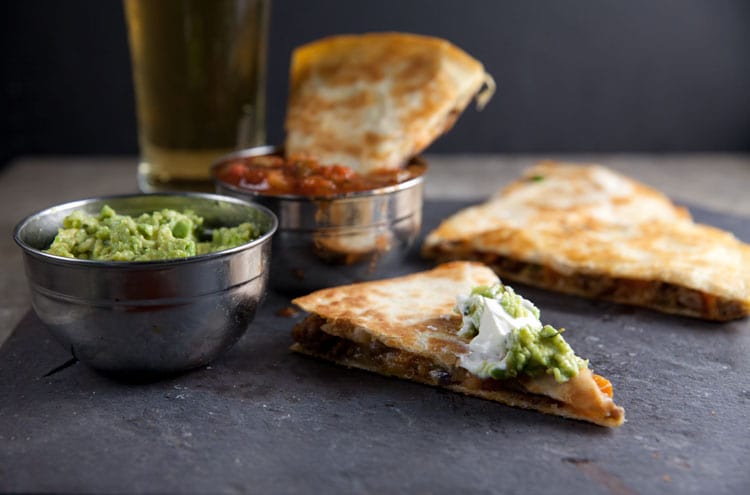 I created this recipe for Jones Dairy Farm. Thank you for supporting the brands that keep me inspired in the kitchen.