Delicious Spiced Banana Donut Holes, made with mashed fresh bananas and whole wheat flour, are a great mid-afternoon treat!
For the past three months, a few blogging friends and I have been planning something huge: a whole week filled with awesome doughnut/donut recipes and some amazing giveaways. I'm so excited that Doughnut Week is finally here! I'm absolutely blown away by all of the creative ideas that everyone came up with.
Now before you run away screaming, don't worry. Between the doughnut ice cream sandwiches and doughnuts with nacho chili cheese (OMG), someone has to be the voice of reason. Enter, spiced banana donut holes. These sweet and spiced fritters are made with mashed banana, whole wheat flour, and just enough oil to fry them to perfection. Their small size means they're only about 70 calories each (although I bet you cant eat just one!)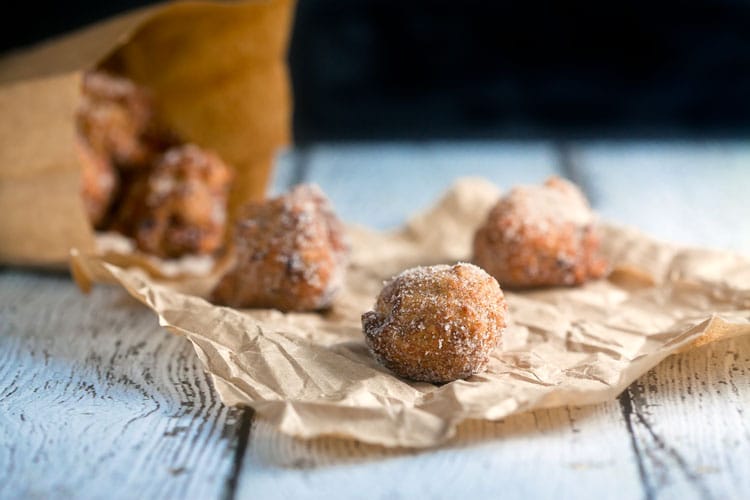 Now, what good is a doughnut without a good cup of coffee? Not much, if you ask me. (Then again if you ask me, nothing is very good without a cup of coffee.) We have you covered though, because we're giving away a Keurig brewing system and some Green Mountain K-cups. Pretty sweet, right?! You can enter using the widget at the bottom of this post.
Be sure to check out everyone else's great creations today. I'll see you again later this week with another new doughnut recipe!
Salted Maple Doughnut Ice Cream Sandwiches from Bakeaholic Mama
Strawberry Cheesecake Donuts from Baked by Rachel
Triple Coconut Donut from Table for Two
Chocolate Pumpkin Donut Holes with Amaretto Glaze from Running to the Kitchen
Irish Cream Filled Doughnuts from Pass the Sushi
Chai Spiced Donut Muffins from Jelly Toast
Peanut Butter and Jelly Doughnuts from Nutmeg Nanny
Spiced Baked Doughnuts with Nacho Chili Cheese from Climbing Grier Mountain
Chocolate Stout Maple Bar from Country Cleaver
Kahlua and Cream Doughnuts from Farmgirl Gourmet
Ingredients
2

cups

Gold Medal® white whole wheat flour

¼

cup

sugar

½

teaspoon

baking powder

dash salt

2

cups

mashed banana

about 5 bananas

2

tablespoons

skim milk

½

teaspoon

vanilla

½

teaspoon

coconut extract

½

cup

sugar

1

teaspoon

cinnamon

½

teaspoon

ground ginger

½

teaspoon

cardamom

vegetable oil for frying
Instructions
In a mixing bowl, combine the flour, 1/4 cup sugar, baking powder, and salt. Stir in the banana, milk, and extracts to form a thick, smooth dough.

In a second bowl, combine the remaining sugar, cinnamon, ginger, and cardamom.

Pour about 1-1/2 inches of oil into the bottom of a large pot; heat to 360ºF. Working in batches so you don't overcrowd the pan, drop teaspoons full of dough into the hot oil; fry for 3 minutes, or until golden brown. Remove from the oil and immediately drop into the spice mixture; toss to coat.

Repeat with remaining dough.
Notes
The nutritional data for these is an estimate. I measured my oil before and after drying the donuts and found that all but 1/4 cup remained, so that's the amount I used for the nutritional calculations. I had quite a bit of the sugar and spice mixture left over, but calculated the nutritional information using all of it.
Nutrition Facts
Spiced Banana Donut Holes
Amount Per Serving
Calories 72
Calories from Fat 18
% Daily Value*
Fat 2g3%
Protein 1.2g2%
* Percent Daily Values are based on a 2000 calorie diet.