I created this Sparkling Pomegranate Tangerine Rum Punch for my friends at Megan Media and Tropicana. Thank you for supporting the brands that keep me inspired in the kitchen. #MixedWithTrop

Shawn and I were out for a walk last weekend when we noticed that they were setting up the holiday light display in the park. On one hand, this year has seemed like an eternity (and I can't wait for it to be over!) but on the other hand I can't believe the holidays are right around the corner again. I feel like we just took our lights down a few weeks ago!
When it comes to holiday menus, our family always sticks to traditional favorites. There would probably be mutiny if we didn't have the exact same meal that we always do. Drinks and appetizers are fair game though, so that's always where I like to do my experimenting.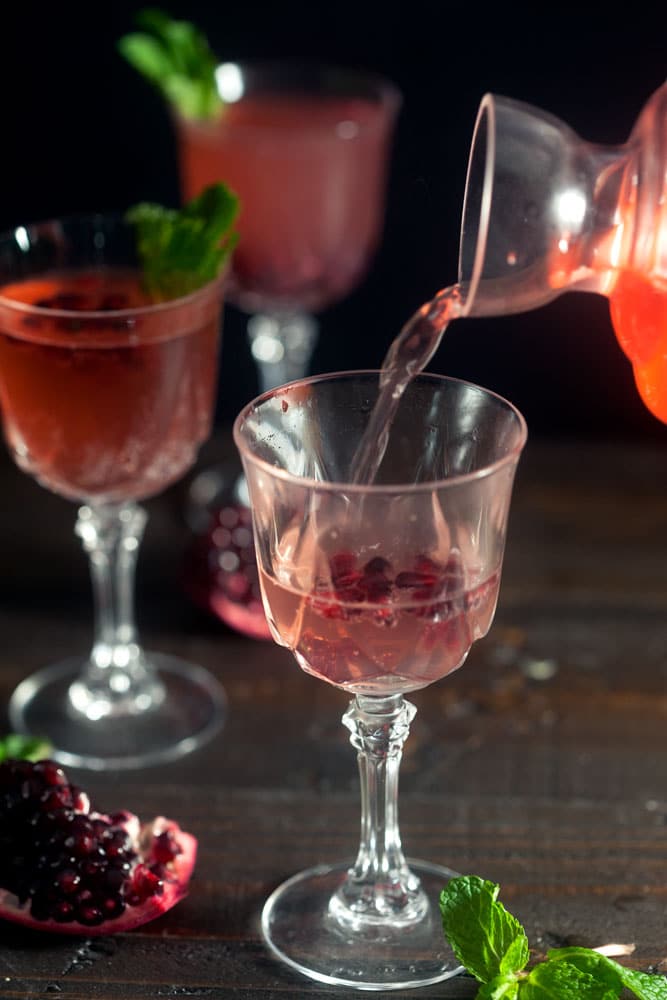 Festive, seasonal cocktails like this sparkling pomegranate tangerine rum punch can really go a long way toward setting the mood and getting everyone into the holiday spirit. The flavors work for Thanksgiving, Christmas, and New Year's, so go ahead and make it your signature cocktail of winter 2016. It would also be delicious for a girl's night in, game night any time you're looking to glam things up a little!
I've been really into rum punch lately. Since you can make a big pitcher full ahead of time, no one gets stuck playing bartender – which means everyone can relax and socialize. Plus they bring a little bit of tropical flair to our cold, New York winters.
Rum punch is also really easy to make. There's a basic formula that makes them easy to riff on: 1 part sour, 2 parts sweet, 3 parts hard (booze), and 4 parts weak (sparkling water or juice). For this pomegranate tangerine rum punch, I simplified things even further by using Tropicana Tangerine Lemonade for my sour and sweet components. The lemonade makes a delicious base for this punch, and I love that it doesn't contain any artificial flavors or sweeteners.
Lemonade + Rum + Pomegranate Juice + Seltzer = a delightful, drinkable punch that has the perfect balance of sweet and tart flavors. For an extra layer of moody depth, add a few dashes of bitters – I like using black walnut bitters in this punch but Angostura bitters also work well.

Related articles