This slow cooker lemon chicken recipe is loosely based on chicken piccata, a classic Italian recipe made with sauteed chicken in a rich lemon sauce. I love the pop of flavor the salty capers add, but swap them for olive or leave them out entirely if you prefer.
Have you heard the news? I wrote another cookbook!
My newest book, Healthy Meal Prep Slow Cooker Cookbook, is coming out in a few weeks and I couldn't be more excited.
I definitely was NOT planning to write another book so soon. They're so much work and I already have plenty on my plate trying to juggle this blog with my day job and also trying to have a life. But when my publisher approached me with the topic, I just couldn't say no. I NEEDED to write this book, because I needed this book in my life. And I have a feeling that a lot of you do, too.
This book is packed with easy, healthy recipes that can be prepped ahead for super easy dinners (and breakfasts and lunches) all week long. Just like my first book, they have minimal prep and most of them use less than 10 ingredients.
And there's so much more than just soups and stews. I really put my slow cooker to work, turning out everything from frittatas to tacos to banana bread.
I can't pick a single favorite recipe, but this healthy meal prep lemon chicken is definitely near the top of my list. It's so simple, but full of flavor.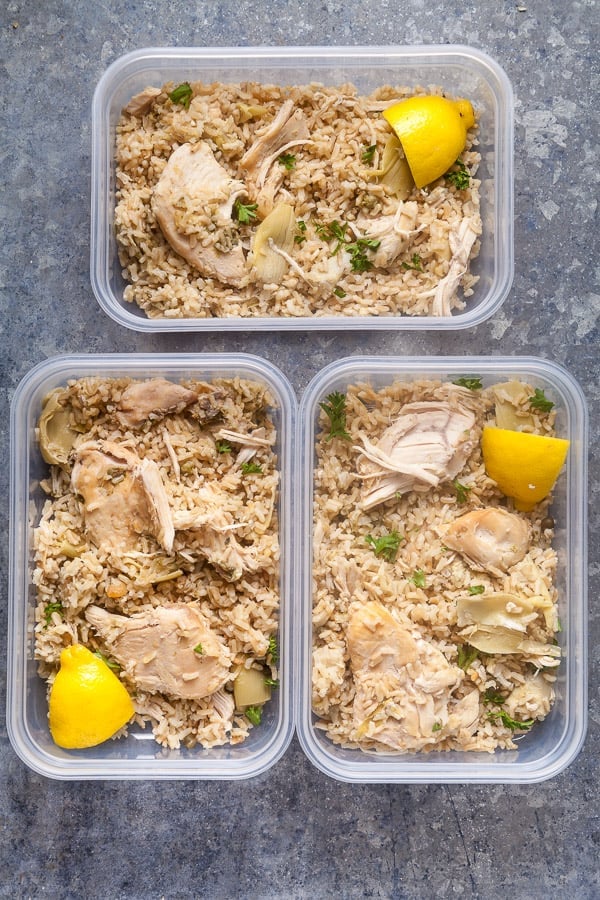 Slow Cooker Lemon Chicken
This slow cooker lemon chicken was inspired by chicken piccata. The chicken cooks in lemon juice with garlic, capers and artichoke hearts. It won't look like much at first but it completely transforms after 6 hours in your crock pot.
Just before serving, you'll add the rice and let it steam right in the slow cooker. This is one of my favorite tricks for rounding out a meal – it's like magic every time!
Then you can eat it right away or pack it up for later. The book has a whole section on how to meal prep safely, and every recipe includes specific meal prep instructions to steer you in the right direction.
Crock Pot Lemon Chicken Step by Step
Making this healthy meal prep lemon chicken is so easy! You only need a few ingredients and the slow cooker does most of the work for you.
If you love this recipe as much as I do, be sure to check out the book. It's available at Amazon, Barnes and Noble, Books a Million, and at tons of independent bookstores across the country – and you can pre-order it now!
Be sure to follow me on facebook and Instagram and subscribe to my email list for more sneak peeks inside, too.