Creamy hummus and crumbled merguez make a great topping for these easy flatbreads. Enjoy them as a simple meal or as part of your game day lineup.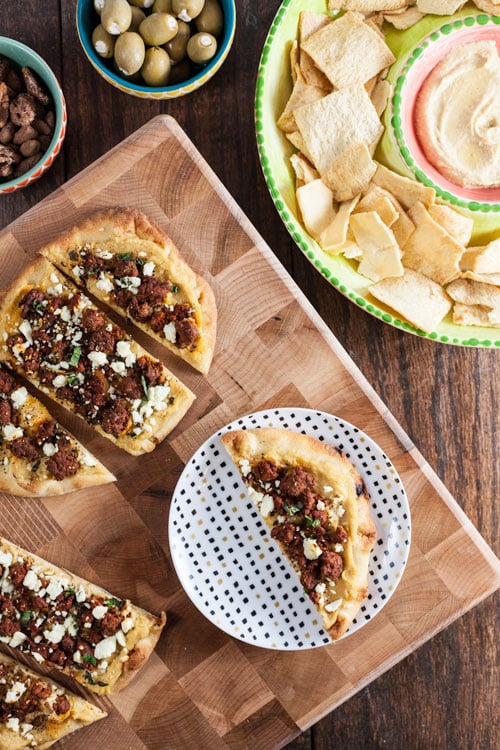 I've been thinking about Superbowl recipes for weeks. It's funny how excited I get, considering I'm not really into the game itself. I just love the excuse to get together with friends and family, eat great food, and watch the halftime show.
One of my favorite local restaurants serves an appetizer of hummus topped with merguez, feta, and mint. As soon as I saw it, I knew I wanted to find a place for it on our game day table. I'm super excited to be partnering with Sabra again this year to bring you this tasty recipe!
I've been all about flatbreads as an easy weeknight meal lately, and the flavors in that appetizer translated perfectly. Plus hummus flatbreads are the perfect game day food – I love that they're a little more substantial than the typical snacks that we have, so I actually feel like I've eaten a real meal.
I've written about my love of merguez before. It's a super flavorful lamb sausage that works really well in simple recipes like this one.
Sabra's classic hummus makes a great "sauce" for these flatbreads, since it's mild flavor and creamy texture balances out the sausage really well. (Plus, if you've never eaten warm hummus before, you're missing out!) I season mine with a little bit of za'atar to jazz it up, but you can also use oregano.
These merguez and hummus flatbreads are also really easy to make and you can even prepare them ahead of time and pop them into the oven when you're ready to eat – so if you are into the game, you'll only miss a few minutes.
If you're as big of a fan of Sabra products as I am, you know they have a habit of jumping into your grocery cart. Be sure to check out their Buy, Snap, Score promotion – buy Sabra and Stacy's together before 2/15/16 and score a $5 gift card. It's basically free money! (Also, if you see their new caramelized onion and smoked paprika hummus, buy it!! I'm obsessed – it's amazing!)

I created this recipe for my client, Sabra. As a Sabra Tastemaker, I'll be sharing recipes featuring their products throughout the year. As always, thank you for supporting the brands that keep me inspired in the kitchen!