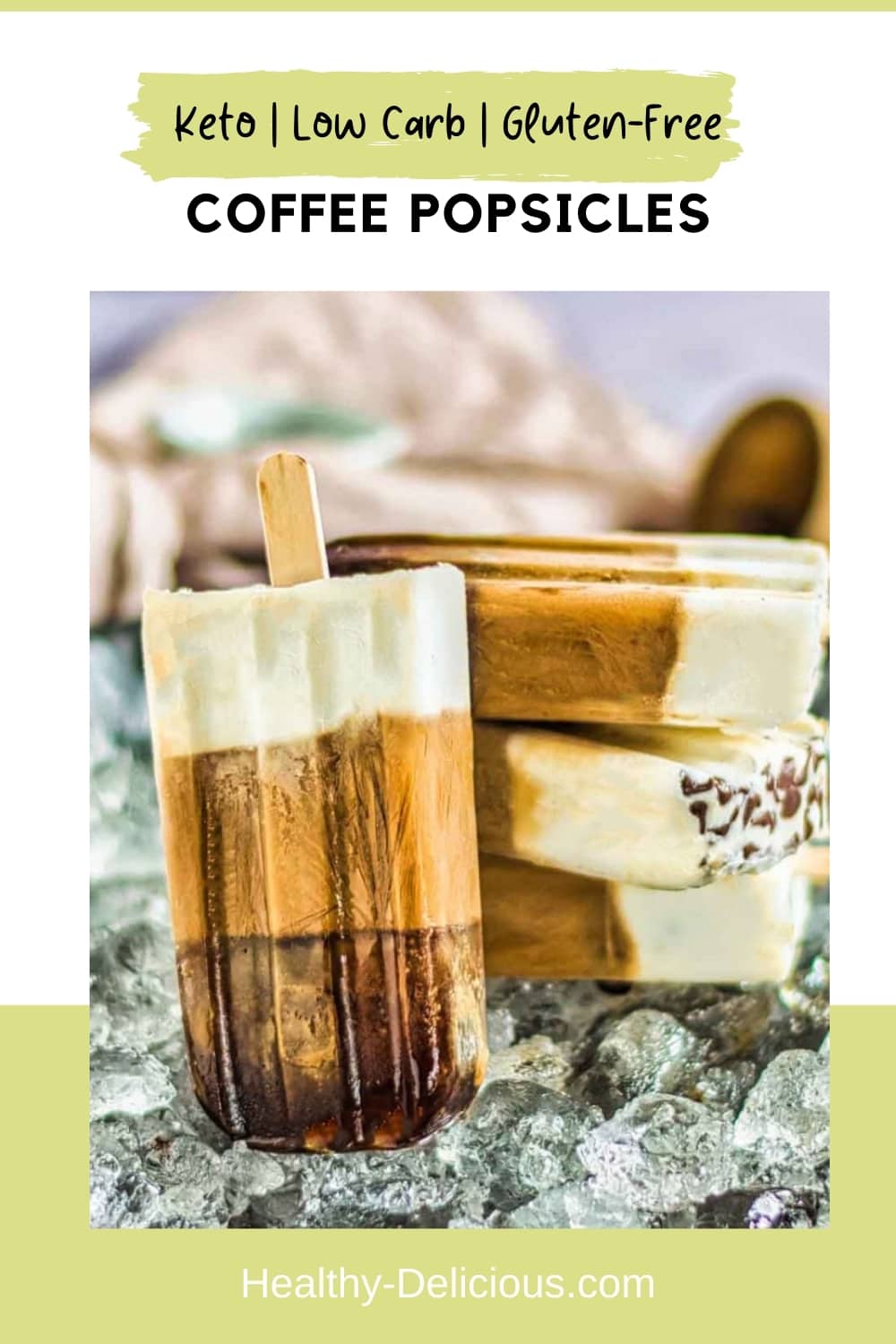 Triple-layer keto coffee popsicles are a cool and creamy summer treat that are perfect for a hot day! Keep your freezer stocked and you'll always have a quick, sugar-free pick-me-up ready to go.
You don't have to know me for long before you catch onto the fact that I love coffee. Whether it's hot, iced, or even coffee ice cream, it's rare for me not to have coffee within arms reach. My latest obsession is coffee popsicles!
This sugar-free dessert is the perfect way to cool off on a hot summer day, especially if you're following a low carb or keto diet.
You can also grab one in the morning instead of a cup of coffee for a cool, refreshing treat on the go. (If you're into the ice pop for breakfast idea, you'll also love my Blueberry Frozen Yogurt Breakfast Pops!)
These keto popsicles feature three fun layers: a creamy chocolate chip ice cream layer, a smooth latte layer, and a bold coffee layer.
The layered effect looks really cool and I love how they play off of each other to provide different flavors and textures as you eat your ice pop.
If you're never made a layered popsicle like this before, don't worry — it's super easy!
Ingredients for low carb coffee popsicles
To make these coffee popsicles, start by gathering you're ingredients. I bet you have most of them in your kitchen already! You'll need:
Brewed Coffee. You can brew your own coffee and let it cool to room temperature, or use store-bought cold brew (I'm obsessed with Stok and Califa Farms and always one or the other in my fridge this time of year). If you avoid caffeine, you can use decaf.
Almond Milk. I usually make these with plain, unsweetened almond milk since that's what I keep in my fridge. Add a splash of vanilla extract to give it a classic ice cream flavor. If you have vanilla almond milk, even better!
Heavy Cream. Heavy cream gives the popsicles a richer, more ice cream like flavor than you'd get using just almond milk
Stevia or your favorite sweetener. I find that liquid sweeteners tend to give these ice pops the best texture. I like Whole Earth liquid sweetener. Granulated erythritol works too. Just be sure to mix it well so it dissolves and note that your popsicles will have a slightly icier consistency.
Sugar-Free Chocolate Chips. These are optional but are a fun touch to add to the cream layer
Helpful hints for making coffee popsicles:
Be sure to use good coffee. While sugar and cream can help improve a lackluster brew, use something you'd actually enjoy drinking. Cold brew will give you the smoothest flavor, with less acidity.
You can adjust the level of sweetener to your personal taste, but I recommend making the mixture a little sweeter than you typically would if you were just making a cup of coffee to drink. These are ice pops after all, and the balance can seem off if they aren't sweet enough.
For the creamiest pops, add some Xanthan gum. Half a teaspoon of xanthan gum stirred into the cream base will help it freeze with a smoother, less icy texture that's more like ice cream. If you don't have any, don't worry, these coffee popsicles are still 100% delicious without it!
To release your popsicles from the mold, fill your sink with hot water, and submerge the mold for 15-30 seconds. If the popsicles don't slide out easily, leave them for a few seconds longer.
Ingredients
2 ¼

cups

room-temperature brewed coffee

1

cup

unsweetened almond milk

1

cup

heavy cream

½

teaspoon

vanilla extract

¼

cup

sugar free chocolate chips

Sweetner to taste

appprox 1 tablesppon granulated sweetener or 5-6 drops of liquid sweetner, divided

½

teaspoon

xanthan gum

optional
Instructions
In a measuring cup, whisk together the almond milk, heavy cream, vanilla, and xanthan gum (if using). Sweeten to taste.

Divide the chocolate chips among 10 popsicle molds. Pour in some of the cream mixture, filling each popsicle about 1/3 of the way up (you will have some left). Cover and insert the popsicle sticks. Freeze until solid, about 1-2 hours.

Pour half of the coffee into the remaining cream mixture to form your latte base. In a second cup, combine the remaining coffee with sweetener to taste.

Remove the popsicles from the freezer and take off the cover. Divide the latte base between the molds, filing each to about the 2/3 mark. Cover and return to the freezer for another hour or two, or until frozen.

Remove the popsicles form the freezer and take over the cover. Divide the sweetened coffee among the molds. Cover and return to the freezer for at least 2 hours, or until ready to serve.
Nutrition Facts
Low Carb Coffee Popsicles
Amount Per Serving (1 popsicle)
Calories 113
Calories from Fat 99
% Daily Value*
Fat 11g17%
Cholesterol 27mg9%
Carbohydrates 2g1%
Protein 1g2%
* Percent Daily Values are based on a 2000 calorie diet.