Red beans and rice is a simple, delicious comfort food. This instant pot version was inspired by my recent trip to New Orleans.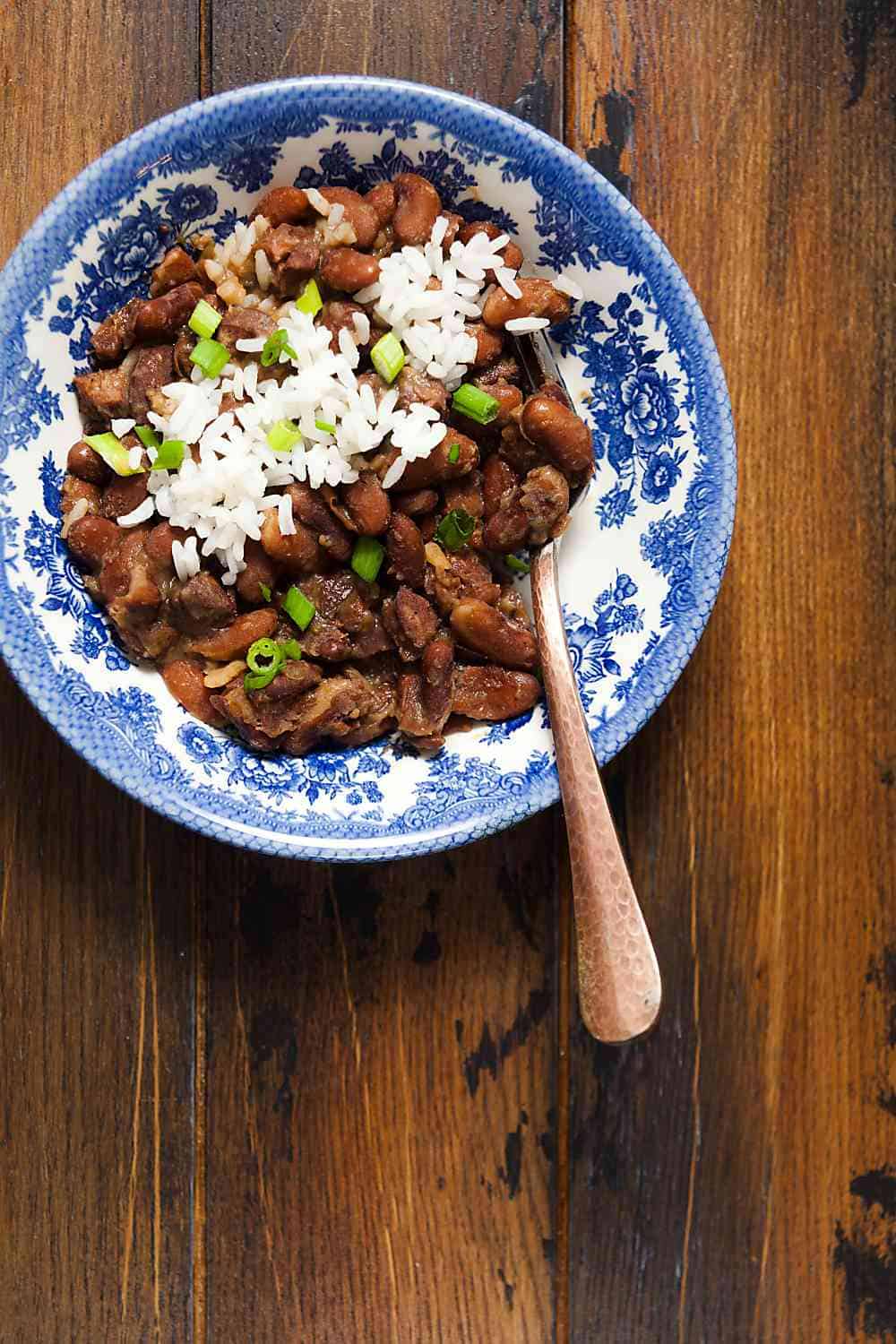 I had big plans for Healthy Delicious this September, with an editorial calendar packed full of delicious early-fall recipes. I was finally going to get back into my groove and start posting twice a week again. For the first week, all went according to plan. But here it is September 27 and I've managed to share a whopping 4 new recipes this month. Womp womp.
Managing this site, plus my day job, plus trying to have an actual life occasionally is difficult and sometimes things just get derailed. This month an impromptu trip to New Orleans (more about that later), a long-planned (but poorly planned for) trip to NYC, a few recipes flops, and a super obnoxious bout of bronchitis got the best of me. Hopefully I can get back into a good groove for October.
For the last few years, people have expressed surprise that I'd never been to New Orleans. They all told me that I'd love the city and that it's full of great food, but it had never been at the top of my list. To be honest, I thought it was just a party town and I wasn't really interested. But a few weeks ago we wanted to get out of town and tickets were cheap so we figured we'd check it out for ourselves. I have to admit, everyone was right. I came home so full that I was actually tired of eating, and I wonder why every town isn't filled with jazz clubs and bars that sell daiquiris to go. It would make the world a happier place, for sure.
We ate char-grilled oysters (yum), enjoyed a tasting menu at Cocquette, and had some of the best seafood of our lives at Peche (we went for dinner on Monday and I seriously considered trying to go back before we left Tuesday). Next time, I'll bring an empty duffel bag with me for the sole purpose of bringing home muffulettas from Central Market and I'll plan time for daily affogatos at Drip, which is basically the cutest coffee shop I've ever seen.
Out of everything we ate over our five days there, the thing that was the most memorable was a simple side of beans and rice at Napoleon House. I ordered it on a whim and didn't have high expectations, but it was love at first bite. Halfway through the bowl, I knew I'd have to learn how to make them at home.
This recipe for instant pot red beans and rice wasn't on my the original plan for September, and it doesn't hold a candle to the bowl I had there, but it's well worth the detour. They're warm, cozy, and comforting and I already know they'll be a staple on my dinner table this fall and winter.
I did a ton of research on how to make red beans and rice, and found that while the recipes all call for more or less the same handful of simple ingredients, they also vary tremendously in how they use those ingredients. Some are mostly beans with a little bit of seasoning, while others call for a metric ton of onions and enough garlic to keep the most persistent vampire far, far away.
I split the difference and used enough seasoning to give these beans flavor without being completely overpowering. I also adapted the recipe for the instant pot because creamy beans are key to this dish, and the best way to get those is to start with dry beans. I don't know about you, but I don't have time to cook dried beans on the stovetop. With the instant pot, these red beans can be ready in about an hour and a half. You can eat them right away, but I do find that they taste better the next day. Like a good pot of chili, the flavors seem to get simultaneously more complex and more mellow after a night in the refrigerator. Make them Sunday night, and they'll be perfect for a simple heat-and-serve dinner on Monday.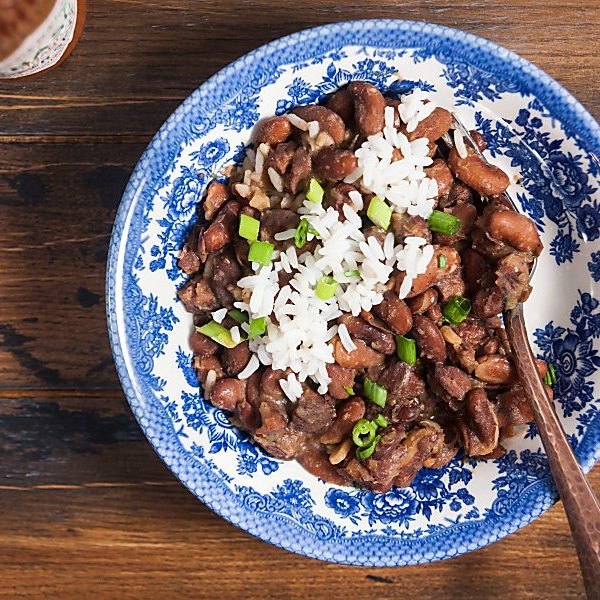 Ingredients
1

tablespoon

olive oil

4

links Andouille sausage

diced

1

large onion

chopped

2

rib celery

chopped

4

garlic cloves

minced

1

green bell pepper

finely chopped

1

teaspoon

Cajun seasoning

1

pound

dry red kidney beans

3

cups

vegetable stock

1

teaspoon

ground sage

3

bay leaves

1

Tablespoon

apple cider vinegar

3

tablespoons

chopped green onion

Cooked white rice

for serving

Hot sauce

for serving
Instructions
Add the oil to the insert and turn to sauté. Add the sausage and cook 7-8 minutes, or until browned. Use a slotted spoon to transfer the sausage to a paper towel lined plate. Set aside.

Add the onions to the pot insert and cook 5 minutes, or until softened. Stir in the garlic, celery, and green pepper. Season with cajun seasoning, salt, and pepper. Cook 5-6 minutes, or until the vegetables soften.

Add the beans, sage, and bay leaves. Add enough stock to cover the beans; stir to combine.

Place the lid on the pot and seal. Cook on high pressure for 40 minutes.

Allow the pressure to release naturally. Stir in the browned sausage, using the back of your spoon to gently mash some of the beans until they look creamy. Stir in the vinegar and green onions.

Serve the red beans with rice and top with hot sauce, as desired.