Happy Cinco de Mayo! This is one of my favorite holidays, for no reason other than it give me an excuse to eat Mexican food and drink margaritas. What's not to love?
By this point, you probably already have your menu planned out. But if you don't, or if you're looking to add something extra, you should definitely give this grilled corn with lime-cayenne butter a try. Grilled corn on the cob is one of my absolute favorite summertime treats. It's so easy (you can grilled it right in the husk!) and the grill gives it a subtle smokey-charred flavor that I love. I usually just eat it plain, but for a special treat this lime-cayenne butter is awesome. It had just the right amount of heat to make the corn seem even sweeter.
On a side note, I'm going to try switching up my posting schedule. I've been posting new recipes on Monday, Wednesday, and Friday for a long time, but I've been thinking about trying out a Sunday, Tuesday, Thursday schedule for a while. I think it will work better with my schedule. As an added bonus, it lets me participate in Sunday Supper – a weekly blogging event focused on sitting down at the table for a meal at least once a week. Each week has a different theme – this week's is Cinco de Mayo. Be sure the check out the bottom of this post to see what al of the other participants made!

***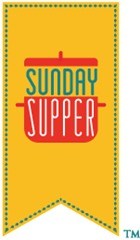 Be sure to check out all of the other Mexican-food goodness that the rest of the #SundaySupper gang made! You can also join us on Twitter tonight starting at 7pm EST for a chat all about Cinco de Mayo and our favorite Mexican food.
Cinco de Mayo Appetizers & Sides {Aperitivos}:
Cinco de Mayo Main Dishes {Platos Principales}:
Cinco de Mayo Desserts {Postres}:
Cinco de Mayo Drinks {Bebidas}: