Have you ever made chocolate bark? It's super easy and you can customize it in an almost endless number of ways. I've been snacking on this dark chocolate bark studded with candied ginger, coconut flakes, and macadamias nuts all week and I couldn't be happier. In fact, I've barely even touched the big bowl full of Halloween candy that we bought for trick-or-treaters (usually by this point I've eaten so much that we've had to buy more… please tell me I'm not the only one with this problem!)
The idea for this bark actually came to me while I was sitting in a class on gluten-free holiday baking. One of the treats that they made was chocolate bark with walnuts and dried cranberries. I don't love walnuts and the bark I sampled at that class seemed kind of generic, so I couldn't wait to make a jazzed up version for myself. (They also made some stellar pumpkin whoopie pies that I've been dying to recreate at home. More on those another time!)
This ginger-coconut bark would be perfect for holiday entertaining, or just to have around to snack on with a mid-afternoon cup of coffee or tea. Tied up with a pretty ribbon, it would also make a great gift for unexpected guests or last-minute get-togethers. Let the kids have all the Halloween candy – it will just mean the grown-ups will be able to keep this all to themselves.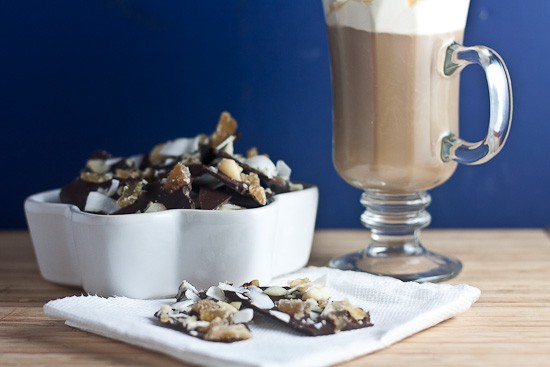 Ginger-Coconut-Dark Chocolate Bark
This ginger-coconut-dark chocolate bark is bitter, spicy, and sweet so a little goes a long way. Along with a cup of tea or coffee, it makes the perfect mid afternoon pick-me-up or evening treat. This bark can be kept refrigerated for several weeks. Unsweetened shaved coconut and candied ginger can often be found in bulk bins in the natural foods section of your grocery store. Shredded coconut can be substituted for shaved, but it's softer and doesn't have the same "crunch" that shaved coconut provides.
Print
Pin
Save
Saved!
Ingredients
1

bag

6 ounces good quality Bittersweet Baking Chips (I used Scharffen Berger 70%)

¼

cup

Candied Ginger

chopped

¼

cup

Unsweetened Shaved Coconut

2

ounces

Macadamia Nuts

chopped
Instructions
Line a sheet pan with either a a silpat or a 9×11 piece of parchment paper sprayed lightly with cooking spray.

Create a double boiler by setting a bowl over a small pot of simmering water. Add the chocolate to the bowl and stir until fully melted.

Working quickly, spread the chocolate in a 1/4-inch layer over the prepared baking pan. Scatter the ginger, coconut, and macadamia nuts evenly over the chocolate – be careful not to leave any big gaps!

Transfer the baking sheet to the fridge for 1 hour to allow the chocolate to set. Once the chocolate is firm, use your hands or a sharp knife to break the bark into roughly shaped pieces.