Creamy Apple Cider Slush? Apple Cider Smoothie? I honestly don't know what to call this recipe – and I've done way more research on what makes each type of frozen drink unique than any person should. Whatever you call it, these rich, creamy frozen apple drinks are downright delicious.
I give in. As much as I want summer to last for forever, I just can't resist the flavors of fall any longer. This recipe for creamy apple cider slush/apple cider smoothie is perfect for September's in between-y kind of weather.
I'm sure you know the kind of weather I'm talking about: sunny, in the low 70s and with the slightest hint of fall in the air? If you're like me, you're craving apples and pumpkin even though it's still a little too warm for traditional cozy treats. Apple cider slush is the answer. It has tons of sweet apple flavor, a tiny hint of maple, and a smattering of apple pie spices. If Fall had a flavor, this would be it.
These slushes are delicious enough to call dessert, but healthy enough for breakfast. They're also perfect for cooling down after a long walk. I'm pretty sure I could happily drink one every day (and I just might!)
Ever since doing the 21 days to Lean and Green Program back in June, I've been trying to avoid dairy. (Trying being the operative word. It's hard, but I feel ten million times better when I avoid it.)
Anyway, I haven't bought milk since May. I've been experimenting a lot with dairy alternatives and have found that I like different "milks" for different uses. Coconut milk is perfect in my coffee, but I don't like it in my cereal. Almond milk is great on my cereal, but I don't like it in my coffee or in frozen applications. Soy milk is great in frozen applications (like ice pops and smoothies) and its creamier flavor also pairs really well with rich fall flavors like apple cider and pumpkin. I used Silk organic unsweetened soy milk for much slush. In addition to adding the creaminess I was looking for, it also adds protein and calcium (a little fresh apple blended in adds fiber).
Wondering what to do with the rest of the carton? Aside from making tons more slush (totally a valid option), you can substitute unsweetened soy milk cup for cup in almost any recipe. Try making my Whole Wheat Peanut Butter, Banana, and Bacon Muffins or make a pot of creamy apple butter mac and cheese! Learn more about soymilk here.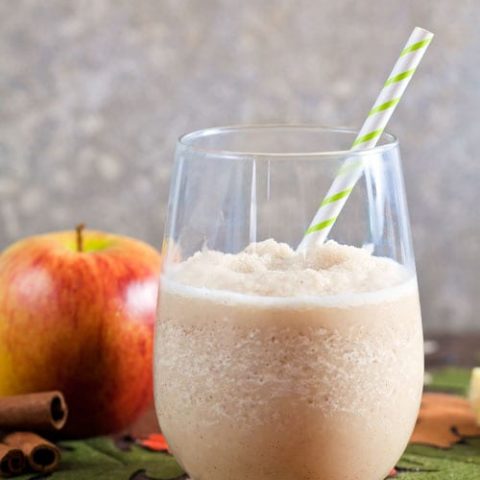 Ingredients
1

cup

apple cider

½

cup

Silk® organic unsweetened soy milk

1

apple

peeled, cored, and diced

1

Tablespoon

maple syrup

1

teaspoon

grated fresh ginger

½

teaspoon

vanilla

¼

teaspoon

cinnamon

¼

teaspoon

allspice

ground

2

cups

ice
Instructions
Combine the apple cider, soy milk, apple, maple syrup, ginger, vanilla, cinnamon, and allspice in your blender pitcher. Cover and blend on low speed until combined – about 10 seconds.

Add the ice. Cover and gradually increase the blender speed to high. Blend for 30-40seconds, or until smooth.

Divide between two glasses and serve immediately.
Nutrition Facts
Creamy Apple Cider Slush
Amount Per Serving
Calories 159
Calories from Fat 11
% Daily Value*
Fat 1.2g2%
Protein 1.9g4%
* Percent Daily Values are based on a 2000 calorie diet.
Learn more about
Silk soy milk
and like
Silk on facebook
.
This conversation is sponsored by Silk. The opinions and text are all mine.