Disclosure: I was asked to participate in the McCormick Gluten-Free Recipe Mixes Launch as a member of the Healthy Aperture Blogger Network. I was compensated for my time creating this recipe.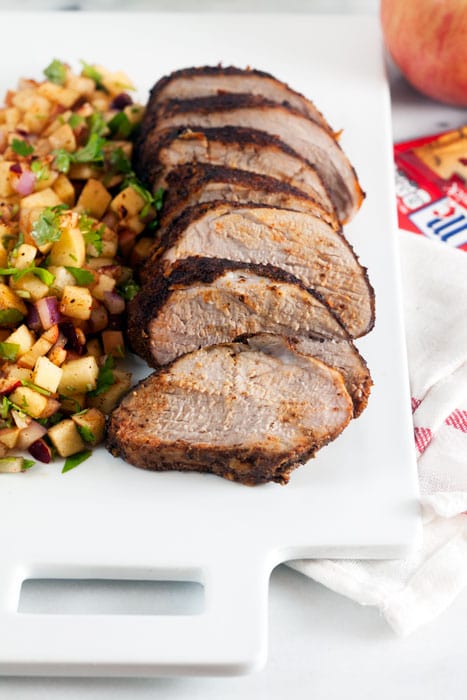 This roast pork loin with apple salsa looks fancy, but it's the easiest recipe I've made in weeks. 5-10 minutes to prep the salsa, 20 minutes in the oven, and you're ready to eat!
A simple rub made with McCormick's new gluten-free chili seasoning and brown sugar gives the pork loin great earthy and smokey notes (and a gorgeous color!) It pairs really well with tart apple and cranberry salsa sweetened with a touch of honey.
Serve it with mashed potatoes and garlicky green beans for a formal dinner – it would be great for the holidays – or enjoy it on a weeknight with soft corn tortillas. Ether way, you'll have an easy gluten-free meal that everyone will love!
The chili seasoning that I used is meant for making chili (duh) but it's fun to think outside the box and use it for more modern recipes like this one, too. This particular blend is zesty (but not too spicy) and is made from natural spices like chili pepper and cumin, garlic, onion, and red bell pepper. There are no artificial flavors or colors and no MSG – just regular spices. The new line is certified gluten free and it costs the same as the regular line! I love that there's no crazy cost mark-up.
If you missed them, make sure you check out the gluten free taco veggie burgers that I shared last week, using McCormick's gluten free taco seasoning!